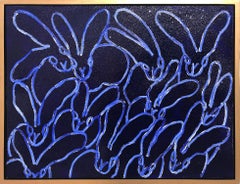 "Blue Bonnie" Ultramarine Blue Oil Painting with Diamond Dust Bunnies on Canvas
Want more images or videos?
Request additional images or videos from the seller
1 of 24
Hunt Slonem

"Blue Bonnie" Ultramarine Blue Oil Painting with Diamond Dust Bunnies on Canvas

2020
About
A wonderful composition of one of Slonem's most iconic subjects, Bunnies. This piece depicts gestural figures of white bunnies on an Ultramarine blue background with thick use of paint and diamond dust. Inspired by nature and a genuine love for animals, Slonem's paintings encompass unique inspirations drawn from the world. While viewing this piece in person, it is as if we are surrounded by elegance effortlessly, enchanted with the charm of the Rabbit which symbolizes good fortune. The color blue is the color of depth and stability. This magnificent color symbolizes trust, loyalty, wisdom, confidence, intelligence, and faith. Blue is considered beneficial to the mind and body. This painting invites us to celebrate nature and the simplicity of form from the inspiring world of the Rabbit. The piece is signed and dated on verso and it is painted on thick gallery wrap canvas housed in a floater frame and with hanging wire on verso ready to be displayed. Art measures 30 x 40 inches Framed measures 32 x 42 inches Hunt Slonem was born in 1951 in Kittery, York County Maine. He is a renowned American painter, sculptor, and printmaker. Slonem is best known for his abstract depictions of animals, specifically Birds, Butterflies, and Bunnies. His whimsicality has captured the hearts of many across the globe, enchanting us all with a phenomenal power to elevate and inspire effortlessly. His works can best be described as monumental and uplifting as these forces certainly are the cornerstones of his inspiration. His pieces draw upon a spiritual connection celebrating nature, animals, and history. This bond stems from a love of exotic birds, as he has over 90 of them in his studio, painting them from life almost every day. His travels around the world since a young age has brought much passion for landscapes, as his father was in the Navy, living in Hawaii, Nicaragua to Mexico. And lastly, his unique joy in preserving historic homes has brought him to collect over 8 historic properties in the US, realizing too many of the country's architectural gems have fallen into disrepair, bringing them back to their original beauty while decorating them with genuine antiques and his own creations. Hunt possesses a unique gift, a gift that stretches far beyond his creations in art. Stepping inside his studio is an experience to behold. It is like stepping into a magical world, where you feel anything is possible; similar to the feelings you get when gazing at one of his enchanting paintings. The music of birds echoes and creates the soundtrack while enjoying other treasures placed perfectly in the design of his studio. You can find a family of harps positioned in a centered arrangement, a forest of tropical plants in another, objects and vases situated and resituated, as Slonem is inspired by the decorations arranged almost daily with-in this seemingly endless stretch of space. And that's not all, there is a collection of antique top hats rested on top of a 19th Century French table, a dining table set with gorgeous china wear ready for a dinner party at any moment, marble inlaid tables and busts, Gothic furniture with his own fabric designs, and his incredible birds that have the freedom to fly where they desire. These collections surely fuel his creativity as Slonem finds that collecting gives an exciting element to his artistic process, as placing objects and arranging the rooms within his studio acts as a cathartic experience. Most of his paintings are housed in a wonderful antique frame that is sourced from all around the world, some of which date back to the Rococo period as far as the 17th Century. His pieces exhibit a truly ethereal quality, which is no wonder why they go together so effortlessly. And this is just a small glimpse into the phenomenal reality of this prolific artist's studio. Recently Slonem has been shown at the Moscow Museum of Modern Art and the State Russian Museum in St. Petersburg. In 2017 and 2018, he will be featured by the National Museum of the Republic of Kazakhstan, the National Gallery in Bulgaria, and Slonem's works can be found in the permanent collections of 250 museums around the world, including the Solomon R. Guggenheim Museum, the Metropolitan Museum of Art in New York City, the Whitney, the Miro Foundation and the New Orleans Museum of Art. EXHIBITION HISTORY: Lilac Gallery "Hypnotic" November 1, 2022 - December 1, 2022. PROVENANCE: Lilac Gallery Collection. Consigned by the gallery directly from Hunt Slonem Studio. The artwork is inscribed with the unique SKU number of the artist on verso. The piece will be stamped from Lilac Gallery on its verso.
Details
Creator:

Creation Year:

Dimensions:

Height: 32 in (81.28 cm)

Width: 42 in (106.68 cm)

Depth: 2 in (5.08 cm)

Medium:

Movement & Style:

Period:

Condition:

Gallery Location:

Reference Number:

Seller: 003420

1stDibs: LU9827229562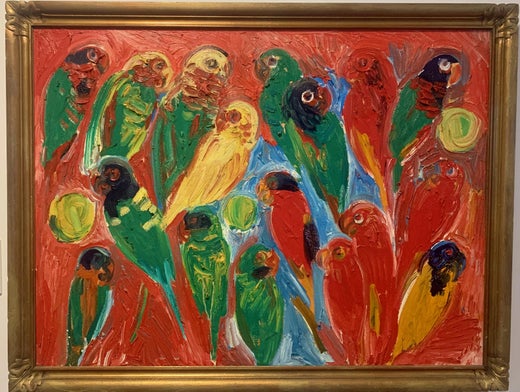 Shop All Hunt Slonem
About the Artist
Hunt Slonem
"I believe in repetition like a holy mantra or rosary," neo-Expressionist painter Hunt Slonem told Introspective, referring to his artistic method. "I am slightly influenced by Pop art, like the repetition of soup cans, postage stamps and celebrities. It's something I have been doing my whole life."
Slonem, who often depicts birds, rendered in thick, gestural brushstrokes and arranged in a loose grid, developed his fascination with tropical avian life during a childhood spent in Hawaii and Nicaragua. Today, his 30,000-square-foot studio in Brooklyn contains an aviary, along with a personal garden, a collection of antiques and walls and walls of artworks.
Besides birds, Slonem also paints bunnies — so many that they've become a signature. Limned in expressive, urgent strokes on flat, vibrantly colored backgrounds, these creatures fascinate through their subtle variations. "I have painted hundreds of rabbits, but each one is different," the artist has explained. "Each has its own personality, and it just comes through me."
The multitalented Slonem also sculpts, makes prints, creates installations and restores historic spaces. His work has achieved cult status among collectors and is represented in the permanent collections of such esteemed institutions as the Metropolitan Museum of Art. Slonem has even made an appearance on Real Housewives of New York.
Browse Hunt Slonem paintings, prints and other works on 1stDibs.
These expertly vetted sellers are 1stDibs' most experienced sellers and are rated highest by our customers.
Established in 2012
1stDibs seller since 2015
1,292 sales on 1stDibs
Typical response time: 1 hour
More From This Seller
View All
"White Diamond Dust The Big Move" Black & White Bunnies Oil on Canvas Painting

Located in New York, NY

A wonderful composition of one of Slonem's most iconic subjects, Bunnies. This piece depicts gestural figures of Bunnies against a white background with Diamond Dust. The color white...

Category

2010s Neo-Expressionist Animal Paintings

Materials

Canvas, Oil, Glass, Resin

"Emerald City" White Bunnies on Turquoise Background with Diamond Dust Painting

Located in New York, NY

A stunning composition of one of Slonem's most iconic subjects, Bunnies. This piece depicts gestural figures of Bunnies against a turquoise diamond dust. Slonem traces these bunnies ...

Category

2010s Neo-Expressionist Animal Paintings

Materials

Glass, Resin, Canvas, Oil

"Rhapsody in Blue Diamond Dust" White Bunnies on Ultramarine Blue Oil Painting

Located in New York, NY

A stunning composition of one of Slonem's most iconic subjects, Bunnies. This piece depicts gestural figures of Bunnies against ultramarine blue diamond dust. Slonem traces these bun...

Category

2010s Neo-Expressionist Animal Paintings

Materials

Canvas, Glass, Mixed Media, Oil

"Totem Assumption" Black Bunnies on Multicolored Background with Gold and Silver

Located in New York, NY

A stunning composition of one of Slonem's most iconic subjects, Bunnies. This piece depicts gestural figures of Bunnies against a multicolored background with gold and silver. Slonem traces these bunnies with thick black paint. Inspired by nature and a genuine love for animals, Slonem's paintings encompass unique inspirations drawn from the world. While viewing this piece in person, it is as if we are surrounded by elegance effortlessly, dazzled by the sparkle and enchanted with the charm of the Rabbit which symbolizes good fortune. This painting invites us to celebrate nature and the simplicity of form from the inspiring world of the Rabbit. The painting is signed and dated on verso on thick gallery wrap canvas. Art measures 70 x 50 inches Hunt Slonem was born in 1951 in Kittery, York County Maine. He is a renowned American painter, sculptor, and printmaker. Slonem is best known for his abstract depictions of animals, specifically Birds, Butterflies, and Bunnies. His whimsicality has captured the hearts of many across the globe, enchanting us all with a phenomenal power to elevate and inspire effortlessly. His works can best be described as monumental and uplifting as these forces certainly are the cornerstones of his inspiration. His pieces draw upon a spiritual connection celebrating nature, animals, and history. This bond stems from a love of exotic birds, as he has over 90 of them in his studio, painting them from life almost every day. His travels around the world since a young age has brought much passion for landscapes, as his father was in the Navy, living in Hawaii, Nicaragua to Mexico. And lastly, his unique joy in preserving historic homes has brought him to collect over 8 historic properties in the US, realizing too many of the country's architectural gems have fallen into disrepair, bringing them back to their original beauty while decorating them with genuine antiques and his own creations. Hunt possesses a unique gift, a gift that stretches far beyond his creations in art. Stepping inside his studio is an experience to behold. It is like stepping into a magical world, where you feel anything is possible; similar to the feelings you get when gazing at one of his enchanting paintings. The music of birds echoes and creates the soundtrack while enjoying other treasures placed perfectly in the design of his studio. You can find a family of harps positioned in a centered arrangement, a forest of tropical plants in another, objects and vases situated and resituated, as Slonem is inspired by the decorations arranged almost daily with-in this seemingly endless stretch of space. And that's not all, there is a collection of

antique top hats

...

Category

2010s Neo-Expressionist Animal Paintings

"Chinensis The Visit" Multicolored Bunnies Gold & Silver Background Oil Canvas

Located in New York, NY

A wonderful composition of one of Slonem's most iconic subjects, Bunnies. This piece depicts gestural figures of Multicolored bunnies on a metallic gold surface with silver. Slonem t...

Category

2010s Neo-Expressionist Animal Paintings

Materials

Canvas, Oil, Mixed Media

"Blue Tsunami Ascension" White & Blue Butterflies w Silver Oil Painting Canvas

Located in New York, NY

A wonderful composition of one of Slonem's most iconic subjects, Butterflies. This piece depicts delicate butterflies in ascension placed in a wonderful silver landscape. Slonem traces his famous crosshatch details throughout the piece, with thick use of paint and elegant accents. Inspired by nature and a genuine love for animals, Slonem's paintings encompass unique inspirations drawn from the world. While viewing this piece in person, it is as if we are surrounded by beauty and encased effortlessly in a golden seascape. This painting invites us to celebrate nature and the simplicity of flight from the elegant world of the butterfly. The piece is signed and dated on verso with the artist SKU#CX1865 and it is painted on thick gallery wrap canvas. Art measures 48 x 48 inches Hunt Slonem was born in 1951 in Kittery, York County Maine. He is a renowned American painter, sculptor, and printmaker. Slonem is best known for his abstract depictions of animals, specifically Birds, Butterflies, and Bunnies. His whimsicality has captured the hearts of many across the globe, enchanting us all with a phenomenal power to elevate and inspire effortlessly. His works can best be described as monumental and uplifting as these forces certainly are the cornerstones of his inspiration. His pieces draw upon a spiritual connection celebrating nature, animals, and history. This bond stems from a love of exotic birds, as he has over 90 of them in his studio, painting them from life almost every day. His travels around the world since a young age has brought much passion for landscapes, as his father was in the Navy, living in Hawaii, Nicaragua to Mexico. And lastly, his unique joy in preserving historic homes has brought him to collect over 8 historic properties in the US, realizing too many of the country's architectural gems have fallen into disrepair, bringing them back to their original beauty while decorating them with genuine antiques and his own creations. Hunt possesses a unique gift, a gift that stretches far beyond his creations in art. Stepping inside his studio is an experience to behold. It is like stepping into a magical world, where you feel anything is possible; similar to the feelings you get when gazing at one of his enchanting paintings. The music of birds echoes and creates the soundtrack while enjoying other treasures placed perfectly in the design of his studio. You can find a family of harps positioned in a centered arrangement, a forest of tropical plants in another, objects and vases situated and resituated, as Slonem is inspired by the decorations arranged almost daily with-in this seemingly endless stretch of space. And that's not all, there is a collection of

antique top hats

...

Category

2010s Neo-Expressionist Animal Paintings

Materials

Canvas, Mixed Media, Oil
You May Also Like
Hunt Slonem "White Diamond Dust Hutch July" White Bunnies

Located in Houston, TX

Hunt Slonem "White Diamond Dust Hutch July" White Bunnies Black outline bunnies on white diamond dust surface Unframed: 36 x 55 inches Hunt Slonem is a well-renowned American artis...

Category

2010s Neo-Expressionist Animal Paintings

Materials

Canvas, Resin, Acrylic Polymer, Oil, Acrylic

CHL 0948 Monte

Located in New York, NY

This whimsical and sophisticated painting was realized by the esteemed contemporary painter, Hunt Slonem in 2014. It presents a stylized rabbit in profile, rendered with loose and expressive brush strokes in black and white paint. Bold, graphic and beautiful this piece represents an especially strong example of his practice. Represented by the International

blue chip art

...

Category

2010s Neo-Expressionist Animal Paintings

CSO 205

Located in New York, NY

This whimsical and sophisticated painting was realized by the esteemed contemporary painter, Hunt Slonem in 2012. It presents a stylized rabbit in profile, rendered with loose and expressive brush strokes in black and white paint. Bold, graphic and beautiful this piece represents an especially strong example of his practice. Represented by the International

blue chip art

...

Category

2010s Neo-Expressionist Animal Paintings

CHL 0820

Located in New York, NY

This whimsical and sophisticated painting was realized by the esteemed contemporary painter, Hunt Slonem in 2014. It presents a stylized rabbit in profile, rendered with loose and expressive brush strokes in black and white paint. Bold, graphic and beautiful this piece represents an especially strong example of his practice. Represented by the

International blue

...

Category

2010s Neo-Expressionist Animal Paintings

CRK 01543

Located in New York, NY

This whimsical and sophisticated painting was realized by the esteemed contemporary painter, Hunt Slonem in 2015. It presents a stylized rabbit in profile, rendered with loose and expressive brush strokes in black and white paint. Bold, graphic and beautiful this piece represents an especially strong example of his practice. Represented by the International

blue chip art

...

Category

2010s Neo-Expressionist Animal Paintings

Untitled by Enzio Wenk, 2022 - Acrylic on Canvas, NeoExpressionism

Located in Bresso, IT

Acrylic on canvas.

Category

2010s Neo-Expressionist Abstract Paintings