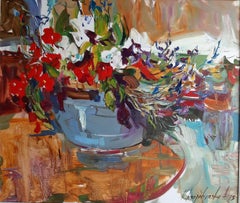 Flowers - Still Life Oil Painting Colors Red Green Brown White Blue Orange Grey
Want more images or videos?
Request additional images or videos from the seller
1 of 10
Alina Khrapchynska

Flowers - Still Life Oil Painting Colors Red Green Brown White Blue Orange Grey

2018
About
Dear clients, Thank you so much for your interest to the art of Maestro Alina Khrapchynska. The artist Maestro Khrapchynska has escaped the war in Ukraine and she is safe with her family in Bulgaria, in the historic city of Bansko, where she continues to create her incredible ART. Unfortunately, she had to leave all her artworks and her native town Kharkiv in Ukraine. We wish you well and in the meantime we hope you will enjoy our artworks in a digital way! Kindly yours, Snow Pearl art gallery Milko Pamouktchiev Owner "Flowers" is a landscape painting, by Maestro Alina Khrapchynska About the artwork: TECHNIQUE: oil painting STYLE: Impressionist, Contemporary Edition : Unique, signed Weight: Approximately 2 kg. The painting is unframed. Frame: Optional Snow Pearl gallery offers the possibility to increase the value of this artwork by adding a gorgeous wooden Italian contemporary frame of your choice. We can also offer a very special ancient restored frame. The frame can be hand-carved with composition ornamentation and hand-applied, with water gilded with 22 Kt. genuine gold leaf over rouge burnishing bole and then patinated to the appropriate patina. This will slightly increase the price, the shipping cost and the delivery time. Her paintings bring emotion of happiness, love, energy and beauty represented by the vast creative power of her talent." Dear art lovers, if you like the art of maestro Khrapchynska, please click the link to follow this artist and art gallery Snow Pearl to discover all our artists and beautiful artworks. Thank you so much! we appreciate your interest to our work. Maestro Alina Khrapchynska, Was born in Kharkov on July 11, 1983. She received her primary vocational education at the Kharkov Children's Art School named after IE Repin (graduated in 1998) and Kharkov State Art College (specializing in "artist-designer", teachers – G. Semerzhinsky, V. Chursin, M. Serdyuk, V. Starikov, R. Ivanova), who graduated in 2003. Higher artistic education was awarded to the artistic and graphic faculty of the Kharkov National Pedagogical University. G.S. Frying pans (teachers – M. Azarkina, A. Radomska, J. Cherkardin V. Kulik), who graduated in 2015. Member of the Kharkov organization of the National Union of Artists of Ukraine (since 2015). Since 2013 she works as an artist at the History Museum of the Kharkov National University of Radio Electronics. Participant of many international, republican, regional and city exhibitions and open-air. He has solo exhibitions. Works in the field of easel painting, murals, graphics. The main genre preferences: landscape, portrait, still life, plot composition. Ukrainian artist, painter, graphic artist, teacher. The artist's artworks are owned in private, public collections worldwide. Snow Pearl art gallery provides certificates of authenticity for all her artworks.
Details
Creator:

Creation Year:

Dimensions:

Height: 27.56 in (70 cm)

Width: 31.5 in (80 cm)

Depth: 0.79 in (2 cm)

Medium:

Movement & Style:

Period:

Framing:

Framing Options Available

Condition:

Gallery Location:

Reference Number:
Located in Sofia, Bulgaria
These expertly vetted sellers are highly rated and consistently exceed customer expectations.
1stDibs seller since 2018
118 sales on 1stDibs
More From This Seller
View All
Colorful flowers - Still Life Painting Green Brown Blue Yellow White Pink

Located in Sofia, BG

"Colorful flowers" is an impressionist still-life painting, oil on canvas by Maestro Olga Kashshay . About the artwork: TECHNIQUE: oil painting STYLE: Contemporary Edition : Uniqu...

Category

2010s Impressionist Still-life Paintings

Impressions - Still Life Painting Green Brown Blue Yellow White Pink Purple

Located in Sofia, BG

"Impressions" is an impressionist painting, oil on canvas by Maestro Olga Kashshay . About the artwork: TECHNIQUE: oil painting STYLE: Contemporary Edition : Unique, signed Weight...

Category

2010s Impressionist Still-life Paintings

Flowers - Figurative Painting Canvas Colors Blue Red Grey Yellow Pink

Located in Sofia, BG

"Flowers" is a colorful art line painting by Maestro Vittorio Angini About the artwork: TECHNIQUE: oil painting on canvas STYLE: Impressionist, Contemporary Edition : Unique, signed Weight: Approximately 2 kg. The painting is unframed The paintings brings emotion of happiness, love, pure energy, peace and beauty represented by the vast creative power of his talent." Dear art lovers, if you like the art of Maestro Vittorio Angini please click the link to follow this artist and art gallery Snow Pearl to discover all our artists and beautiful artworks. Thank you so much! we appreciate your interest to our work. Frame: Optional Snow Pearl gallery offers the possibility to increase the value of this artwork by adding a gorgeous wooden Italian contemporary frame. For some paintings we can also offer a very special ancient restored frame. The frame can be hand-carved with composition ornamentation and hand-applied, with water gilded with 22 Kt. genuine gold leaf over rouge burnishing bole and then patinated to the appropriate patina. This will slightly increase the price, the shipping cost and the delivery time. Maestro Vittorio Angini was born in in 1946 in Italy in Arrezo, Toscana. He lives and works in Arezzo in the former Franciscan Hospice of Bagnaia. He has participated in the artistic activities of many cultural groups including: the "Cultural Center Artistico Aretino "," Studio 8 "," Bottega d'Arte del Valdarno "," National Association of Artists Italians ". He was invited to the exhibition of figurative arts in Siena and to "Bolsena Arte 82". Three works of him make part of the traveling exhibition "Mondial 1986". Angini attended the School of Goldsmithing and Jewelery of "Uno AErre", developing refined artistic skills such as to be required by the most important goldsmith companies in Arezzo and to undertake a collaboration with the Private Mint of Rome. In 2007 he was invited by Josè Van Roy Dalì, son of art of the famous Catalan painter, to participate in the "Quadrennial of Contemporary Art Leonardo da Vinci", held in Rome at the "Vittoriano". Since 2009 his works have been part of the artistic project "In Mostra con Dalì" and his works are were exhibited at the "Galleria Tondinelli" in Rome. In 2012 he participated in the "Affordable Art Fair" in London and in 2013 in the "Tuscan Art on Tour" in Chicago and Menasha in the United States. The artist's works are on permanent display at the gallery Borley Twist in Chicago and Hinsdale (USA). In 2014 at the exhibition "Memories of natures, myths and geometries" at the Chiostro del Bramante-Rome. October 2014 - Matalon Foundation Museum Exhibition in Milan. In 2018 Modern Gallery Arezzo His works are exhibited in the "La Bottega" Gallery in Castellina in Chianti (Si). His artworks are owned in museum and private collections worldwide. Our gallery provides Certificate of authenticity of this artwork. Dicono di Angini Tra spiritualità e colore La scomposizione delle sue opere è frutto di quella della sua anima, sempre alla ricerca di qualcosa che vada oltre. Nei suoi occhi, come nelle sue tele, c'è una malinconia "viva" che ci attraversa e ci emoziona, trasportandoci in un mondo fantastico e complesso; come lui. Tutta la sua vita è stata una sperimentazione artistica volta alla conoscenza di sé, degli altri e del mondo che lo circonda. Nei suoi colori predomina il giallo della luce divina e della speranza. Una consapevolezza del sé ottenuta mediante la sperimentazione artistica come strumento di conoscenza, come atto di autoriflessione, attraverso l'indagine del proprio vissuto, in costante tensione con l'esterno, quasi volesse far emergere quel tripudio di emozioni che tiene nelle stanze della sua anima. Olimpia Bruni Intervista con Dalì Da un'idea di Josè Van Roy Dalì, "In mostra con Dalì". Un progetto d'arte che si concretizza in una mostra itinerante, in omaggio al padre Salvador Dalì. Lo scorso anno partiva, come una caccia al tesoro, presso la Galleria Tondinelli, nel favoloso scenario del Complesso Monumentale di San Carlino delle Quattro Fontane, a Roma, la prima edizione della mostra itinerante con la partecipazione degli artisti: Vittorio Angini, Graziano Peretti, Fausto Ciotti, Ileana Della Matera, Loredana Bendini, Ada Cardilli, Patrizio Veronese e Mario Spigariol. Tra gli artisti in mostra di particolare rilievo – non togliendo prestigio agli altri partecipanti – le sorprendenti opere del pittore aretino Vittorio Angini. Invitato nel 2007 su segnalazione di Josè Van Roy Dalì, figlio d'arte del famoso pittore catalano, a partecipare alla "Quadriennale d'Arte Contemporanea", tenutasi a Roma presso il "Vittoriano", Angini collabora attualmente all'importante progetto d'arte "In mostra con Dalì". I suoi quadri si trovano in collezioni private negli USA, Canada, Australia, Nuova Zelanda, Sud Africa, Inghilterra, Irlanda. La sua pittura, risplendente di luce diffusa, penetra nella nostra capacità e sensibilità di stimolare ricordi ancestrali, che pensiamo sepolti nei meandri della nostra memoria. In molte delle sue opere par di cogliere una sorta di metempsicosi del colore, che nelle sue ricercate tinte pare trasferirsi, espandersi, in ogni angolo della tela, fluttuando oltre le rigide forme del contorno, e dove la sacralità della luce rischiara quelle impalpabili zone della nostra anima in cui risiedono i sentimenti e le emozioni più profonde. I riverberi della luce scaturita dal colore allargano l'immagine, che pare perdersi, oltrepassare i confini della percezione visiva, quasi ad illustrare, ad indicare la strada di un mondo che necessariamente dimora e vive oltre il quadro, espandendosi in orizzonti più ampi. Le forme, i paesaggi, i giochi di colore, i ritratti, appaiono come effigi della nostra esistenza, che coesistono nell'intercalare del ticchettio del tempo che scorre. Addentrarsi nelle parole di Josè Van Roy Dalì è sempre oltremodo affascinante e l'incontro avvenuto presso la sua casa museo mi ha fornito l'occasione per approfondimenti sul pittore Vittorio Angini e su "In Mostra con Dalì". D. I quadri di Angini, che ha voluto appartenessero sin dagli esordi al suo "viaggio" itinerante, svelano le verità nascoste dei nostri desideri e della nostra immaginazione. Trovano affinità con le Sue opere d'arte ed il Suo percorso pittorico? R. Prima di tutto trovano affinità con il mio gusto e con il mio senso estetico del bello. Inoltre, scavando nel "labirinto" artistico di Angini, tra i lavori del passato e nei vari percorsi, ho trovato molteplici mondi paralleli multicromatici, che mi hanno fatto apprezzare ulteriormente il lavoro di questo artista. D. Ho avuto modo di ammirare tra le molte opere esposte nella sua galleria privata, appunto in Via Salvador Dalì, quelle di Vittorio Angini. So che sono state largamente apprezzate nel mondo della cultura e dell'arte. Un suo parere strettamente personale su tali opere? R. Il modo immediato di trasmettere, attraverso i colori, indefinibili emozioni, con la medesima semplicità di un grande romanziere. D. Maestro, in questa interessante esposizione "In mostra con Dalì", ciascun artista presenterà, accanto alle sue, tre opere. So che ha fatto la ricerca dei pittori presenti in mostra con molto impegno e serietà, con quale criterio li ha selezionati? R. Ho saputo "ascoltare" le vibrazioni del colore e individuare, attraverso le varie tematiche, la peculiare sensibilità di ogni singolo artista. E poi, per dirla tutta, mi sono affidato al mio gusto personale, immaginando quali fossero le opere che avrei gradito collocare nella mia residenza… e quali tra queste, avrebbe apprezzato anche mio padre. D. Com'è sbocciata e che traguardi vuol raggiungere questa mostra? È puramente un omaggio a suo padre Salvador o è un omaggio ad entrambi i

Dalì o

...

Category

2010s Impressionist Figurative Paintings

Vases on the balcony - Painting Canvas Colors Blue Red Grey Yellow Pink

Located in Sofia, BG

"Vases on the balcony" is a colorful painting by Maestro Vittorio Angini About the artwork: TECHNIQUE: oil painting on canvas STYLE: Impressionist, Contemporary Edition : Unique, signed Weight: Approximately 3 kg. The painting is unframed The paintings brings emotion of happiness, love, pure energy, peace and beauty represented by the vast creative power of his talent." Dear art lovers, if you like the art of Maestro Vittorio Angini please click the link to follow this artist and art gallery Snow Pearl to discover all our artists and beautiful artworks. Thank you so much! we appreciate your interest to our work. Frame: Optional Snow Pearl gallery offers the possibility to increase the value of this artwork by adding a gorgeous wooden Italian contemporary frame. For some paintings we can also offer a very special ancient restored frame. The frame can be hand-carved with composition ornamentation and hand-applied, with water gilded with 22 Kt. genuine gold leaf over rouge burnishing bole and then patinated to the appropriate patina. This will slightly increase the price, the shipping cost and the delivery time. Maestro Vittorio Angini was born in in 1946 in Italy in Arrezo, Toscana. He lives and works in Arezzo in the former Franciscan Hospice of Bagnaia. He has participated in the artistic activities of many cultural groups including: the "Cultural Center Artistico Aretino "," Studio 8 "," Bottega d'Arte del Valdarno "," National Association of Artists Italians ". He was invited to the exhibition of figurative arts in Siena and to "Bolsena Arte 82". Three works of him make part of the traveling exhibition "Mondial 1986". Angini attended the School of Goldsmithing and Jewelery of "Uno AErre", developing refined artistic skills such as to be required by the most important goldsmith companies in Arezzo and to undertake a collaboration with the Private Mint of Rome. In 2007 he was invited by Josè Van Roy Dalì, son of art of the famous Catalan painter, to participate in the "Quadrennial of Contemporary Art Leonardo da Vinci", held in Rome at the "Vittoriano". Since 2009 his works have been part of the artistic project "In Mostra con Dalì" and his works are were exhibited at the "Galleria Tondinelli" in Rome. In 2012 he participated in the "Affordable Art Fair" in London and in 2013 in the "Tuscan Art on Tour" in Chicago and Menasha in the United States. The artist's works are on permanent display at the gallery Borley Twist in Chicago and Hinsdale (USA). In 2014 at the exhibition "Memories of natures, myths and geometries" at the Chiostro del Bramante-Rome. October 2014 - Matalon Foundation Museum Exhibition in Milan. In 2018 Modern Gallery Arezzo His works are exhibited in the "La Bottega" Gallery in Castellina in Chianti (Si). His artworks are owned in museum and private collections worldwide. Our gallery provides Certificate of authenticity of this artwork. Dicono di Angini Tra spiritualità e colore La scomposizione delle sue opere è frutto di quella della sua anima, sempre alla ricerca di qualcosa che vada oltre. Nei suoi occhi, come nelle sue tele, c'è una malinconia "viva" che ci attraversa e ci emoziona, trasportandoci in un mondo fantastico e complesso; come lui. Tutta la sua vita è stata una sperimentazione artistica volta alla conoscenza di sé, degli altri e del mondo che lo circonda. Nei suoi colori predomina il giallo della luce divina e della speranza. Una consapevolezza del sé ottenuta mediante la sperimentazione artistica come strumento di conoscenza, come atto di autoriflessione, attraverso l'indagine del proprio vissuto, in costante tensione con l'esterno, quasi volesse far emergere quel tripudio di emozioni che tiene nelle stanze della sua anima. Olimpia Bruni Intervista con Dalì Da un'idea di Josè Van Roy Dalì, "In mostra con Dalì". Un progetto d'arte che si concretizza in una mostra itinerante, in omaggio al padre Salvador Dalì. Lo scorso anno partiva, come una caccia al tesoro, presso la Galleria Tondinelli, nel favoloso scenario del Complesso Monumentale di San Carlino delle Quattro Fontane, a Roma, la prima edizione della mostra itinerante con la partecipazione degli artisti: Vittorio Angini, Graziano Peretti, Fausto Ciotti, Ileana Della Matera, Loredana Bendini, Ada Cardilli, Patrizio Veronese e Mario Spigariol. Tra gli artisti in mostra di particolare rilievo – non togliendo prestigio agli altri partecipanti – le sorprendenti opere del pittore aretino Vittorio Angini. Invitato nel 2007 su segnalazione di Josè Van Roy Dalì, figlio d'arte del famoso pittore catalano, a partecipare alla "Quadriennale d'Arte Contemporanea", tenutasi a Roma presso il "Vittoriano", Angini collabora attualmente all'importante progetto d'arte "In mostra con Dalì". I suoi quadri si trovano in collezioni private negli USA, Canada, Australia, Nuova Zelanda, Sud Africa, Inghilterra, Irlanda. La sua pittura, risplendente di luce diffusa, penetra nella nostra capacità e sensibilità di stimolare ricordi ancestrali, che pensiamo sepolti nei meandri della nostra memoria. In molte delle sue opere par di cogliere una sorta di metempsicosi del colore, che nelle sue ricercate tinte pare trasferirsi, espandersi, in ogni angolo della tela, fluttuando oltre le rigide forme del contorno, e dove la sacralità della luce rischiara quelle impalpabili zone della nostra anima in cui risiedono i sentimenti e le emozioni più profonde. I riverberi della luce scaturita dal colore allargano l'immagine, che pare perdersi, oltrepassare i confini della percezione visiva, quasi ad illustrare, ad indicare la strada di un mondo che necessariamente dimora e vive oltre il quadro, espandendosi in orizzonti più ampi. Le forme, i paesaggi, i giochi di colore, i ritratti, appaiono come effigi della nostra esistenza, che coesistono nell'intercalare del ticchettio del tempo che scorre. Addentrarsi nelle parole di Josè Van Roy Dalì è sempre oltremodo affascinante e l'incontro avvenuto presso la sua casa museo mi ha fornito l'occasione per approfondimenti sul pittore Vittorio Angini e su "In Mostra con Dalì". D. I quadri di Angini, che ha voluto appartenessero sin dagli esordi al suo "viaggio" itinerante, svelano le verità nascoste dei nostri desideri e della nostra immaginazione. Trovano affinità con le Sue opere d'arte ed il Suo percorso pittorico? R. Prima di tutto trovano affinità con il mio gusto e con il mio senso estetico del bello. Inoltre, scavando nel "labirinto" artistico di Angini, tra i lavori del passato e nei vari percorsi, ho trovato molteplici mondi paralleli multicromatici, che mi hanno fatto apprezzare ulteriormente il lavoro di questo artista. D. Ho avuto modo di ammirare tra le molte opere esposte nella sua galleria privata, appunto in Via Salvador Dalì, quelle di Vittorio Angini. So che sono state largamente apprezzate nel mondo della cultura e dell'arte. Un suo parere strettamente personale su tali opere? R. Il modo immediato di trasmettere, attraverso i colori, indefinibili emozioni, con la medesima semplicità di un grande romanziere. D. Maestro, in questa interessante esposizione "In mostra con Dalì", ciascun artista presenterà, accanto alle sue, tre opere. So che ha fatto la ricerca dei pittori presenti in mostra con molto impegno e serietà, con quale criterio li ha selezionati? R. Ho saputo "ascoltare" le vibrazioni del colore e individuare, attraverso le varie tematiche, la peculiare sensibilità di ogni singolo artista. E poi, per dirla tutta, mi sono affidato al mio gusto personale, immaginando quali fossero le opere che avrei gradito collocare nella mia residenza… e quali tra queste, avrebbe apprezzato anche mio padre. D. Com'è sbocciata e che traguardi vuol raggiungere questa mostra? È puramente un omaggio a suo padre Salvador o è un omaggio ad entrambi i

Dalì o

...

Category

2010s Impressionist Figurative Paintings

Le Grandi Calle- Figurative Painting Canvas Colors Blue Red Grey Yellow Pink

Located in Sofia, BG

"La grandi calle" is a colorful art line painting by Maestro Vittorio Angini About the artwork: TECHNIQUE: oil painting on canvas STYLE: Impressionist, Contemporary Edition : Unique, signed Weight: Approximately 3 kg. The painting is unframed The paintings brings emotion of happiness, love, pure energy, peace and beauty represented by the vast creative power of his talent." Dear art lovers, if you like the art of Maestro Vittorio Angini please click the link to follow this artist and art gallery Snow Pearl to discover all our artists and beautiful artworks. Thank you so much! we appreciate your interest to our work. Frame: Optional Snow Pearl gallery offers the possibility to increase the value of this artwork by adding a gorgeous wooden Italian contemporary frame. For some paintings we can also offer a very special ancient restored frame. The frame can be hand-carved with composition ornamentation and hand-applied, with water gilded with 22 Kt. genuine gold leaf over rouge burnishing bole and then patinated to the appropriate patina. This will slightly increase the price, the shipping cost and the delivery time. Maestro Vittorio Angini was born in in 1946 in Italy in Arrezo, Toscana. He lives and works in Arezzo in the former Franciscan Hospice of Bagnaia. He has participated in the artistic activities of many cultural groups including: the "Cultural Center Artistico Aretino "," Studio 8 "," Bottega d'Arte del Valdarno "," National Association of Artists Italians ". He was invited to the exhibition of figurative arts in Siena and to "Bolsena Arte 82". Three works of him make part of the traveling exhibition "Mondial 1986". Angini attended the School of Goldsmithing and Jewelery of "Uno AErre", developing refined artistic skills such as to be required by the most important goldsmith companies in Arezzo and to undertake a collaboration with the Private Mint of Rome. In 2007 he was invited by Josè Van Roy Dalì, son of art of the famous Catalan painter, to participate in the "Quadrennial of Contemporary Art Leonardo da Vinci", held in Rome at the "Vittoriano". Since 2009 his works have been part of the artistic project "In Mostra con Dalì" and his works are were exhibited at the "Galleria Tondinelli" in Rome. In 2012 he participated in the "Affordable Art Fair" in London and in 2013 in the "Tuscan Art on Tour" in Chicago and Menasha in the United States. The artist's works are on permanent display at the gallery Borley Twist in Chicago and Hinsdale (USA). In 2014 at the exhibition "Memories of natures, myths and geometries" at the Chiostro del Bramante-Rome. October 2014 - Matalon Foundation Museum Exhibition in Milan. In 2018 Modern Gallery Arezzo His works are exhibited in the "La Bottega" Gallery in Castellina in Chianti (Si). His artworks are owned in museum and private collections worldwide. Our gallery provides Certificate of authenticity of this artwork. Dicono di Angini Tra spiritualità e colore La scomposizione delle sue opere è frutto di quella della sua anima, sempre alla ricerca di qualcosa che vada oltre. Nei suoi occhi, come nelle sue tele, c'è una malinconia "viva" che ci attraversa e ci emoziona, trasportandoci in un mondo fantastico e complesso; come lui. Tutta la sua vita è stata una sperimentazione artistica volta alla conoscenza di sé, degli altri e del mondo che lo circonda. Nei suoi colori predomina il giallo della luce divina e della speranza. Una consapevolezza del sé ottenuta mediante la sperimentazione artistica come strumento di conoscenza, come atto di autoriflessione, attraverso l'indagine del proprio vissuto, in costante tensione con l'esterno, quasi volesse far emergere quel tripudio di emozioni che tiene nelle stanze della sua anima. Olimpia Bruni Intervista con Dalì Da un'idea di Josè Van Roy Dalì, "In mostra con Dalì". Un progetto d'arte che si concretizza in una mostra itinerante, in omaggio al padre Salvador Dalì. Lo scorso anno partiva, come una caccia al tesoro, presso la Galleria Tondinelli, nel favoloso scenario del Complesso Monumentale di San Carlino delle Quattro Fontane, a Roma, la prima edizione della mostra itinerante con la partecipazione degli artisti: Vittorio Angini, Graziano Peretti, Fausto Ciotti, Ileana Della Matera, Loredana Bendini, Ada Cardilli, Patrizio Veronese e Mario Spigariol. Tra gli artisti in mostra di particolare rilievo – non togliendo prestigio agli altri partecipanti – le sorprendenti opere del pittore aretino Vittorio Angini. Invitato nel 2007 su segnalazione di Josè Van Roy Dalì, figlio d'arte del famoso pittore catalano, a partecipare alla "Quadriennale d'Arte Contemporanea", tenutasi a Roma presso il "Vittoriano", Angini collabora attualmente all'importante progetto d'arte "In mostra con Dalì". I suoi quadri si trovano in collezioni private negli USA, Canada, Australia, Nuova Zelanda, Sud Africa, Inghilterra, Irlanda. La sua pittura, risplendente di luce diffusa, penetra nella nostra capacità e sensibilità di stimolare ricordi ancestrali, che pensiamo sepolti nei meandri della nostra memoria. In molte delle sue opere par di cogliere una sorta di metempsicosi del colore, che nelle sue ricercate tinte pare trasferirsi, espandersi, in ogni angolo della tela, fluttuando oltre le rigide forme del contorno, e dove la sacralità della luce rischiara quelle impalpabili zone della nostra anima in cui risiedono i sentimenti e le emozioni più profonde. I riverberi della luce scaturita dal colore allargano l'immagine, che pare perdersi, oltrepassare i confini della percezione visiva, quasi ad illustrare, ad indicare la strada di un mondo che necessariamente dimora e vive oltre il quadro, espandendosi in orizzonti più ampi. Le forme, i paesaggi, i giochi di colore, i ritratti, appaiono come effigi della nostra esistenza, che coesistono nell'intercalare del ticchettio del tempo che scorre. Addentrarsi nelle parole di Josè Van Roy Dalì è sempre oltremodo affascinante e l'incontro avvenuto presso la sua casa museo mi ha fornito l'occasione per approfondimenti sul pittore Vittorio Angini e su "In Mostra con Dalì". D. I quadri di Angini, che ha voluto appartenessero sin dagli esordi al suo "viaggio" itinerante, svelano le verità nascoste dei nostri desideri e della nostra immaginazione. Trovano affinità con le Sue opere d'arte ed il Suo percorso pittorico? R. Prima di tutto trovano affinità con il mio gusto e con il mio senso estetico del bello. Inoltre, scavando nel "labirinto" artistico di Angini, tra i lavori del passato e nei vari percorsi, ho trovato molteplici mondi paralleli multicromatici, che mi hanno fatto apprezzare ulteriormente il lavoro di questo artista. D. Ho avuto modo di ammirare tra le molte opere esposte nella sua galleria privata, appunto in Via Salvador Dalì, quelle di Vittorio Angini. So che sono state largamente apprezzate nel mondo della cultura e dell'arte. Un suo parere strettamente personale su tali opere? R. Il modo immediato di trasmettere, attraverso i colori, indefinibili emozioni, con la medesima semplicità di un grande romanziere. D. Maestro, in questa interessante esposizione "In mostra con Dalì", ciascun artista presenterà, accanto alle sue, tre opere. So che ha fatto la ricerca dei pittori presenti in mostra con molto impegno e serietà, con quale criterio li ha selezionati? R. Ho saputo "ascoltare" le vibrazioni del colore e individuare, attraverso le varie tematiche, la peculiare sensibilità di ogni singolo artista. E poi, per dirla tutta, mi sono affidato al mio gusto personale, immaginando quali fossero le opere che avrei gradito collocare nella mia residenza… e quali tra queste, avrebbe apprezzato anche mio padre. D. Com'è sbocciata e che traguardi vuol raggiungere questa mostra? È puramente un omaggio a suo padre Salvador o è un omaggio ad entrambi i

Dalì o

...

Category

2010s Impressionist Figurative Paintings

Tulips - Oil Still Life Painting Colors Red White Blue Yellow Ivory Pink

Located in Sofia, BG

"Tulips" is a painting by Maestro impressionist Maria Raycheva. The painting is unframed. About the artwork: TECHNIQUE: oil painting STYLE: Impressionist, Contemporary Edition : ...

Category

2010s Impressionist Still-life Paintings
You May Also Like
Still Life, Original oil Painting, Ready to Hang

Located in Granada Hills, CA

Artist: Anatoly Borisovich Tarabanov Work: Original oil painting, handmade artwork, one of a kind Medium: Oil on Canvas Year: 2018 Style: Surrealism Title: Still Life Size: 29.5" x...

Category

2010s Impressionist Still-life Paintings

Still Life, Original oil Painting, Ready to Hang

Located in Granada Hills, CA

Artist: Anatoly Borisovich Tarabanov Work: Original oil painting, handmade artwork, one of a kind Medium: Oil on Canvas Year: 2018 Style: Classic Art Title: Still Life Size: 29.5" ...

Category

2010s Impressionist Still-life Paintings

Still Life with Fish, Original oil Painting, Ready to Hang

Located in Granada Hills, CA

Artist: Anatoly Borisovich Tarabanov Work: Original oil painting, handmade artwork, one of a kind Medium: Oil on Canvas Year: 2017 Style: Contemporary Art Title: Still Life with Fi...

Category

2010s Impressionist Still-life Paintings

A Childhood Fantasy. Adventurous journey With Goldfish and Panda

Located in Kuala Lumpur, MY

Childhood memories #3 儿时的记忆#3 Li Geng Min's paintings present us a fantasy world on canvas. In Chinese culture, gold fishes and pandas highlight symbols of happiness. Gold fishes r...

Category

21st Century and Contemporary Impressionist Animal Paintings

"Phlox"

Located in Lambertville, NJ

Jim's of Lambertville Fine Art Gallery is proud to offer this work by Cora S. Brooks (1885 - 1930). Cora S. Brooks was born in New Brunswick, New Jersey in 1885. Her father, Edward F. Brooks, was the General Superintendent of the Pennsylvania Railroad. In 1902, her family moved to Lansdowne, PA. She attended the Philadelphia School of Design for Women (now the Moore College of Art & Design). Brooks specialized in flower still lives, but also was known to paint landscapes, and do an occasional portrait. She was one of the founding members of the Philadelphia Ten, a group of women artists who emerged out of the

Philadelphia art

...

Category

1920s Impressionist Still-life Paintings

La Lecture

Located in Missouri, MO

Pierre Eugene Duteurtre

(1911-1989) "La Lecture" c. 1960 Oil on Canvas Signed Canvas Size: 18 x 22 inches Framed Size: approx 26.5 x 30.5 inch...

Category

Mid-20th Century Impressionist Figurative Paintings