Aipad Association International Photography Art Dealers Drawings and Watercolor Paintings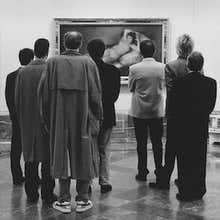 Association of International Photography Art Dealers (AIPAD)
Since 1979, the Association of International Photography Art Dealers has set the standards for galleries specializing in fine-art photography. With members in North America, Europe, Asia and Australia, AIPAD handles such pressing issues as composing a code of ethics for dealers, increasing the public's understanding of photography and safeguarding the rights of photographers and buyers. The annual AIPAD Photography Show at Pier 94 in New York is the premier event for curators and collectors seeking out photographic works ranging from rare 19th-century prints to contemporary digital creations.
Black Lemons, 21 March 1985
By Donald Sultan
Located in London, GB
DONALD SULTAN Born 1951 Black Lemons, 21 March 1985 Charcoal on paper 38 x 50 inches Donald Sultan is an acclaimed American painter known for his large-scale paintings produced us...
Category
1980s Contemporary Aipad Association International Photography Art Dealers Drawings and Watercolor Paintings
Black Lemons, 31 May 1985
By Donald Sultan
Located in London, GB
Category
1980s Contemporary Aipad Association International Photography Art Dealers Drawings and Watercolor Paintings
Three Black Flowers, 23 August 1995
By Donald Sultan
Located in London, GB
Category
1990s Contemporary Aipad Association International Photography Art Dealers Drawings and Watercolor Paintings