Biedermeier More Furniture and Collectibles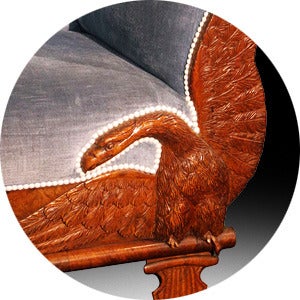 Biedermeier Furniture Collection
Central Europe (ca. 1815 - 1859)
Biedermeier furniture represents the first modern European decorative style not dictated by the tastes of the aristocracy. Following the Napoleonic wars, a growing, wealthy urban middle class in the German-speaking states of Central Europe began to demand rights and privileges once granted only to nobles. To avoid trouble, the upwardly striving confined their political discussions to one another's homes. And so the salon was born.
     Cabinetmakers in cities such as Vienna, Berlin and Mainz began to offer goods that reflected the tastes and needs of the new class. The makers of Biedermeier furniture used little or no gilding, silver hardware or other lavish ornament. Ebonized trims are common on Biedermeier cabinetry, and neoclassical elements — lyre-shaped chair splats, carved scrollwork, table supports shaped like Greek columns. But the strongest aesthetic statement came from the wood — richly-grained, honey-colored, often book-matched veneers of walnut and fruitwood.
     There are two iconic Biedermeier furniture forms, both made to outfit rooms designed for conversation. One is the sofa, deeply upholstered with a strong, architectural wooden frame. The second is the circular pedestal table, which stood at the center of the room, offering a surface on which to place coffee and cake services; or to roll out a map, or sketch out ideas on paper.
     "Biedermeier" was originally a derogatory term — it derives from the pen names of two German magazine writers who mocked bourgeois manners. Looking at the elegant and refined pieces offered on these pages, that is now an amusing irony.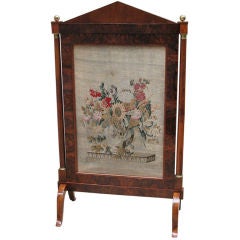 H 4 ft. 8.8 in. W 33 in. D 1.25 in.

Dimensions:
H 4 ft. 8.8 in. W 33 in. D 1.25 in.
Dealer Location:
Long Island City, NY
Materials & Techniques:
Brass, Silk, Tapestry, Walnut, Maple, Pine
Fine Detailed Biedermeier Screen with Original Tap...
Antique 19th Century German Biedermeier Screens and Room Dividers
Brass, Silk, Tapestry, Walnut, Maple, Pine
Fine detailed South German Biedermeier screen with it's original tapestry depicting a floral arrangement in a neonclassical vase. Backside with creased silk. Book-match veneered frame i...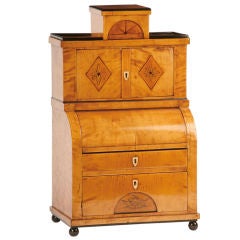 H 22" W 13 1/2 " D 8 1/4 "

Dimensions:
H 22" W 13 1/2 " D 8 1/4 "
Dealer Location:
Westport, CT
Materials & Techniques:
Birch
Miniature Biedermeier Secretary
Antique 19th Century Austrian Models and Miniatures
Birch
A rare form in miniature furniture A cylinder front Biedermeier secretary in birch with engraved decoration