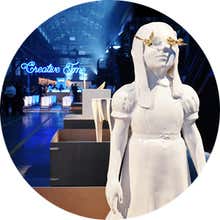 On April 28th, New York City's outstanding public-arts organization Creative Time welcomed 700 artists, arts enthusiasts and supporters to its annual spring gala in a repurposed warehouse of the Brooklyn Navy Yard. The evening honored Design Miami/ cofounder Craig Robins and celebrated the work of his artistic collaborator Rirkrit Tiravanija, whose socially conscious and often-interactive installations are representative of the nonprofit's mission.

1stdibs is proud to support and collaborate with Creative Time, as they advocate for and develop new platforms for artistic expression. For the gala, a collection of all-white furnishings from 1stdibs dealers, hand-picked by Robins and displayed on a series of pedestals adorned in the style of Tiravanija, welcomed partygoers to the event. The monochromatic palette was inspired by the city of Miami and reinforced the evening's theme of a fresh start, or more aptly, a blank canvas.

"I think Creative Time is one of the most profound arts organizations in the country," says 1stdibs dealer and Creative Time board member Cristina Grajales. "The vision that they have of bringing art that is thought provoking, that is socially conscious, that is poetic, but is also about the community is so important." Her contribution to the event installation, a humorous chicken lamp by Sebastian Errazuriz, also plays at the organization's latest epically scaled art project: Duke Riley's Fly By Night, officially opening in early May. (Guests to Thursday's event will have a chance to visit the pigeons that will be its stars in the Navy Yard.)

The spring gala brought together creators and patrons, but as Creative Time executive director Katie Hollander acknowledges, it also united two important groups, design lovers and arts enthusiasts. "Our partnership with 1stdibs presents a dynamic opportunity to engage new creative audiences," say Hollander. "1stdibs understands that engaging in authentic dialogues within the arts empowers artists, and connecting artists, curators and designers with the public makes magic happen."

1stdibs is pleased to offer a special collection of pieces
selected in collaboration with Creative Time.

Use the code CREATIVETIME20 to donate 20 percent of your purchase to Creative Time through June 30.

Use code
CREATIVETIME20
at check-out by June 30, 2016

20% of the total item price of your online purchase will be donated to Creative Time when promotion code CREATIVETIME20 is entered at checkout on 1stdibs. The offer is only valid on full-priced purchases or private offers and may not be combined with any other offer. The 20% donation applies only to the total price of items in your order and excludes sales tax and shipping. The 20% donation will only be applied to the first $25,000 USD of total item price, for a maximum donation of $5,000 USD. All standard customer terms and conditions apply. 1stdibs reserves the right to cancel or modify this offer at any time. Offer expires at 11:59pm ET, June 30, 2016 and will be removed from orders that are submitted after this time. Offer is nontransferable. Void where prohibited.
Eva Hild, "Loop" Unique Stoneware Sculpture, 2004
By Eva Hild 1
Located in New York, NY
Eva hild. "Loop" Sweden, 2004. Stoneware sculpture. 34" W x 24" D x 27" H. Eva Hild lives and works in the south-west of Sweden. With her organic sculptures she has establish...
Category
Early 2000s Swedish Scandinavian Modern Creative Time 2016