Hermes
HERMES Stirrup Desk Clock Set
Hermès
Vintage 1950s Desk Accessories
Gold Plate
A leather and gold plated brass stirrup desk clock with matching barometer, designed by Dupre Lafon
View More Details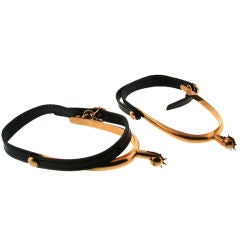 W 4 3/8" D 2 3/4"

Rose Gold Spurs by ASPREY and HERMES
Victorian More Jewelry
Unique rose gold & black leather spurs created in the 1950's and retailed by Asprey's antique department. The gold part was made by Asprey and the leather part - by Hermes. It would be...
View More Details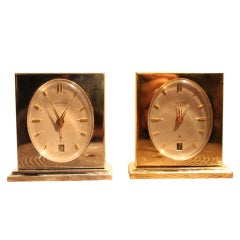 H 3 in. W 2.5 in.

His and Hers Hermes Bedside Alarm Clock
Hermès
Vintage 1950s French Clocks
Silver, Gold Plate, Brass
a pair of bed side alarm clocks by Hermes. One is silver plate and one is Gold Plate. It also has the date which is quite rare... super cool
View More Details

H 32.5 in. W 20 in. D 13.5 in.

Leather wrapped and stitched corner shelf brass ta...
Jacques Adnet
Vintage 1950s French Shelves
Brass, Leather
Attributed to French Designer Jacques Adnet, this corner table with two shelves and leather gallery is constructed in brass and completely wrapped and switched in leather. Exposed brass...
View More Details
1999 VISIONAIRE #26 'Fantasy' book with Hermes mas...
Other
Very rare unbound artwork with Hermes paper mask and circular case by Visionaire. Issue #26 "Fantasy". 1999. Condition is new.
View More Details
Hermes Equestrian Desk Set
Hermès
Vintage 1960s French Desk Accessories
Silver Plate
Hermes Horse head equestrian desk set. Includes an ashtray, magnifier and straight edge.
View More Details

H 1.18 in. W 7.87 in. D 7.09 in.

Gardening themed ashtray by Hermès c. 1980s
Hermès
Late 20th Century French Ashtrays
Ceramic
A fine single white ceramic ashtray, with two cigar/cigarette rests, with applied motifs, following a gardening theme of trowels, spades and flowerpots, with a freize border of cauliflo...
View More Details

H 5.12 in. W 5.91 in. D 5.91 in.

Paul Dupre Lafon desk compendium for Hermes.
Hermès
Vintage 1940s French Clocks
A rare and stylish leather and silver-plated desk compendium, or 'Weather Station' by Paul Dupre Lafon (1900 - 1971) for Hermes, the stepped base section covered in hand stitched leathe...
View More Details

W 7.5 in. D 6.25 in.

Hermes Ashtray Collection
Hermès
Vintage 1970s French Ashtrays
Ceramic
A collection of Hermes ceramic hand painted ashtrays
View More Details
HERMES Lady's Stainless Steel and Diamond Kelly Pa...
Hermès
Wrist Watches
Diamond
Mother-of pearl dial with diamonds on front and back, stainless steel with black alligator strap and original box. Back full pave diamonds ( 187 vvs1 full cut diamonds)
View More Details
HERMES Vintage MACPHARSON bag coveted Vache Bareni...
Hermès Top Handle Bags
Extremely rare MACPHARSON bag no longer produced. Chic in rare to find natural Vache Barenia. Comes with unopened detachable strap. Gold hardware with the subtle H opens the jewel...
View More Details

W See Description

Hermes Sterling Lock and Chain Necklace
Chain Necklaces
This is a great looking and unusual Hermes necklace. *Measurements* The chain is approximately 28" long, the rings measure 3/4"w, and the locket pendent measures 1 1/8"h x 5/8"w x 1...
View More Details
Hermès 34cm Black Leather Gold Hardware Bolide Mac...
Hermès Top Handle Bags
This Rare 34cm Hermes Black Chèvre Leather Bolide Macpherson Bag was named in honor of Ms. Elle Macpherson. The top portion is a classic double handle zip top soft bag with optional sho...
View More Details
HERMES Gold Rope Anchor Ring
Hermès
Vintage 1960s Fashion Rings
18k Gold
An 18 carat yellow gold ring composed of braided gold wires in a anchor link design, stamped 'HERMES/19189/750', and approximately 9.18g in weight. UK size L, US size 5 3/4.
View More Details