Neoclassical Period Collection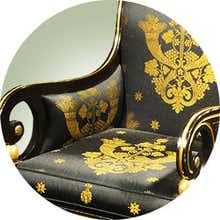 Neoclassical Furniture (FRANCE AND UNITED KINGDOM, CA. 1750)
Neoclassical design emerged in Europe in the 1750s, as the Age of Enlightenment reached full flower. Furniture took its cues from the styles of ancient Rome and Athens: symmetrical, ordered, dignified forms with such details as tapered and fluted chair and table legs, backrest finials and scrolled arms. Over a period of some 20 years, first in France and later in Britain, Neoclassical design — also known as Louis XVI, or Louis Seize — would supersede the lithe and curvaceous Rococo or Louis XV style.
The first half of the 18th century had seen a rebirth of interest in classical antiquity. The "Grand Tour" of Europe, codified as a part of the proper education of a patrician gentleman, included an extended visit to Rome. Some ventured further, to sketch the ruins of ancient Greece. These drawings and others — particularly those derived from the surprising and rich archaeological discoveries in the 1730s and '40s at the sites of the Roman cities of Pompeii and Herculaneum — caused great excitement among intellectuals and aesthetes alike.
Neoclassical furniture is meant to reflect both grace and power. The overall appearance of Neoclassical chairs, tables and cabinetry is strong and rectilinear. These pieces are, in effect, classical architecture in miniature: chair and table legs are shaped like columns; cabinets are constructed with elements that mirror friezes and pediments.
Yet neoclassicism is enlivened by gilt and silver leaf, marquetry, and carved and applied ornamental motifs based on Greek and Roman sculpture: acanthus leaves, garlands, laurel wreaths, sheaves of arrow, medallions and chair splats are carved in the shapes of lyres and urns. As you can see from the furniture shown on these pages, there is a bit of whimsy in such stately pieces — a touch of lightness that will always keep Neoclassicism fresh.
Set of 16 Klismos-Form Dining Chairs
Located in New York, NY
Boston, Massachusetts, circa 1820. Mahogany (secondary woods: Birch and maple; slip seats: Birch and pine) Measures: 33 1/4 in. high, 18 5/8 in. wide, 19 ¼ in. deep (overall). Ex Coll: Private collection, until 2004; to [Hirschl & Adler Galleries, 2004]; to private collection, 2004 until the present. Exhibited: Hirschl & Adler Galleries, New York, 1999–2000, Boston in the Age of Neoclassicism, 1810–1840, p. 57 no. 21D illus. in color // Hirschl & Adler Galleries, New York, 2001–2002, of the Newest Fashion: Masterpieces of American neoclassical Decorative Arts, pp. 93 cat. 26, 95 illus. in color two chairs from the set / Hirschl & Adler Galleries, New York, 2014-2015, very rich and handsome, p. 30 no. 5 illus. in color two chairs from the set. One of the signature forms of furniture of the neoclassical period in the United States is the klismos chair as interpreted by a group of Boston cabinetmakers in the period circa 1820 (see Page Talbott, "Seating Furniture in Boston, 1810–1835," The Magazine Antiques CXXXIX [May 1991], pp. 966ff.). These chairs are usually characterized by sabre legs at the front and the back and curved crest rails typically enriched with flaming mahogany veneers, their ends often punctuated by stylized leaves, anthemia, or scrolls, and center splats decorated with leaves, drapery, lyres, etc. Just as it is easy to identify a New York or Philadelphia side, or dining, chair of the period, so Boston chairs have a certain "look" that sets them apart from chairs from all other American cabinetmaking centers in this period. The sumptuous nature of the lotus bud and tulip-carved swags which form the back splats of these chairs is offset by the simplicity of the crest rail, in which oval veneered panels are encircled by a raised molding, and by the reeded stiles which seamlessly sweep down to become first the side-rails and then the front legs of the chairs. Although the form of these chairs relates them to many comparable Boston examples of the period, none of these other chairs feature the paw feet that terminate the front legs of the present set of chairs, a feature that appears to be otherwise unknown on
Boston side chairs
...
Category
19th Century American Neoclassical Antique Neoclassical Period Collection