SYLVA & CIE.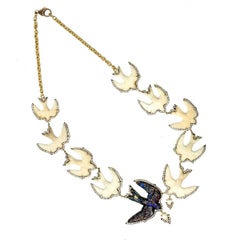 Sylva & Cie. Handmade Swallow Bird Tagua, Opal and...
2010s Artisan Chain Necklaces
18k Gold, Diamond, Opal
One of a Kind Tagua, Opal & Diamond Necklace in 18Kt Gold. Diamond Weight: 5.82 ctw Hand Carved Tagua Nut and Opal Designed and Made in USA
Sharon Khazzam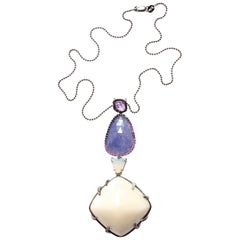 Tagua Nut, Tanzanite, Pink Sapphire, Opal, White a...
Sharon Khazzam
2010s Pendant Necklaces
18k Gold, White Gold, Diamond, White Diamond, Black Diamond, Multi-gemstone...
Ellie Necklace A lavaliere necklace, created to celebrate a large sugar-loaf tagua nut. The four organically shaped motifs begin with a pink sapphire in a black diamond surround, follo...
Alexandra Mor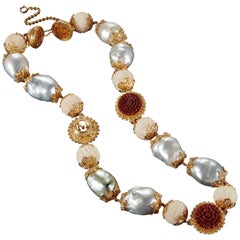 33% Off
Alexandra Mor Necklace with Tagua, Sawo Wood and B...
Alexandra Mor
21st Century and Contemporary Contemporary Beaded Necklaces
22k Gold, Pearl, South Sea Pearl
*Please contact us for more information on this piece or on creating your own custom Alexandra Mor Design. This Alexandra Mor 18" necklace features eight 15mm carved Tagua seed Rudrak...