Furniture by Freestyler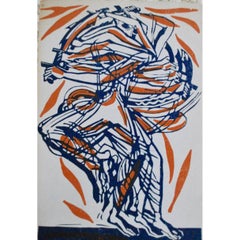 H 9.06 in. W 6.3 in. D 1.18 in.
Dimensions:
H 9.06 in. W 6.3 in. D 1.18 in.
Dealer Location:
Kongens Lyngby, DK
Materials & Techniques:
Paper
Book with Woodcut by Axel Salto, Denmark, 1961
Axel Salto, Aage Wantzin, Grafisk Cirkel
Vintage 1960s Danish Scandinavian Modern Collectibles and Curiosities
Paper
Book with woodcut by Axel Salto, signed by Aage Wantzin. The pages are still sticked together/not slitted as the book has never been used. The book is made in only 200 examples. No 19...