Abraham Frederik Hubeek Furniture
North Seas Gallery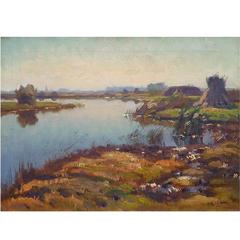 H 18 in. W 23 in. D 1.25 in.
Dimensions:
H 18 in. W 23 in. D 1.25 in.
Dealer Location:
Charlevoix, MI
Materials & Techniques:
Oil Paint
Dutch Painting of Amstelveen Polder in October by ...
Abraham Frederik Hubeek
Vintage 1920s Dutch Paintings
Oil Paint
Mirror-like water reflects the hazy early morning sky while water reeds bend slightly to an unseen breeze. The last of summer's white wildflowers dot the mossy landscape, while off in t...