Trevillion Antiques And Interiors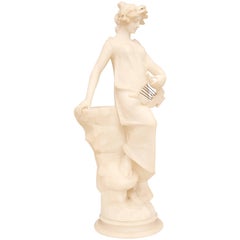 H 22.75 in. W 9 in. D 7 in.
Dimensions:
H 22.75 in. W 9 in. D 7 in.
Dealer Location:
Brighton, GB
Materials & Techniques:
Alabaster
Italian Carved Alabaster Art Nouveau Statue of a M...
Adolfo Luchini
Antique Early 1900s Italian Art Nouveau Sculptures
Alabaster
Beautiful Italian carved alabaster Art Nouveau statue of a muse holding a lyre signed by Adolfi Luchini carved, circa 1910.