Kunstconsult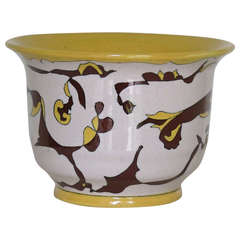 Dimensions:
H 3.23 in. Dm 4.61 in.
Dealer Location:
Amstelveen, NL
Theo Colenbrander, Art Deco Ram Pottery, Decor Los...
Theo Colenbrander, Plateelbakkerij Ram, Adriaan Kool
Early 20th Century Dutch Art Deco Ceramics
Art Deco flowerpot designed by Theo Colenbrander for Plateelbakkerij Ram (Ram pottery in Arnhem, The Netherlands). The pattern called Losjes (Loosely) was hand-painted on the earthenwar...