Aksel Martin Lassen Furniture
Bonnin Ashley Antiques Inc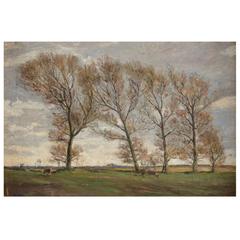 Landscape of Windswept Trees, Small Oil Painting ...
Aksel Martin Lassen
Early 20th Century Danish Romantic Paintings
Canvas, Oil Paint
Autumn landscape painting by Aksel Martin Lassen with a pastoral scene of cows grazing in a field with trees towering behind them. Oil on canvas, signed with monogram and dated. Offers ...