Kelly Gallery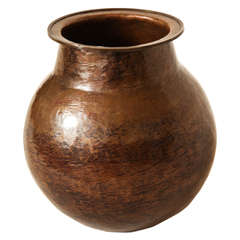 Dimensions:
H 8.25 in. Dm 7.5 in.
Dealer Location:
New York, NY
Materials & Techniques:
Copper
Alain Henry French Art Deco Copper Dinanderie Vase...
Alain Henry
Mid-20th Century French Art Deco Vases and Vessels
Copper
Martele surface with spherical base, cylindrical neck and applied rim. Impressed AH/ Incised AHenry and three triangles.