WYETH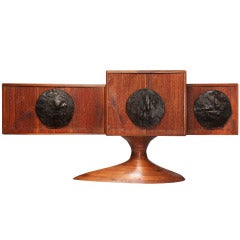 H 4 ft. 5 in. W 9 ft. D 30 in.
Dimensions:
H 4 ft. 5 in. W 9 ft. D 30 in.
Dealer Location:
New York, NY
Materials & Techniques:
Bronze, Walnut
Craft Movement Cabinet with Leonard Baskin Bronze ...
Alan Stolowitz, Leonard Baskin
Vintage 1960s American American Craftsman Sideboards
Bronze, Walnut
A cabinet consisting of three individual conjoined case pieces in solid carved walnut, each having a central signed and titled prominent mythological bronze relief plaque which function...