Renaissance Man Antiques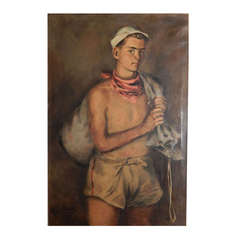 Dimensions:
H 4 ft. 3 in. W 36 in.
Dealer Location:
Philadelphia, PA
Materials & Techniques:
Canvas, Oil Paint
"Tom with Mailbag," Half-Length Portrait, 1938 Mas...
Albert Serwazi
Vintage 1930s American Art Deco Paintings
Canvas, Oil Paint
No doubt the finest work painted by Albert Serwazi, a Philadelphia artist, this portrait of a handsome youth (probably his son) is a superb example of 1930s, Social Realism-influenced p...