Alexander Filippovich Burak Furniture
North Seas Gallery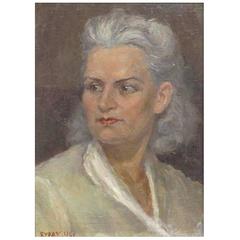 20% Off
Portrait of a Russian Woman with Grey Hair by Alex...
Alexander Filippovich Burak
Vintage 1940s Russian Other Paintings
Oil Paint
A gray haired woman looks off to the side in deep thought in this painting by Burak Alexander Filippovich (1921-1997). Alexander Burak was born in the village. Efremovka in Siberia ...