VintageLights.com LLC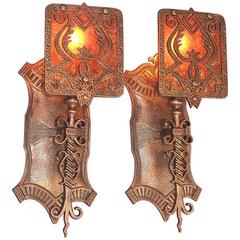 H 14 in. W 5.5 in. D 5.25 in.
Dimensions:
H 14 in. W 5.5 in. D 5.25 in.
Dealer Location:
Prescott, AZ
Materials & Techniques:
Aluminum
1920s Revival Style with Mica Screen
Alloy M.P. Co.
Vintage 1920s American Romantic Wall Lights and Sconces
Aluminum
Four available, priced each. Designed to fit seamlessly into any of the popular styles of their day including all the Revival styles, Arts & Crafts, craftsman, and storybook. Refinished...