Amir Khusnulovich Valiakhmetov Furniture
North Seas Gallery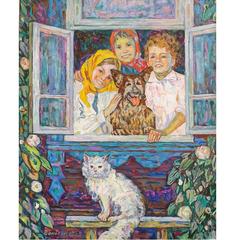 21% Off
Russian Social Realist Painting of Children by Ami...
Amir Khusnulovich Valiakhmetov
Late 20th Century Russian Expressionist Paintings
Canvas, Oil Paint
A colorful view of three children, along with their family dog and cat looking out a window. A bright vibrant palette showcases the Social Realist style of Amir Valiakhmetov. Amir Khus...