Amuneal Floor Mirrors and Full-Length Mirrors
Amuneal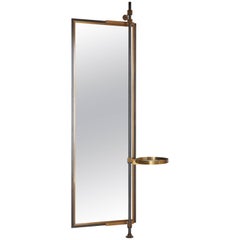 Brass, Blackened Steel and Oxidized Oak Entry Mirr...
Amuneal, Amuneal
2010s American Modern Floor Mirrors and Full-Length Mirrors
Brass, Steel, Mirror, Oak
This mirror is a new offering from Amuneal's Loft series. The full height mirror is housed in an oxidized oak frame with warm brass decorative bezel. The round, swing arm tray, has an o...