Shiprock Santa Fe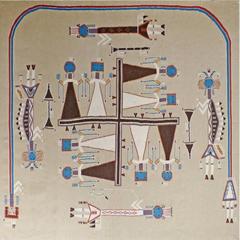 Dimensions:
W 5 ft. 1 in. L 5 ft.
Dealer Location:
Santa Fe, NM
Materials & Techniques:
Wool
Night Way Chant Sand Painting Rug by Anita Tsosie,...
Anita Tsosie
21st Century and Contemporary North American Navajo North and South America...
Wool
This spectacular textile is a representation of an important healing ceremony among the Navajo known as the Night Way Chant. Woven by one of the master weavers of the late 20th century,...