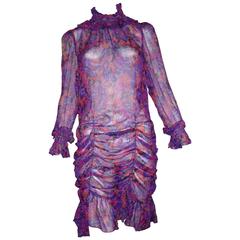 Size: 10 US
1990S Anna Sui Sil Floral Printed See-Through Dress
Offered by
Thrill of the Find
Sale Price
33% Off
Dealer Location:
Toronto, CA
1990s Anna Sui Sil Floral Printed See-Through Dres...
Anna Sui Day Dresses
Purples, reds and blues are the dominant colors in this lovely dress with a high ruffle collar; ruffled sleeves and a swag skirt. There is a 20s feel to this dress. Closure is by ...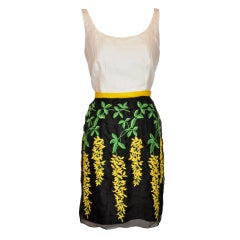 Size: 8/US US
Anna Sui Silk And Linen Floral Embroidered Dress
Offered by
Fuchsia Treasures Corps
Dealer Location:
New York, NY
Anna Sui silk and linen floral embroidered dress
Anna Sui Day Dresses
Anna Sui blackand white with floral hand-done embroidery of silk. The white bodice is of linen, the skirt is of silk organza with a silk underskirt and a back center bow located at the ...