The average cost of an antique Anna Sui Day Dresses is $298. The price can vary from $290 and $306 based on the condition, age, materials and aesthetic value for a specific Anna Sui Day Dresses.
Thrill of the Find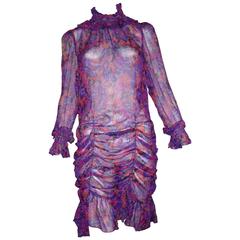 Anna Sui Silk Floral Printed See-Through Dress, 19...
Anna Sui, Anna Sui Day Dresses
Purples, reds and blues are the dominant colors in this lovely dress with a high ruffle collar; ruffled sleeves and a swag skirt. There is a 20s feel to this dress. Closure is by ...
1 of a Find NYC, Inc.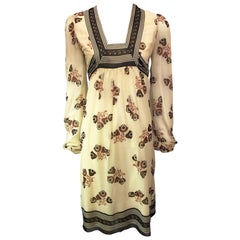 1990s Anna Sui Cream Baby Doll Dress
Anna Sui Day Dresses
Cream long sleeved Anna Sui Babydoll dress. Belted with sheer sleeves and allover abstract glitter flower print. Stripe and flower print along square neckline, belt and bottom trim of t...