Antonio Frasconi Furniture
The average cost of an antique Antonio Frasconi Furniture is $2,100. The price can vary from $1,800 and $2,400 based on the condition, age, materials and aesthetic value for a specific Antonio Frasconi Furniture.
Gallery315HOME
Color Woodblock by Antonio Frasconi, "Alhambra IV"...
Antonio Frasconi
Vintage 1970s American Modern Contemporary Art
Wood, Paper
Frasconi (1919-2013) was born in Buenos Aires and worked in Connecticut. This wonderful pencil signed woodcut is in vibrant colors. It is from an extremely limited edition, another of w...
Revival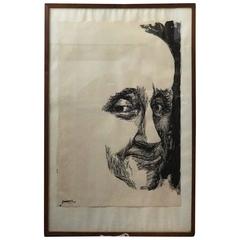 Mid-Century Ink Woodcut Portrait by Antonio Frasco...
Antonio Frasconi
Vintage 1960s American Mid-Century Modern Prints
Paper
A woodcut portrait of German playwright Bertold Brecht by Antonio Frasconi. Frasconi was born in Uruguay and emigrated to the United States in the early 1950s. He is widely recognized ...