Ezila Paris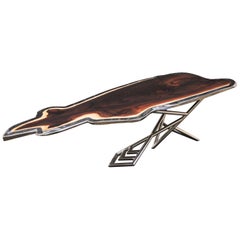 Kangaroo Coffee Table Made of Rosewood and Mirror ...
Bruno Helgen
21st Century and Contemporary Balinese Organic Modern Coffee and Cocktail T...
Stainless Steel, Rosewood
Unique coffee table made with rosewood and mirror polished stainless steel. This piece has an image of a kangaroo shaped by nature. The stainless steel lining perfectly enhanced the kan...