Kajiwara Aya More Asian Art, Objects and Furniture
Erik Thomsen Gallery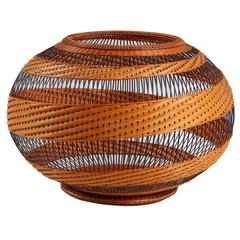 Dimensions:
Dealer Location:
New York, NY
Materials & Techniques:
Bamboo
Bamboo Basket
Kajiwara Aya
21st Century and Contemporary Japanese Modern More Asian Art, Objects and F...
Bamboo
Bamboo basket plaited with thin strips of bamboo in a spiral pattern. Signature plaque on bottom. Aya's baskets have won many awards, including the Beppu Mayor's Award at the 22nd Ba...