Lorenz Hutschenreuther Dinner Plates
A Touch of The Past Antiques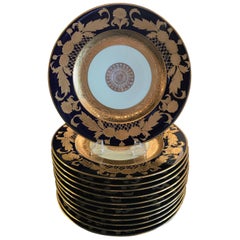 Set of 12 Cobalt and Gilt Service Dinner Plates
Lorenz Hutschenreuther
Vintage 1920s German Dinner Plates
Porcelain
A set of 12 cobalt and gold encrusted service plates by Hutschenreuther. Opulent borders of raise gold with a rich cobalt blue background with centre medallion.
Devonia Antiques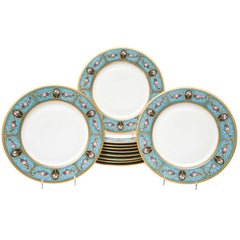 12 Antique Turquoise Floral Swag Dinner Plates, Pi...
Lorenz Hutschenreuther
Vintage 1920s German Dinner Plates
Gold, Porcelain
A versatile set of 12 dinner size antique Bavarian plates that feature strong and white bone porcelain, a clear center and charming shoulder decoration of pink garlands of floral, black...