The average cost of an antique Vestie Davis Fine Art is $4,000. The price can vary from $3,000 and $5,000 based on the condition, age, materials and aesthetic value for a specific Vestie Davis Fine Art.
RoGallery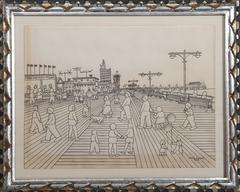 Dimensions:
H 16 in. W 20 in.
Dealer Location:
Long Island City, NY
Coney Island Boardwalk
Vestie Davis
1960s Pop Art Figurative Drawings and Watercolors
Ink, Pencil
Artist: Vestie Davis, American (1903 - 1978) Title: Coney Island Boardwalk Year: 1969 Medium: Pencil and Ink Drawing, signed and dated in pen Size: 12 in. x 16 in. (30.48 cm x 40.64 cm)...
RoGallery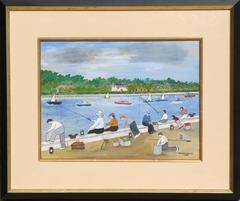 Dimensions:
H 20 in. W 24 in.
Dealer Location:
Long Island City, NY
Sheepshead Bay Fishermen
Vestie Davis
1960s American Modern Figurative Drawings and Watercolors
Ink, Watercolor
Artist: Vestie Davis Title: Sheepshead Bay Fishermen Year: 1964 Medium: Ink and Watercolor on Paper, signed and dated l.r. Size: 11 x 15 inches (27.94 x 38.1 cm) Frame: 20 x 24 inches