New in Clifford A. Wallach Tramp Art, Folk Art & Americana
76 Yates Rd.

,

Manalapan

,

NJ

07726

United States

Phone:

732-863-7304

|

Fax:

732-414-1263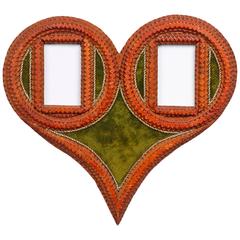 H 12 in. W 13.5 in. D 0.75 in.
Heart Shaped Tramp Art 'Wedding' Portrait Frame...
Offered by Clifford A. Wallach Tramp Art, Folk Art & Americana
Vintage 1930s American Picture Frames
Wood
A lovely tramp art heart shaped portrait frame with circle surround dual op...
View More Details

>
End Of Results
To continue, try a more generalized search or check your spelling.