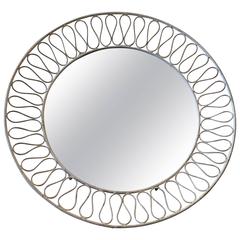 Dm 2 ft. 1 in.
Sale Price
46% Off
Dimensions:
Dm 2 ft. 1 in.
Dealer Location:
San Francisco, CA
Materials & Techniques:
Iron, Mirror
John Salterini Iron Wall or Tray Mirror
John Salterini
Offered by Farnsworth
Vintage 1950s American Mid-Century Modern Wall Mirrors
Iron, Mirror
Iron wall mirror created by the Salterini iron works in the 1950s, possible...