Sarara Couture Necklaces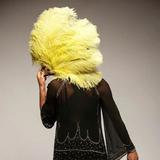 About Sarara Couture
Sarara Couture is based outside New York and specializes in 18th-20th century high fashion jewelry and editorial accessories. Our pieces have been featured in W and Zoo magazine, Racked, Glamour, The Daily Fashion Row, Cosmo, CR Fashion Book, Bullet magazine, and L'Officiel among others. The curated shop mixes designer, couture and fashion examples of different eras, styles and cultures from private archives and estates around the world. Our jewelry is guaranteed, authentic, and of the era. We bring you one of the most compelling fashion conscious assortments of jewelry online with a growing list of celebrity clients, stylists, and designers tapping into the archive. My affinity for history, culture, and jewelry began early and led to a doctorate degree in anthropology. I started collecting 1920s jewelry from auctions and designing accessories as an adolescent. While living and studying in Brazil for 5 years, the natural materials, fashion, and colors inspired me to begin to create my jewelry again. My handmade jewelry pieces started to gain national press around 2006, with Brides Honeymoons and Weddings Away. As the brand grew, I decided to merge the love of accessories design history, fashion, culture, and vintage jewelry into Sarara Couture.
18 Karat Antique Ebony and Diamond Necklace
Unknown
Antique 1890s More Necklaces
22" long antique ebony and diamond necklace in a coral design. Gorgeous detailed design. Yellow diamond details.
Edwardian Bespoke Pearl Necklace
Unknown
Vintage 1910s Choker Necklaces
Authentic Edwardian 14k pin set by hand on cultured pearls in an updated bespoke design. 14k clasp and details.
14 Karat Turquoise and Diamond Evil Eye Necklace
Unknown
Get weekly alerts when there are new arrivals for

Sarara Couture Necklaces