Association of International Photography Art Dealers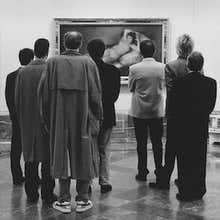 Association of International Photography Art Dealers (AIPAD)
Since 1979, the Association of International Photography Art Dealers has set the standards for galleries specialising in fine-art photography. With members in North America, Europe, Asia and Australia, AIPAD handles such pressing issues as composing a code of ethics for dealers, increasing the public's understanding of photography and safeguarding the rights of photographers and buyers. The annual AIPAD Photography Show at Pier 94 in New York is the premier event for curators and collectors seeking out photographic works ranging from rare 19th-century prints to contemporary digital creations.
Harry Benson art for sale on 1stDibs
Find wide variety of authentic Harry Benson art available for sale on 1stDibs. If you're looking for a way to add color to a neutral corner of your
living room
or
bedroom
, you can find work that includes elements of blue, red and other colors. You can also browse art by Harry Benson in archival pigment print, pigment print, paper and more by medium. Not every interior allows for large Harry Benson art, so small editions measuring 8 inches across are available. Customers who are interested in this artist might also find and find the work of. On 1stDibs, the price for these items starts at $NaN and tops out at $NaN, while the average work can sell for $NaN.