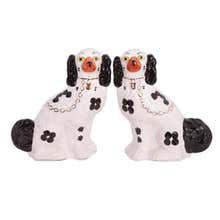 Thanks to its reserves of clay, lead, salt and coal, Staffordshire, England, has been a center for ceramics since the early 17th century. The county was home at one time to hundreds of pottery workshops and as many as 4,000 bottle-shaped kilns that operated year-round. The term "Staffordshire Potteries" refers to the industrial area of Stoke-on-Trent — comprising the towns Burslem, Fenton, Hanley, Longton, Stoke and Tunstall — where most of the production was concentrated.
In 1720, potter John Astbury discovered that he could make what would later be called creamware by adding ground flint powder to the local red clay. Because resources were so plentiful in Staffordshire, local potters could afford to experiment, working to refine their techniques and designs. One such innovator was Thomas Whieldon, an important 18th-century potter known today for his tortoiseshell ware, whose brilliant glazed surface of caramel, yellow and green hues was made with copper and manganese compounds. Whieldon operated the Fenton Low workshop, making coffee- and teapots, dinner services and even ornamental knife hafts. He was an influential figure: Josiah Spode apprenticed at the workshop, and Josiah Wedgwood partnered with Whieldon for five years before establishing his eponymous firm in 1759.
Wedgwood is perhaps the best known of the Staffordshire potters. The firm produced a line of light-colored earthenware for Queen Charlotte, who liked it so much that she granted permission to market it under the moniker Queen's Ware, which despite the name, was designed for everyday use. In the same regal vein, in 1773, Wedgwood created the 954-piece Frog service for Catherine the Great, of Russia. The company is also known for its black stoneware, Black Basalt, which imitates the color and shapes of Etruscan vases; Jasperware, with its classical reliefs applied on the unglazed body; and pearlware.
By the end of the 18th century, Staffordshire was the primary producer of ceramics for the American colonies, even creating patriotic wares celebrating independence for this market. The imagery on Staffordshire ceramics became more standardized the mid-18th century with the advent of transferware, in which a design etched on a copper plate is printed on tissue paper, which is then used to transfer the wet ink onto the ceramic surface. This technique enabled artisans to decorate their wares with complex scenes that wrapped around an object's surface and make several copies of popular patterns.
The Staffordshire potters also produced decorative figurines, such as this charming pair of cows dating from the 19th century. Particularly popular in Great Britain were pieces with hunting imagery, such as this George IV porcelain stirrup cup in the shape of a fox head wearing a gilt collar inscribed with the word "Tallyho." Among the many whimsical vessels produced is this mid-19th-century frog mug. The exterior is painted with a charming scene of people picking fruit on one side and ladies on a garden swing on the other side, while inside a molded frog's head at the bottom of the mug makes a gurgling sound when the the beverage has been almost completely consumed.
Staffordshire furniture for sale on 1stDibs
Staffordshire furniture is available for sale on 1stDibs. These distinctive objects are often made of
ceramic
s and are designed with extraordinary care. There are many options in our Staffordshire collection of furniture, although
gray
editions of this piece are particularly popular. We stock 104 vintage versions of these items, while there is 0 modern edition to choose from as well. Many of the original furniture of Staffordshire were created in
Europe
during the
19th century
in the
Victorian
style. Many customers also consider furniture by
Walker & Hall
,
James Dixon & Sons
and
Royal Worcester
as additional options. The prices for Staffordshire furniture can vary depending on size, time period and other attributes. The price for these items starts at
$75
and tops out at
$40,000
, while pieces like these can sell for
$1,057
on average.
Creators Similar to Staffordshire