Donzella Ltd.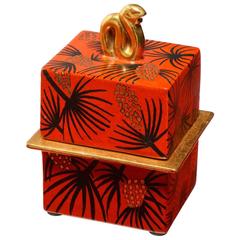 Gio Ponti Lidded Box
Gio Ponti, Richard Ginori
Vintage Red 1930s Italian Mid-Century Modern Porcelain
Lidded box by Gio Ponti for Richard Ginori. Square-shaped porcelain box with lid. Glazed in red and black with palm frond motif. Signed and dated on underside. Publication: Gio Ponti: a...
High Style Deco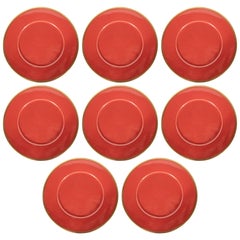 Set of Eight Porcelain Carnelian Charger Plates wi...
Red 1990s English Modern Porcelain
Gold, Porcelain
These fine modernist porcelain plates were realized by the esteemed British ceramic studio, Maryse Boxer, circa 1990. Realized in a refined carnelian, they offer slightly recessed cente...
Danam Antique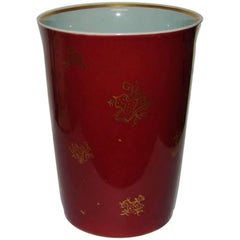 Royal Copenhagen Unique Vase by Thorkild Olsen
Royal Copenhagen, Thorkild Olsen
Vintage Red 1950s Danish Scandinavian Modern Porcelain
Porcelain
Royal Copenhagen unique vase by Thorkild Olsen. Measures: 13.5 cm high and 10.3 cm in dia. In perfect condition.
Puritan Values

Bernard Moore, Red Flambe' Bowl Painted by E. Hope...
Bernard Moore
Red Early 20th Century British Arts and Crafts Porcelain
Porcelain
Bernard Moore. A Red Flambe' bowl painted by E. Hope Beardmore with a galleon in full sail on the open sea. Some scratches to the inside.  
JLF Jean Luc Ferrand

Pair of Iridescent Celadon Porcelain Lamps, circa ...
Antique Red Late 19th Century Napoleon III Porcelain
Bronze, Porcelain
. Iridescent celadon porcelain . Gilt and chiseled bronze . Made for electricity . Circa 1880