Louis XV Style Gilded Coffee Table with Verre Eglomise Top, France c.1900
A fine Louis XV style gilded wood coffee table from the Art Nouveau period in France c.1900 with a hand painted mirror glass top decorated with a scene of Chinoiserie design. The technique of reverse painting on glass is known as "verre eglomise" and has been a rare and costly decorative technique used for centuries. The amazing appearance of the design seen through the glass itself results from the reverse side being painted with the design first and then the silvering being applied over the painting. This double layering allows the painted scene to be fully visible while being surrounded by the reflective mirror. Of course this technique combines the talents and skills of two different artists as one must be used for the painting while another for the silvering of the mirror effect. The scene depicted here is of a pair of figures set in a Rococo design with one man giving a deep bow to the other who is standing. Please look at the rich effect of the drapery around the perimetre and the elegance of the cross hatched pattern interspersed with circles of colour. The frame of the table is carved of gilded wood that reflects the charm and sensuous quality of the Louis XV style with each cabriole leg ending in a "coquille" or shell shape. The four sides of the apron of the table are each centred upon a boldly scaled scallop shell with a flanking panel on each side of a raised cross hatch that gives a wonderful three dimensional effect to the frame. This is a delightful coffee table that embodies the whimsey and informality so desirable in today's interiors.
See Item Details
+
Louis XV Style Gilded Coffee Table with Verre Eglomise Top, France c.1900
| | |
| --- | --- |
| MATERIALS AND TECHNIQUES: | Paint, Giltwood, Mirror |
| MATERIALS NOTES: | gilded wood, mirror glass, paint |
| CONDITION: | Excellent |
| WEAR: | Wear consistent with age and use |
| | |
| --- | --- |
| HEIGHT: | 18.5 in. (47 cm) |
| WIDTH: | 40 in. (102 cm) |
| DEPTH: | 19.5 in. (50 cm) |
| | |
| --- | --- |
| DEALER LOCATION: | Houston, TX |
| NUMBER OF ITEMS: | 1 |
| REFERENCE NUMBER: | LU8668772723 |
| DEALER REF. NUMBER: | BJ132 |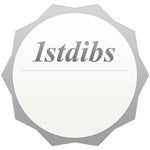 With 1stdibs, you can always collect with confidence.