Rose Cut Necklace Enhancers
Kentshire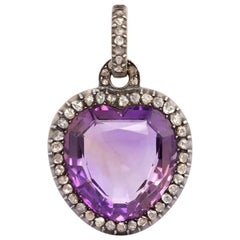 Late Georgian Amethyst and Rose Diamond Heart Pend...
Unknown
Antique 1830s Georgian Necklace Enhancers
15k Gold, Sterling Silver, Amethyst, Diamond
An antique amethyst pendant in the form of a heart with a rose-cut diamond surround and diamond bail, in 15k gold and sterling silver. England Amethyst measures approximately 26 x 25mm...
Sue Brown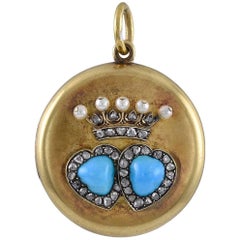 Victorian Crowned Hearts Pendant Locket
Unknown
Antique 1860s Necklace Enhancers
18k Gold, White Diamond, Turquoise
The Turquoise Hearts with a surround of 30 Rose Diamonds and above, a Pearl and Rose Diamond Crown. The hinged reverse opens and the interior has a glazed window for a miniature or keep...