Northern Renaissance Jewelry & Watches
Dealer Location:
Amsterdam, NL
16th Century Ruby Gold Quatrefoil Renaissance Ring...
Unknown
Antique 16th Century Northern Renaissance Engagement Rings
22k Gold, Ruby
A high carat gold quatrefoil ring, the hoop merging with shoulders chased with volutes, with traces of white enamel, supporting a high quatrefoil bezel set with a table cut ruby, large ...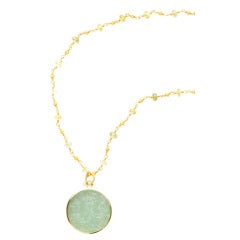 Dm 1.14 in.
Dealer Location:
Cohasset, MA
Aventurine Italian Ippolito Medal and Necklace
Diane Griswold Johnston
21st Century and Contemporary Northern Renaissance Necklace Enhancers
18k Gold
Hand carved aventurine replica Italian medal from the 16th century with the female figure of Ippolito (who is seen as the huntress & loved for her piety & accomplishments). Set in an 18...