Raymond Jungles is not a pseudonym. "Just the name I was born with," says the man who for more than 30 years has been making glorious tropical gardens, both public and private, mostly in Florida. Growing up in Nebraska, Jungles took a job at a plant nursery to cover the costs of playing high-school hockey. He first came to Miami when he was 18 years old, on spring break, and was so taken with the sun, the beach and the lifestyle that he promptly enrolled at the University of Florida, in Gainesville, to study landscape architecture.
While there, Jungles met the celebrated Brazilian artist and modernist landscape designer Roberto Burle Marx (1909–94), who came to Gainesville to give a lecture. Having studied Burle Marx's work, Jungles was determined to take up his invitation to visit his studio. Accordingly, when he graduated, in 1981, Jungles traveled to Brazil, where, he admits a little sheepishly, "I just followed him around and completely bombarded him."
They became close friends in spite of an almost 50-year age difference, with Jungles going back to Brazil every August for the next 12 years. He considers Burle Marx the most important influence in his life: "We had in common a love of nature and a love of plants," Jungles says, "and what he most taught me was his way of keeping his mind open and working from principles rather than formulas."
While he was still at university, Jungles began making money by working on gardens in Gainesville and, during vacations, school breaks and on weekends, in Miami, in Coconut Grove. He got some of his first clients by placing his business card on car windows, and one job led to another. Once graduated, he formally set up a practice in Coconut Grove, quickly establishing a reputation for designing exuberant gardens that featured native plants and trees —  in a city that at the time favored manicured, some might say tortured, displays of roses and other herbaceous perennials better suited to a more temperate climate.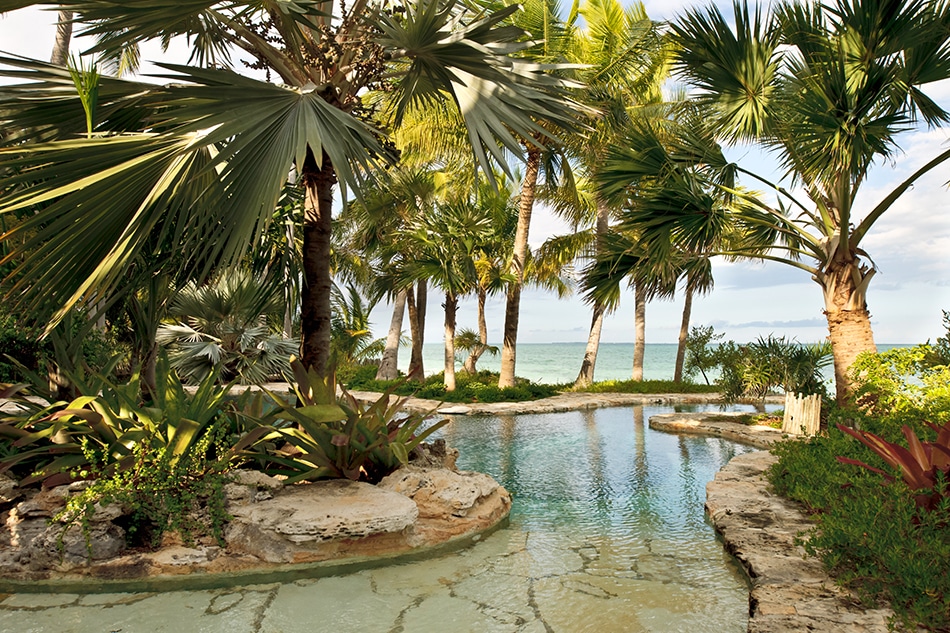 Jungles favors palms, succulents, grasses, water elements and curved waving walkways. Clipped hedges, tidy lawns and neat bushes have never been part of his repertoire. He wants his gardens to look "like nature is winning," he says. "Roberto [Burle Marx] and I share many of the same principles of design. What I like to do is just let whatever would grow on the beach drift through a garden." In discussing his approach to design, Jungles comes across as delightfully down-to-earth and eminently practical. Less is more where hardscape is concerned, and more is more when it comes to plants. Each new garden presents different challenges that need to be addressed. "I use nature to make a habitat, but I always want to use the best technology possible when it comes to irrigation and lighting."
He denies that his style was ever radical, explaining, "Necessity is the mother of invention, and when I began designing, I wasn't trying to be avant-garde or different. I just used native plants wherever possible to solve the problem at hand. Since irrigation is so difficult in this part of the world, I have always chosen plants that maximize their natural growth characteristics."
Over time, important commissions kept coming — from a rooftop garden for the building Frank Gehry designed for the New World Symphony to a renovation of the Miami Beach Botanical Garden — and Jungles is now considered Miami's highest-profile landscape architect, employing more than 20 people. In the beginning, his work was almost entirely residential, but it now includes many large-scale public commissions. His 2010 redesign for the promenade and plaza at 1111 Lincoln Road in Miami Beach, developed concurrently with Herzog & de Meuron's parking garage, put him firmly on the map. Native plants and high tree canopies were carefully placed to create visual corridors for pedestrians, and a hardscape of hand-laid stones cleverly discourages skateboarders from zipping through while encouraging people to walk, mingle and sit. As a counterpart to the public space, he was also engaged to develop the rooftop garden for a private penthouse atop the Herzog & de Meuron complex. Lush and romantic, it has panoramic views of the city and uses much of the same plant material employed on the ground-level plaza. Vines climb up and over the roof, a winding zoysia grass path leads visitors through the garden, and a spectacular pool is framed by leaning sabal palms. (Both these projects and many others are featured in his monograph, The Cultivated Wild, published in 2015 by Monacelli.)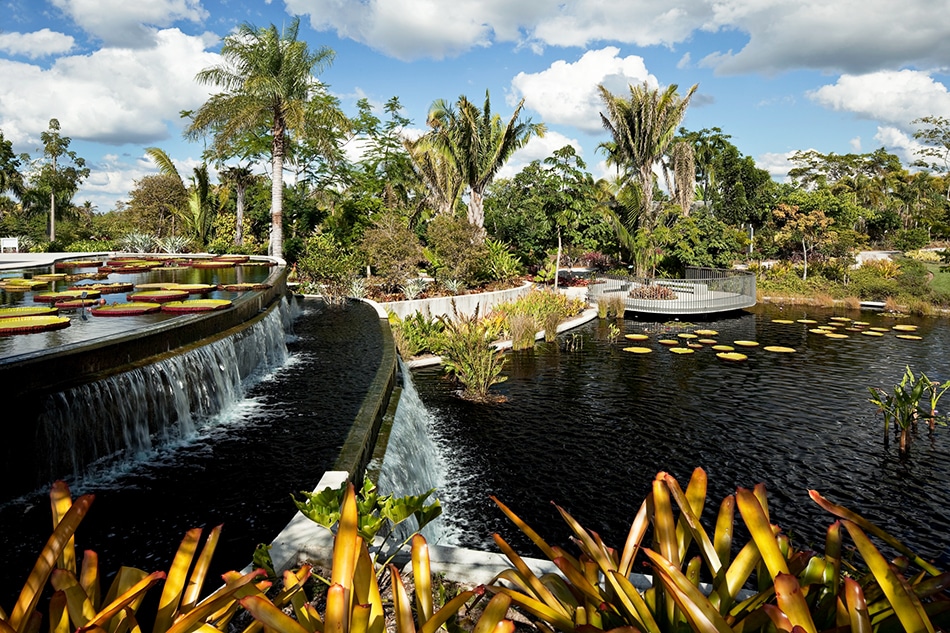 Jungles is currently working with artists Helen and Brice Marden to continue designing new phases of the garden on the slopes of a ravine for their Golden Rock Inn, which is located on the site of an early 19th-century former sugar plantation on the Caribbean island of Nevis. Other projects include the visitors' center and the recently completed Florida Garden at the Naples Botanical Garden, as well as an educational garden, which incorporates only native plants, at the Leon Levy Native Plant Preserve in the Bahamas.
Also in the works is the restoration of the tropical indoor atrium garden of the Ford Foundation headquarters, in New York, as part of the renovation of the entire landmarked Kevin Roche and John Dinkeloo building. The garden, scheduled to reopen next year, was originally designed in 1967 by Dan Kiley, and taking on a project by this legendary talent has to be daunting. But as Jungles modestly explains, "my work here is an adaptation and restoration of Kiley's original design, and my job is to come up with plants that work in this environment."
An equally exciting project is in the offing at the New York Botanical Garden. "We think Raymond Jungles is one of the world's greatest designers of tropical gardens," says NYBG president Gregory Long, "and we have recently commissioned him to create a major exhibition focusing on the work and legacy of Roberto Burle Marx, to take place in 2019." Jungles is thrilled with this chance to share the work of his friend and mentor with a new audience. How lucky for the world of garden design that he took that spring break in Miami all those years ago.
or support your local bookstore