September 15, 2019You won't find Bulgari: The Story, The Dream (Rizzoli) to be your standard jewelry monograph. Sure, it has mouthwatering photos of the house's greatest hits and a detailed account of its fabulous past. But where this category of coffee-table tome usually aspires to little more than a reverent ode — a lot of who, what and where but little in the way of why — Bulgari: The Story, The Dream goes deeper to illuminate the larger cultural context surrounding each period of the house's trajectory to greatness. Touching on everything from politics to society to fashion, the result is a history of jewelry and of the 20th century told through the lens of Bulgari.
The book is composed of a series of essays, penned by various historians and journalists, that subject every facet of Bulgari's story to scholarly reflection. The academic analysis can at times be overly finegrained: The genesis of Italian industry and the semiotics of jewelry, though worthwhile topics, make for rather dry reads. But the majority of the essays, delving into the dynamics of high society in turn-of-the-20th-century Rome or the ascent of Italy's female movie stars, add thought-provoking depth to Bulgari's eye candy. And eye candy abounds — images of the house's most emblematic designs as well as its lesser-known gems provide a definitive guide to the Bulgari lexicon.
Bulgari: The Story, The Dream is being released in conjunction with an exhibition of the same name, on view at Rome's Palazzo Venezia and Castel Sant'Angelo museums now through November 3. Both were produced in collaboration with the Italian Ministry of Cultural Heritage and Activities and are as much about Italy as they are about Bulgari. What Paris is to Cartier and New York is to Tiffany & Co., Rome is to Bulgari. The book underscores the brand's distinctly Italian identity, both as a homegrown success story and as a cultural icon.
Jean-Christophe Babin, CEO of the Bulgari Group makes this point in his introduction, writing that the jewelry house epitomizes "the Made in Italy brand, that extraordinary drive toward excellence together with a unique patrimony of artisanal traditions. It is still striking to see how the growth of the company took place . . . starting from a family-run shop."
One of the book's most interesting revelations is that, from the very beginning, Bulgari served up Italy's allure to an international audience. Sotirio Bulgari, the company's founder, wasn't Italian by blood. A member of the Vlach ethnic group, Bulgari (née Voulgaris) left his home in modern-day Greece in 1880, at the age of 20, eventually landing in Rome and opening his first shop the following year. Descended from a family of silversmiths, he was skilled at crafting ornate silver objects and ornaments inspired by antiquity. At the time, Rome was transitioning from a crumbling city of ancient monuments to a cosmopolitan national capital. His wares, combining old-world history with contemporary luxury, were perfectly suited to their time and place.
Bulgari's creations were a hit with foreigners searching for a piece of exotic, Byzantine-inflected treasure to take home. The book even suggests that the name Bulgari printed in large letters on the facade of his original store, "Old Curiosity Shop" was a strategic appeal to English-speaking travelers, capitalizing on the popularity of the Charles Dickens's novel with that title. Displaying his knack for branding, Sotirio Bulgari opened outposts in all the posh resorts of the day: Lake Como, Sorrento, Naples, Saint Moritz. He positioned Bulgari as the savvy traveler's ultimate source for Italian artistry.
After Sotirio's death, in 1932, his two sons carried on the tradition while putting the focus on fine jewelry. Their shop at Via Condotti 10, where it still stands today, mingled Bulgari's exquisite Art Deco jewels with an eclectic mix of antiques. This novel combination, notes Lucia Boscaini, Bulgari's in-house historian, welcomed "the customer into an atmosphere based on a sought-after cult of beauty that ran between eras and cultures." It was a lifestyle brand before the term existed.
The firm's designs from this period, striking geometric jewels dominated by diamonds and platinum, captivated a discerning clientele of Roman socialites and such international tastemakers as Clare Booth Luce and Barbara Hutton. The 1949 marriage of Hollywood stars Tyrone Power and Linda Christian, a Roman affair billed as the Wedding of the Century, affirmed the city's status as a fixture on the bel mondo circuit. And images of the couple shopping for wedding bands at Bulgari made the shop an essential stop for glitterati passing through town.
Notable Bulgari Jewels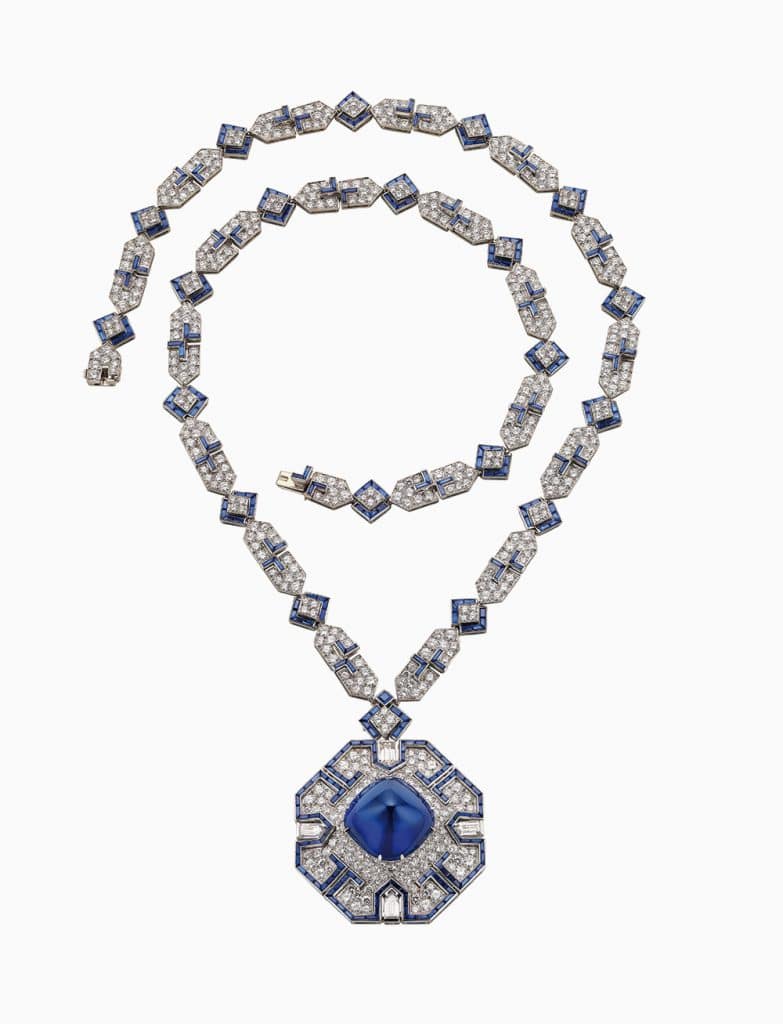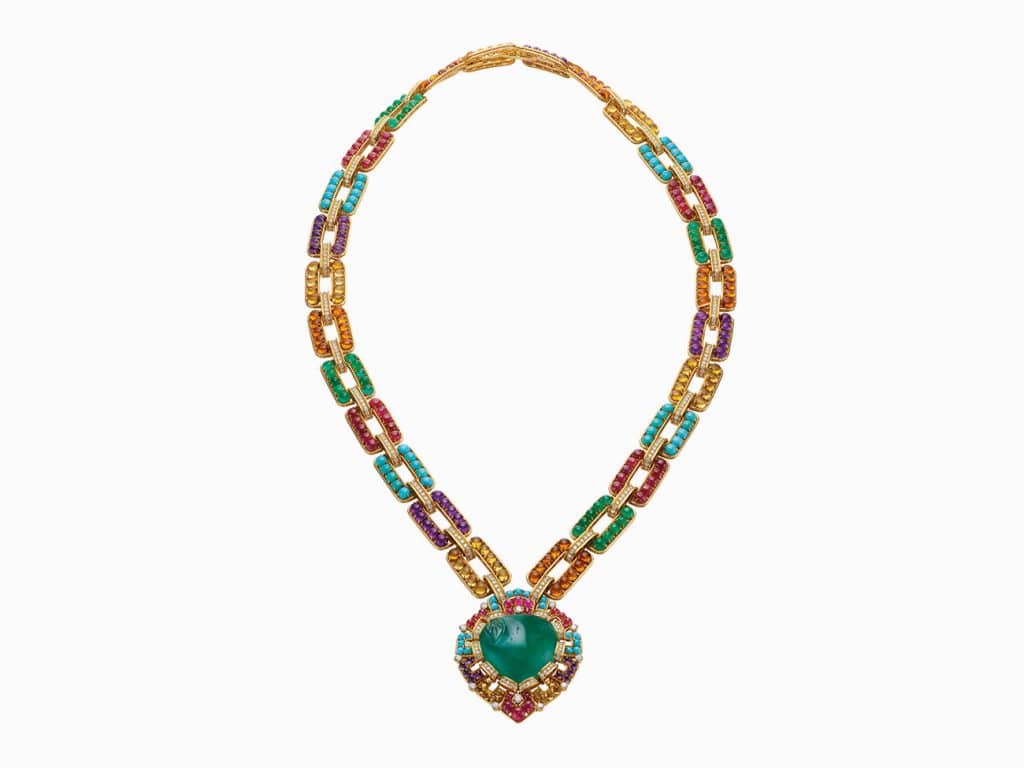 In the 1950s and '60s, Rome hit its dolce vita stride, and nothing embodied its glamour more dazzlingly than a Bulgari jewel. It was the heyday of Sophia Loren, Gina Lollobrigida, Monica Vitti, all loyal clients. In his essay, Stephen Gundle, professor of film and television at Warwick University, wonderfully describes the era's effervescence and how Rome came to be known during this period as Hollywood on the Tiber. The house would continue to enjoy a love affair with stars of the silver screen, even playing a supporting role in films like Casino and American Gigolo. But no celebrity, or civilian for that matter, can rival Elizabeth Taylor in her fervor for Bulgari.
The book details how Taylor first fell for Bulgari while filming Cleopatra in Rome and simultaneously falling for Richard Burton. In many ways, it seems the couple were in a ménage à trois with the house. As Burton famously said, "I taught her about beer, she taught me Bulgari." A number of Taylor's pieces now owned by the house are featured in the book, including a sumptuous emerald and diamond suite and a signature Monete necklace incorporating solid gold coins dating to AD 613.
Monete is one of several iconic Bulgari collections that debuted in the 1970s and '80s, catering to a new generation of empowered women. Just as designers like Halston and Yves Saint Laurent were popularizing fuss-free ready-to-wear fashion for women on the go, Bulgari offered jewels to be lived in. It was during this period that the house's style came into focus: vibrant color combinations, smooth cabochons, fluid lines and bold, oversize silhouettes. Flipping through the images of the era's graphic pendants and chokers, in gold or studded with a mix of precious and semiprecious stones, you are struck by how unmistakably of the past they are and how perfectly suited for right now.
Other lines, such as Serpenti, Tubogas and Parentesi, are cited as examples of the firm's technical prowess. Coils engineered so that bracelets effortlessly snake around the wrist and medleys of enamel hues, each of which requires a different firing temperature, demonstrate that Bulgari's signature isn't just an aesthetic but a mastery of craft. It's that finesse that prompted Andy Warhol — another boldface collector — to tell Sotirio's grandson Nicola Bulgari, "This shop is the most important museum of contemporary art." Hyperbolic as Warhol's statement may sound, Bulgari: The Story, The Dream goes some way toward proving his point.
Exceptional Bulgari Pieces on 1stdibs