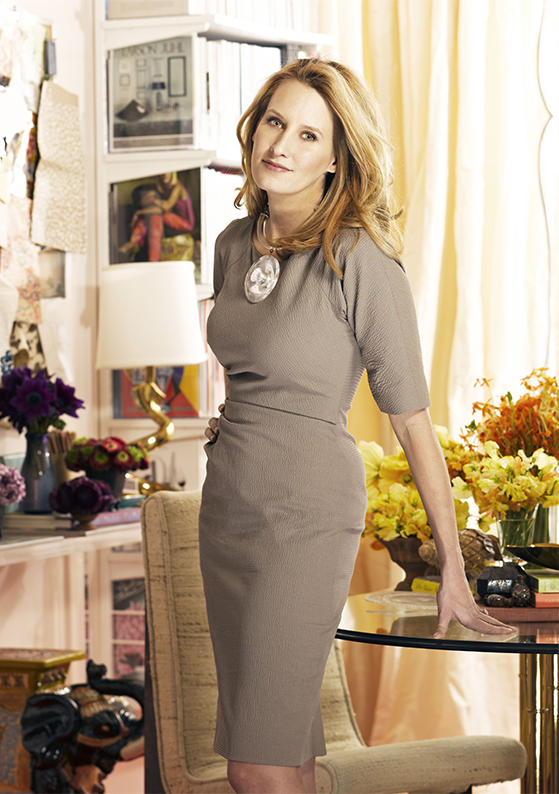 When Celerie Kemble answers the door to her sumptuous Midtown apartment with views of Central Park, she looks every inch the patrician glamour-girl she is — and she's not even wearing a stitch of makeup. Wick, her one-year-old, dozes peacefully in his snug recliner on the gray, lavender and apricot Mongolian wool carpet  ("We call it 'The Shaggy Monster,' " says Kemble) while his two siblings — Ravenel, five, and Zinnia, three — happily parade about and dive onto the yolk-colored velvet chesterfield sofa, which, for the moment, they are pretending is a submarine.
This relaxed family scene is pure Kemble, known as much for her design savvy as for her privileged upbringing in Palm Beach (her family has lived there for five generations), top-notch education (Groton, Harvard) and 2005 wedding to dashing money manager Boykin Curry (the festivities, covered by Vogue, culminated in fireworks over Lake Worth).
She looks for constant inspiration to the home of her youth, called "The Old Church" by everyone in Palm Beach, since it was originally built as the Old Bethesda-by-the-Sea Church, an Episcopal house of worship that was turned into a family residence in 1925. "The spirit of the house is at the foundation of what I care most about professionally," says Kemble, who spent much of her childhood roller skating across its wood floors or watching her mother — the esteemed designer Mimi McMakin — transform its rooms with grace and whimsy. "My calling to become an interior designer stems from wanting to show people how to bring the same sense of wonder, comfort and creativity into their own lives that my mother and the Old Church have brought them to mine."
Kemble didn't start her own professional design career until she moved back to Florida in the late '90s, after two years of production work for various New York film companies. "I realized I was having much more fun in the flea markets, decorating friends' apartments and my own teeny-tiny walk-up than on the production set," she says. Leaving film behind, she moved home and began to assist another designer at her mother's 25-year-old firm, Kemble Interiors, until she quickly amassed an impressive enough body of work to merit the launch of the Kembles' Manhattan branch in 1998.
---
"My calling to become an interior designer stems from wanting to show people how to bring the same sense of wonder, comfort and creativity into their own lives that my mother and the Old Church have brought to mine."
---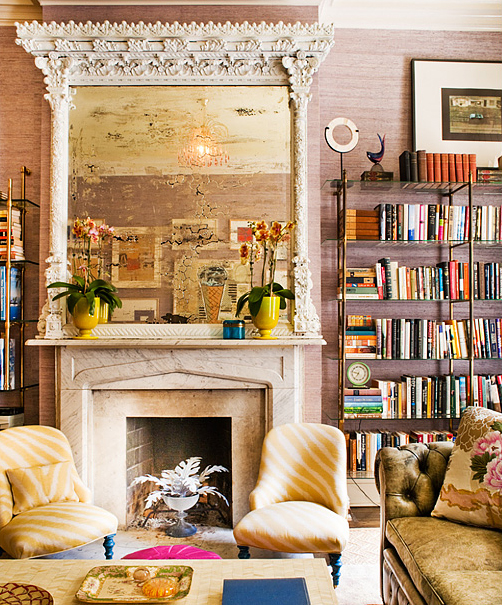 "I knew Celerie had the grit and passion to be an amazing designer even when she was still focused on independent film," explains her mother. "In the afternoons, she'd work on the script, scout for locations and borrow props and costumes. She'd then spend her nights gassing up the production trucks and even sleeping in their cabs to protect the grip equipment. She is fearless and has an amazing imagination. Interior design requires all that: It's an ongoing movie."
Today, Kemble's thriving business still operates under the roof of Kemble Interiors in New York, with projects ranging from a beach house in Cabarete, Dominican Republic ("We are infusing a newly constructed modern house with elements of traditional whimsy and bold art," Kemble explains), to a Palm Beach abode ("casual and youthful, which is pretty unusual for the town,"), as well as apartments on Fifth Avenue and in Gracie Square and Tribeca. "Every house I do is totally different," she says. "But what carries through is that something unique is expressed, no matter the vernacular. The space is distinct to the homeowner's vision. I want to create rooms that are comfortable and classic, but also with a sense of what feels fresh, timely and personal."
In addition to the bustling firm and her brood at home, Kemble manages her three-year-old line of fabrics with Schumacher, for whom she is also developing a wallpaper collection to be launched in the fall. With a rug collection for Merida Meridian coming this spring and a furniture line in the works, Kemble is busier than ever. "She's in the style trenches daily, up to her Blackberry in multitasking," says former Vogue contributing editor, William Norwich, in his intro to Kemble's smash debut book To Your Taste: Creating Modern Rooms with a Traditional Twist (Clarkson Potter).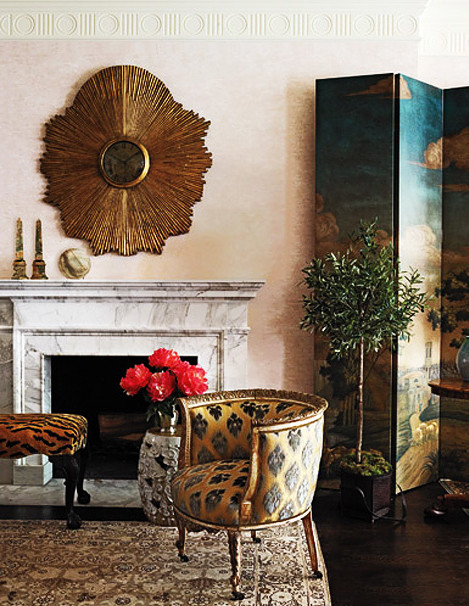 Along the way Kemble has somehow found time to release her second book with Clarkson Potter: Black and White (and a Bit in Between): Timeless Interiors, Dramatic Accents, and Stylish Collections. "I wanted to freshen my perspective and my appreciation for the most important elements of design by stepping away from my familiar tools," explains Kemble, who features almost a dozen of her own black-and-white interiors among 120 other designers' works.
A few years ago, Kemble and Curry purchased a beach called Playa Grande on the north coast of the Dominican Republic with some friends, including some prominent actors, musicians, writers and businesspeople. Together the group is developing a barefoot retreat made up of family compounds, as well as a section for public access and bungalows that anyone can rent. (Amanresorts is building a hotel on the property as well.) Kemble recently finished overseeing the design of the public buildings and is now starting on her own family's villa. "The great challenge has been to design structures that respect the stunning natural beauty of the place and the local tradition," says Kemble.
"The ambition to make your mark can feel like hubris when you walk onto the land, thick with huge old trees along the wild Atlantic Ocean. Whatever it ultimately becomes, it has to be special because the property is inherently magical," she says, before adding: "I also believe that it is in the quirks that things become distinctive, that interiors become animated by life and nourished by their inhabitants."
---
Celerie Kemble's Quick Picks on 1stdibs