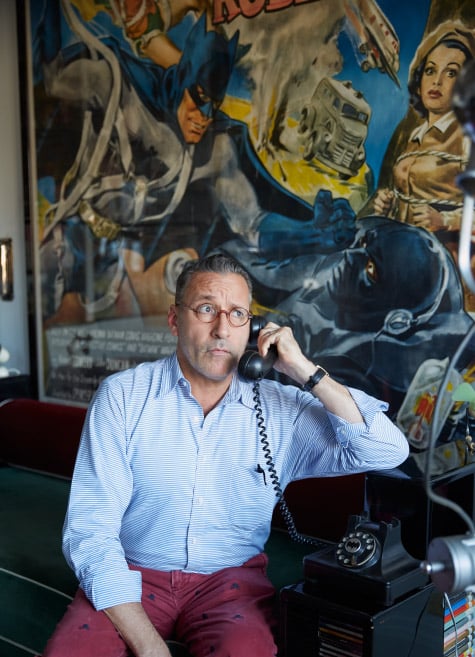 What I knew about superheroes could fit on the head of a pin — or at least it could have until recently. Thanks to my good friend Chip Kidd, I can now distinguish between Superman (the great immigrant story: boy comes from faraway place — Planet Krypton — and makes it here on earth) and Batman (child has everything taken away from him, parents murdered, must rebuild his life). Superman's alter ego is Clark Kent, cub reporter for the Daily Planet of Metropolis. Batman's is Bruce Wayne, a playboy, philanthropist and industrialist who lives in the besieged city of Gotham, a thinly disguised Manhattan. Superman has super powers. Batman's physical strength and moral resolve are decidedly human. Given a choice between the two, Kidd would pick Batman.
To prep for my recent interview with him, I YouTubed old episodes of the Batman TV show, which dates to the late 1960s, watched animated versions as well as the films directed by Tim Burton (campy) and Chris Nolan (terrifying) and screened other superhero flicks in which grown men and women sporting masks and form-fitting costumes, often with capes and other paraphernalia, fly through the air — like a bird! like a plane! — to preserve world order and defeat the bad guys.
All of which is to say I am still only a rank amateur. Chip Kidd, on the other hand, is a true connoisseur of the superhero genre — and, yes, it is a genre, as he'll tell you, and often one as literary as any other.
Superheroes aside for a moment, Kidd has had a long and revered career as a graphic designer. He's worked for Alfred A. Knopf for most of his post-college life (more than 30 years). He's created memorable book covers for such luminaries as John Updike, Haruki Murakami, Cormac McCarthy, David Sedaris, Jay McInerney, Michael Crichton, Bret Easton Ellis, Donna Tartt and this year's Nobel Prize laureate in literature, Kazuo Ishiguro, to name-drop just a few.
Kidd has written two novels and 16 nonfiction works, including two books about Charles Schulz and his beloved "Peanuts" strip. He also coauthored, with Lisa Birnbach, True Prep, the sequel to The Official Preppy Handbook.
This September saw the publication of Chip Kidd: Book Two (Rizzoli), a monograph encompassing his cover designs and other projects from the past 10 years. A sequel to Book One, which spanned covers from 1986 to 2006, the new 320-page tome takes readers from 2007 to 2017 and includes introductions by Murakami as well as authors Orhan Pamuk and Neil Gaiman. It's catnip for anyone fascinated by book jackets and what goes into their creation.
Kidd also authored 2012's New York Times best-selling graphic novel Batman: Death by Design and several short stories featuring the Caped Crusader, all published by DC Comics, which brings me back to the Dark Knight and that Upper East Side penthouse. Kidd may own that apartment, but it is fully occupied, 24/7, by more than a thousand objects primarily dedicated to the graphic designer's favorite man, if not of steel then of mettle. Yes, there's that old saw about boys and their toys, but this is — and Kidd would be the first to admit it — his magnificent (albeit eccentric) obsession.
The apartment is only about 850 square feet, but its wraparound terrace brings it closer to 1,500 square feet of space. Chip moved in in the spring of 1994 and has hung onto it ever since, although he is now married, to the poet and librettist J.D. McClatchy, and spends most of his time at their place downtown. He swears he will never give it up — and why should he? The contents represent a lifelong devotion.
On a balmy afternoon the day after Halloween and the horrifying terrorist attack on West Street in Manhattan, we sat across from each other in his lair, sinking deep into two Eileen Gray chairs. There, we pondered his superhero fixation, wondering where Batman is when we need him.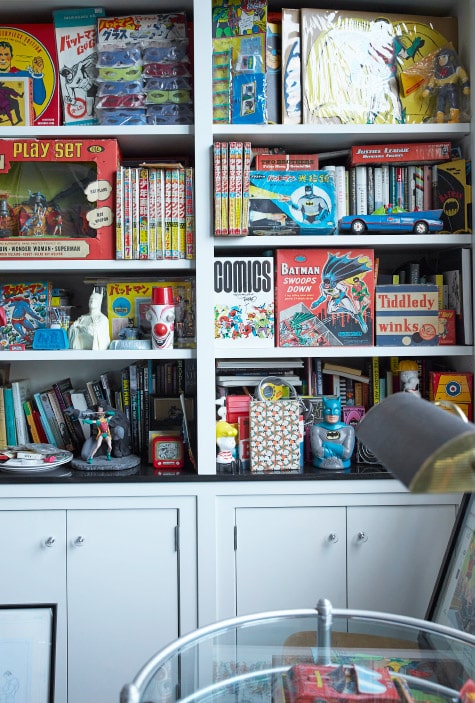 How and when did you start your Batman collection?
At around the age of two, in 1966. That was when the TV show starring Adam West and Burt Ward debuted and briefly took the world by storm. I still have my original Batman lunch box. I built up the collection when I was in college [at Penn State] and ever onward.
Was your intent to turn this apartment into a shrine?
The word shrine makes me a little uneasy. I still think of it as an adorned living space.
Approximately how many objects do you have here?
There are hundreds of thousands of items — the toys, the art and the books. It is pleasantly complicated in that regard.
What's most valuable?
Hard to pinpoint, but several of the original comic-book artworks are worth a good bit, as are some of the Japanese tin toys.
Why Batman?
I've never known how to answer this. I think it's a combination of so many things, not the least of which is the design aspect, however unaware I may have been of that at a young age. But it's no mistake that the series from 1966 started things off for me — especially with the striking use of bold typography like the "POW!" and the "ZAP!"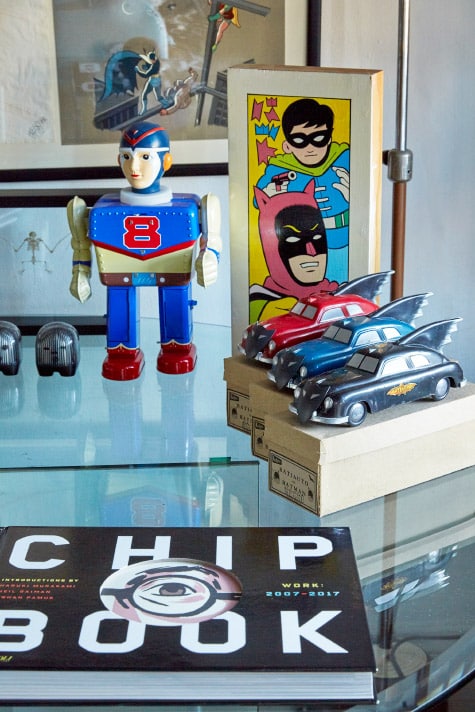 Apart from Batman and signed first editions of the books you've designed, what else is on display?
My furnishings, like these Eileen Gray chairs. Under the chairs is one of her rugs, and on the wall is an original watercolor study she did for the rug.
You also collect pieces by Warren McArthur Jr.?
I have two of his aluminum-tubing folding chairs, but the main attraction is a multilayered oval desk of aluminum tubing and glass that he made in the thirties. Mine is an excellent copy in the bedroom that was produced by Lost City Arts in the 1980s.
What does the apartment mean to you personally?
It is my sanctuary, something of a live-in art project over which I have total control. It also represents my sense of "success" in New York City: a penthouse on the Upper East Side that I bought myself, filled with all the things I dreamed about having as a child. It just feels so damned good for me to be in it. I'd like to think that entering it gives one an idea of what it's like to be in my head.
---
Chip Kidd's Quick Picks on 1stdibs