August 23, 2020Chris Leidy doesn't look like a pirate, exactly, but there are similarities. On his popular Instagram account, he's perennially tanned, with a salt-and-pepper scruff and dozens of tattoos. He even has a parrot sidekick, although instead of a big macaw, it's a lovebird named Peter. But the sunken treasures Leidy seeks are the images he captures with his Canon 5DSR camera.
An intrepid undersea photographer, he's gone diving in the sun-dappled waters of the Bahamas, explored an abandoned black-pearl farm near Tahiti and shot the ice pack on the surface of the Arctic Ocean — from below. Now he's compiled the images from a decade of excursions to the Indo-Pacific region into his first-ever book, The Coral Triangle (Assouline).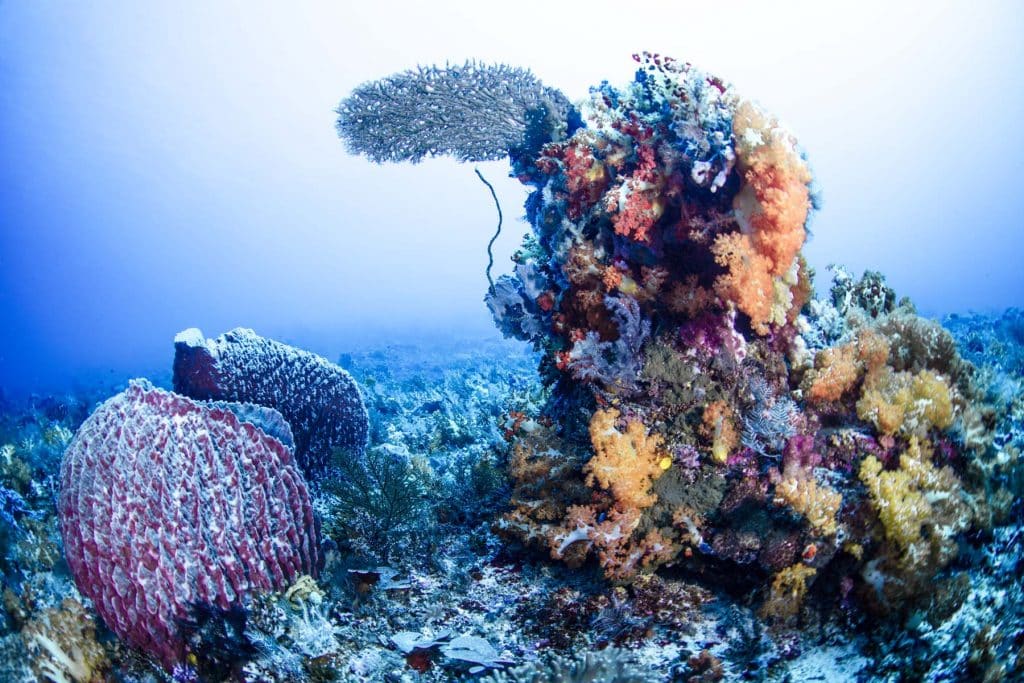 Encompassing the warm waters off Indonesia, Malaysia, Papua New Guinea, the Philippines, the Solomon Islands and Timor-Leste, the Coral Triangle is home to an expansive reef system accounting for 30 percent of the world's coral and boasting more species of the tiny marine animals than anywhere else on earth. As a photographer, Leidy was drawn to the area's incredible biodiversity and pristine natural beauty.
To write the foreword of The Coral Triangle, Leidy recruited ocean conservationist Fabien Cousteau, grandson of legendary oceanic explorer Jacques Cousteau. In his introduction, Cousteau expresses his hope that the book's remarkable images of marine life will inspire readers to take action to protect the world's oceans. He also voices his admiration for Leidy's photography skills — not only his keen eye but also the stamina it takes to manage his diving and camera equipment, the underwater currents and his own buoyancy when lining up a shot.
Yet Leidy isn't the thrill-seeking extreme adventurer you might expect. The easy-going 38-year-old is the great-great-grandson of publisher Joseph Pulitzer, who established the Pulitzer Prizes, and the grandson of fashion designer Lilly Pulitzer Rousseau. The Palm Beach native is close with his family, of whom he speaks reverently, and is expecting a baby with his fiancée in December.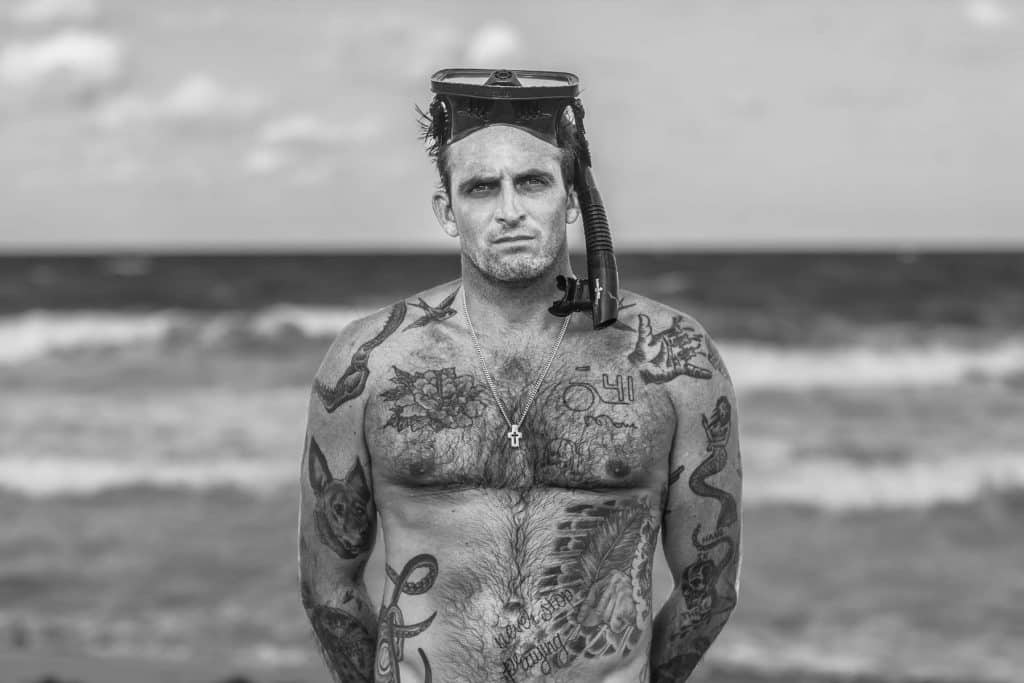 "Being Lilly Pulitzer's grandson and being head-to-toe covered in tattoos, he's quite an interesting character," says Adrienne Ruger Conzelman, of ARC Fine Art, who began showing Leidy's work at her contemporary gallery in Fairfield, Connecticut, in 2012. Although his looks can be intimidating to some, says Conzelman, his manner is anything but: "He's got such a cool, mellow and welcoming personality." And he tells a good story, she adds, underpinning his dreamlike images with fascinating real-life narratives.
Introspective caught up with Leidy by phone in Palm Beach to talk about his passion for ocean photography, discuss his grandmother's influence on his work and ask him to tell us a really good story.
You grew up in Palm Beach. Did you always love the water?
I did. I was born into a family of ocean lovers and explorers, so it was only natural for me to feel comfortable in the ocean and all kinds of bodies of water.
Can you talk about how your grandmother Lilly Pulitzer might have inspired you?
Granny was loved by so many, and her talents were just unbelievable. When it comes to the color, the sense of texture and pattern and design in my work, all of that stems from conversation with Granny. We were super tight, and just getting her simple take on an image that I liked — and she would be extremely honest — I loved that, you know? We had so many talks about her life and how she got started and about things that she liked to do with [artist and textile designer] Suzie dePoo. I just miss the heck out of that.
When you say you were born into a family of explorers, do you mean that in a literal way?
Well, my great-grandfather on the Leidy side was Joseph Leidy, a paleontologist. So, he was more of a land explorer. But my grandfather on my mom's side, my mom's dad, Peter Pulitzer, was a huge ocean explorer. He had a boat called the Sea Hunter. It's an old Louisiana shrimping boat that he turned into kind of an exploration trawler, and we would dive and fish and disappear in the Bahamas for five months of the summer when I was growing up.
My grandfather's tales of exploration are crazy: being boarded by pirates and being held handcuffed in Cuba back in the sixties or seventies and capsizing his boat. He was definitely our explorer, for sure.
What drew you to the Coral Triangle?
The Coral Triangle encompasses many thousands of miles of pristine, super biodiverse reef systems. For any diver or photographer, the Triangle and all its amazing destinations, like Raja Ampat and Komodo in Indonesia, offer everything and more of what we underwater ocean lovers find to be beautiful and interesting.
Papua New Guinea is one of my all-time favorites. You can find so much uniqueness there, from humpback whales to pygmy seahorses, which are the size of a half a grain of rice. Everything is just so plentiful — the abundance and the color. It's just all-around beautiful.
Your work features a lot of saturated colors and repeating patterns. What do you feel makes a great photo?
I love pattern, and I love texture. I love creating different colors with custom white balance, and I play a lot with internal settings. A good photo is all about the composition and light. I avoid the obvious settings and the obvious "There is a shark" kind of a thing. I like the color almost overexposed and just having the faint details of the shark — an eye and a fin and everything else is white. I like to play and mess things up a little bit.
Adrienne Ruger Conzelman, of ARC Fine Art, says that your tales of adventure add a great narrative context to your images. Can you tell us the story behind one of your photos?
I have so many. Going into French Polynesia, not knowing the language and not knowing anybody, I was driven by four-by-four to the other end of this island and brought to this atoll, this volcanic ring in the middle of the ocean. And I was essentially left to make my own way.
I was left there for, I think, two and a half, three weeks. I was spearing my own food. I was photographing all over. I would swim out in the night, and I'd be floating in the abyss, and these big whale sharks would rise up from underneath and come right up next to me, and we would be staring at each other. We would be eye to eye.
I took a photo of this one, and it's in the book, actually. Whale sharks are about thirty feet long and have these patterns of white speckles and dots on their skin. I was able to hit this shark with all my strobe, so the whole background is black, and you can see just the shape of the whale shark by its highlighted, polka-dotted skin.
Coming so close with such a huge creature in the middle of the ocean, at night, was an experience that created a soul-filling bond between Mother Nature and myself, and the photograph is one of my favorites.
How did you end up having Fabien Cousteau write the foreword for The Coral Triangle?
I lived up in New York many moons ago, and we linked up there. It just seemed so perfectly fitting to approach Fabien. He has his Fabien Cousteau Ocean Learning Center, which I admire. And his grandfather and my grandfather were, you know, our own personal gods, so to speak. His grandfather Jacques was an ocean warrior, an advocate, and so was mine. So we just had a lot in common, and it seemed such a right fit. He did a beautiful job.
Are you working on something new at the moment, or just sheltering in place during the pandemic?
I can't travel, and I can't do any of the stuff that I would normally do, so I'm trying to keep the creative juices flowing by coming up with some new techniques. I'm experimenting with environmentally friendly inks. I create different colors in a bottle and drip them into the ocean, and as they dissipate, they create these beautiful kind of rolling colors. I've been putting the pictures on Instagram, and I'm calling it the "Water Ink" series.