Around this time last year, the design world was abuzz over the exhibition "Designing Women," hosted in New York's Soho by Egg Collective, a company run by an all-female team of designers: Stephanie Beamer, Crystal Ellis and Hillary Petrie. Inspired in part by the Women's March, the show featured work from 18 of the partners' female contemporaries, including Lindsey Adelman, Bec Brittain and Anna Karlin. "We received so much great energy from the design community, and immediately people started asking us if we'd do it again," Ellis recalls.
Thus was born a second edition: "Designing Women II: Masters, Mavericks and Mavens," cocurated by the Egg team and Lora Appleton, founder of the vintage-design gallery Kinder Modern and the Female Design Council, a professional membership organization formed just last year. This year's exhibition (on view until June 1) takes a more expansive view of 20 women in design, with an international roster and the inclusion of historic pieces by female designers of previous generations, such as Nicola L and the late Greta Magnusson Grossman. Also represented are Heidi Abrahamson, Kristin Victoria Barron, Cini Boeri, Winsome Brave, Nanna Ditzel, the late Mary Giles, Lilian Holm, Mimi Jung, Sabine Marcelis, Leza McVey, Mira Nakashima, Katie Stout, Marta Palmieri, Rooms, Sonwai, Natalie Weinberger and Bari Ziperstein.
"Women have always been creating and making, but in the past, it was under less than ideal circumstances," Appleton says. "Today, with the Women's Movement being top of mind, we have a chance to shine a light on the women who paved the way and use the lessons of their careers to move forward."
Here, we shine a light on a few of these exceptional women designers of yesterday and today.
---
Phoenix-based jewelry designer Heidi Abrahamson studied fine arts and interior design before embarking on a career in visual merchandising. As a teenager, Abrahamson had collected jewelry by N.E. From, Georg Jensen, Andreas Mikkelsen, Esther Lewittes and Ed Levin, and years later, she was drawn back to her first love. She began by creating pieces with beads but grew frustrated and turned to working with metal, an art in which she is mostly self-taught. Ellis describes her rings as "small architecture projects."
Indeed, Abrahamson says, "For inspiration, I look to Frank Lloyd Wright and Mies van der Rohe, along with Ettore Sottsass, Henry Moore and Barbara Hepworth." She also prides herself on combining disparate materials — setting cement or acrylic in brass, for example, or mounting a ring made of lush Brazilian rosewood on sterling silver.
Portrait courtesy of Heidi Abrahamson. Above right: Abrahamson's onyx, brass and sterling silver Monument ring

Shop Heidi Abrahamson on 1stdibs
---
A Minnesota native, Mary Giles, who died this April, was raised by a cabinetmaker father and a mother with a passion for Norwegian rosemaling, a Scandinavian folk style of painted decoration. She studied art education and became a high school art teacher. When she took up basketry to teach it to her students, she fell in love.
Giles sought out Native American basket weavers for their expertise and took workshops with renowned fiber artists Diane Itter and John McQueen. Ultimately, she developed her own painstaking mixed-media method: hammering thousands of small pieces of wire and attaching them, like scales, to a core wrapped in waxed linen, as in her large wall sculpture Fire Field (2017). "I'm in awe of her level of patience," Ellis says.
Giles's biomorphic works were inspired by her childhood adventures in the Minnesota woods. "Her materiality is fascinating," Appleton observes. "Horse hair, iron, wire — it's all super sexy — not to mention difficult to work with."
Portrait courtesy of the American Craft Council. Above right: Silver Cliff, 2005. Below: Fire Field, 2017, offered by Hostler Burrows

---
Greta Magnusson Grossman (1906 – 1999) established a successful design workshop in her native Sweden before emigrating to Los Angeles in 1940. In the 1950s and '60s, she was a defining figure in California mid-century modern design. In the decades that followed, her work fell into obscurity, but more recently it has seen a revival of interest. Now, just about every design aficionado knows Grossman's Grasshopper and Cobra lamps.
R & Company, the steward of her design archive, has loaned "Designing Women II" a never-before-exhibited minimal, four-seat, armless sofa that she designed for one of her Los Angeles homes. "Grossman is one of a handful of iconic figures I look up to," Ellis says. "She's known for her lamps, but we wanted to show that her prolific output was wide-ranging."
Portrait courtesy of R & Company. Above right: Three-seat sofa, ca. 1952, offered by R & Company
Shop Greta Magnusson Grossman on 1stdibs
---
Mira Nakashima learned woodworking from her father, George Nakashima, whose craftsmanship was legendary. (His work was shown at the Museum of Modern Art in New York City and collected by Vice President Nelson A. Rockefeller, among others.) When George died in 1990, Mira took the helm of his company, George Nakashima Woodworker, which he founded in Bucks County, Pennsylvania, in 1945.
Putting to work her architecture degrees from Harvard and Tokyo's Waseda University, Nakashima not only kept her father's legacy alive but expanded the company with her own designs. Like her father's, her pieces exalt the natural beauty of wood; both Nakashimas are known for works featuring trees' raw edges. "So often, great women designers of the twentieth century were 'the daughter of' or 'the wife of,' " Appleton says. "Now in her seventies, Mira is incredibly accomplished in her own right."
Portrait courtesy of the artist and Cristina Grajales Gallery. Above right: Redwood console table with walnut base, 2006

Shop Mira Nakashima on 1stdibs
---
Nata Janberidze and Keti Toloraia met as interior design students at Tbilisi Academy of Arts in the Republic of Georgia and founded their studio, Rooms, shortly after graduating in 2007. In the years that followed, the duo's designs were picked up by Dutch brand Moooi, and they were hired to create interiors for hotels and restaurants in Georgia and beyond.
Their style is decidedly sculptural, often featuring hand-carved timber with a somewhat rough, faceted look. They mix materials freely, as in a modular coffee table whose metal top surface appears to be pierced by the brass diamond base. "Designing Women II" includes pieces from Rooms' brand-new Life of Earth collection, made from a composite material resembling clay.
Janberidze and Toloraia's semi-brutalist aesthetic draws on a range of influences, including, as they write on their website, their "Soviet childhood and living through tremendous change in a country that is a mix of Asian and European cultures." Observes Beamer: "Nata and Keti's style feels unique to them and their place of origin."
Portrait by Mattia Iotti, courtesy of Rooms. Above right: Terracotta pedestals. Photo by Guram Kapanadze
---
Bari Ziperstein's ceramic works have been featured in numerous art galleries, as well as in site-specific public installations and her own design line, BZippy & Co. Now based in L.A., she grew up in Chicago with design-enthusiast parents who were constantly hunting for vintage Bakelite radios and Boomerang lamps. She studied painting and women's studies at Ohio University before earning an MFA at California Institute of the Arts in 2004.
Most recently, Ziperstein has been exhibiting her "Propaganda Pots" series, inspired by Soviet-era posters. "The posters are about domestic morality, alcoholism, motherhood and the place of women in society," she says. She also draws from Cold War architecture for her furnishings, such as her slab-built planters and side tables. "I don't see a separation between art and design," Ziperstein says. "Whatever I'm doing, I aim to be historically rigorous."
Portrait by Katrina Dickson. Above right: Hello Youth!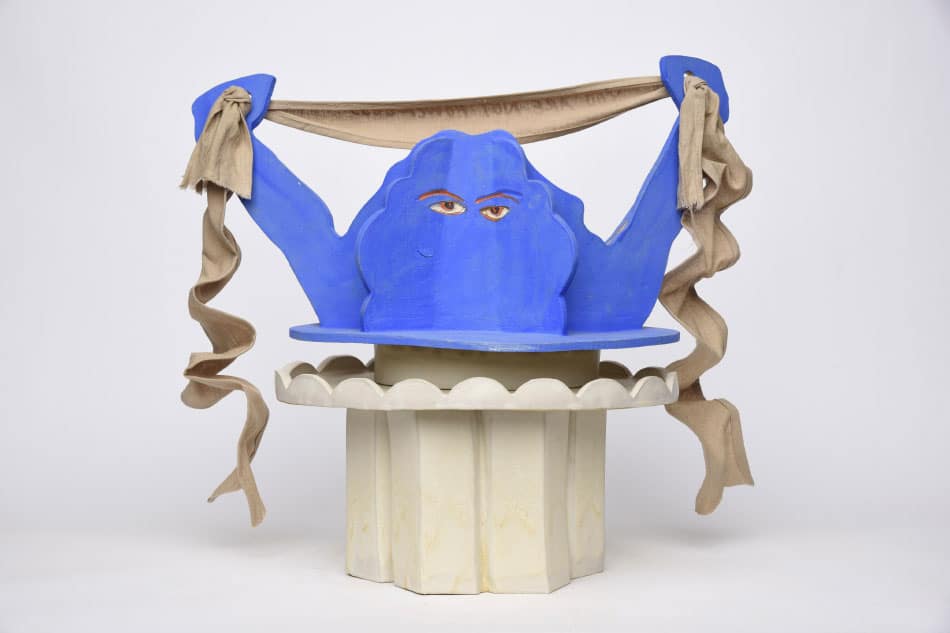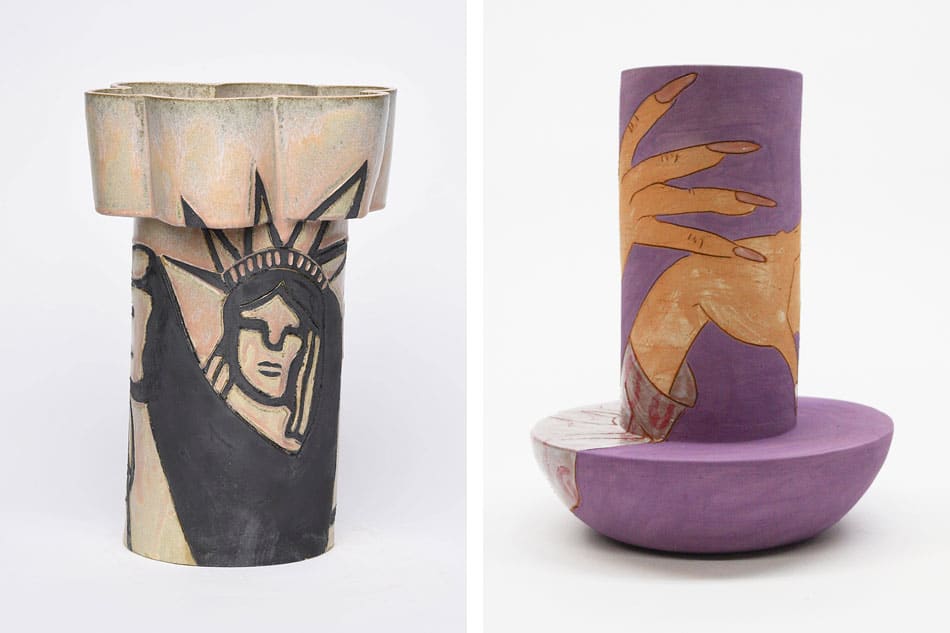 Shop Bari Ziperstein on 1stdibs