January 23, 2022It may seem implausible that there is more to discover about the history of Fabergé. Established in 1842 in Saint Petersburg by Gustav Fabergé, its jewels and elaborate Easter eggs were a defining element of imperial splendor and entwined with the story of the Romanov family's fall. Still, the Victoria & Albert Museum's exhibition "Fabergé in London: Romance to Revolution," an exhibition on view now through May 8th, manages to cast new light on the firm's history and mystique, exploring a little-covered aspect of its story: its prominence and allure beyond Russia's borders. Primed by a prize-winning outing at the 1900 Paris Exposition, Gustav's son Peter Carl Fabergé realized that a global appetite existed for its brand of opulence and high craftsmanship.
From the time Fabergé opened its doors in London (first at the Berners Hotel, in 1903, and eventually in an expansive New Bond Street boutique in 1911), acquiring one of its pieces was a badge of prestige in Edwardian England, the financial capital of the period and a destination for European aristocrats, industrialists with freshly minted fortunes and a rotating cast of international society names.
It was a time of artistic effulgence for the firm, one that came to an abrupt end with the 1917 Russian Revolution, when Fabergé's Russian operations were nationalized. (Now owned by the colored-stone mining and jewelry brand Gemfields, the firm has returned to fashioning inventive eggs and jewels ranging from classic engagement rings to hoop earrings in kaleidoscopic colors and baroque pieces that recall the era of the tsars.)
"Fabergé in London" examines Fabergé legacy through more than 200 items, divided into three sections. The first underscores the importance of patronage by the Russian imperial family. In its role as official goldsmith to the Romanovs, the house produced personal mementos from the practical — lavishly executed enamel candlesticks; letter openers in rock crystal, gold and diamonds — to the idiosyncratic, like a figurine modeled after the personal bodyguard of the tsar's mother.
Carl Fabergé, who brought the firm to unprecedented prominence and initiated the London location, is a focus too, with exhibits devoted to his travels and eye for innovation. "His knowledge and appreciation of the decorative world served as a never-ending vessel for design inspiration and set the high standard of craftsmanship for which the firm is known," says V&A exhibition curator Hanne Faurby. "Over decades, Carl Fabergé attracted talented and progressive designers and craftsmen. These individuals would be instrumental in the firm's success."
At the same time, Carl was preoccupied with modernizing the firm's production. "He ensured that purpose-built premises were built in St. Petersburg, allowing him to keep the main workshops working for him under one roof — a revolutionary approach," says Faurby.
"This allowed for communication, collaboration and problem solving between designers and makers overall but also specific to the work at hand."
Those workshops employed masters of goldsmithing who were "particularly adept at enameling, especially guilloché," explains Faurby.
The house also boasted exceptionally fine stone cutting, engraving and polishing. "Lapidary works were another important output for the firm, primarily sourced from Fabergé's native Russia," says the curator. Tiny, delicately modeled figurines in relatively humble materials like agate and petrified wood can't compete with the intrinsic value of some of the more opulent pieces on view but hold their own in the realm of artistry.
This section also gives deserved space to Fabergé's jewels. For all the acclaim the house's objects have received, its initial focus was jewelry. The pieces produced were of the highest quality, as amply demonstrated in the exhibition by the tiara commissioned in 1904 by Frederick Francis IV, Grand Duke of Mecklenburg-Schwerin for his bride-to-be, Princess Alexandra of Hanover and Cumberland. The regal design is a declaration of love written in aquamarines, diamonds and romantic symbolism — Cupid's arrows, bows, forget-me-nots.
The exhibition's second section looks at the significant position Fabergé occupied in English high society. United by familial relationships (Nicholas II was Edward VII's nephew), the Russian and English royals were established customers of the house, often bestowing Fabergé gifts on one another. Once its London boutique opened, the rest of the social pecking order followed suit.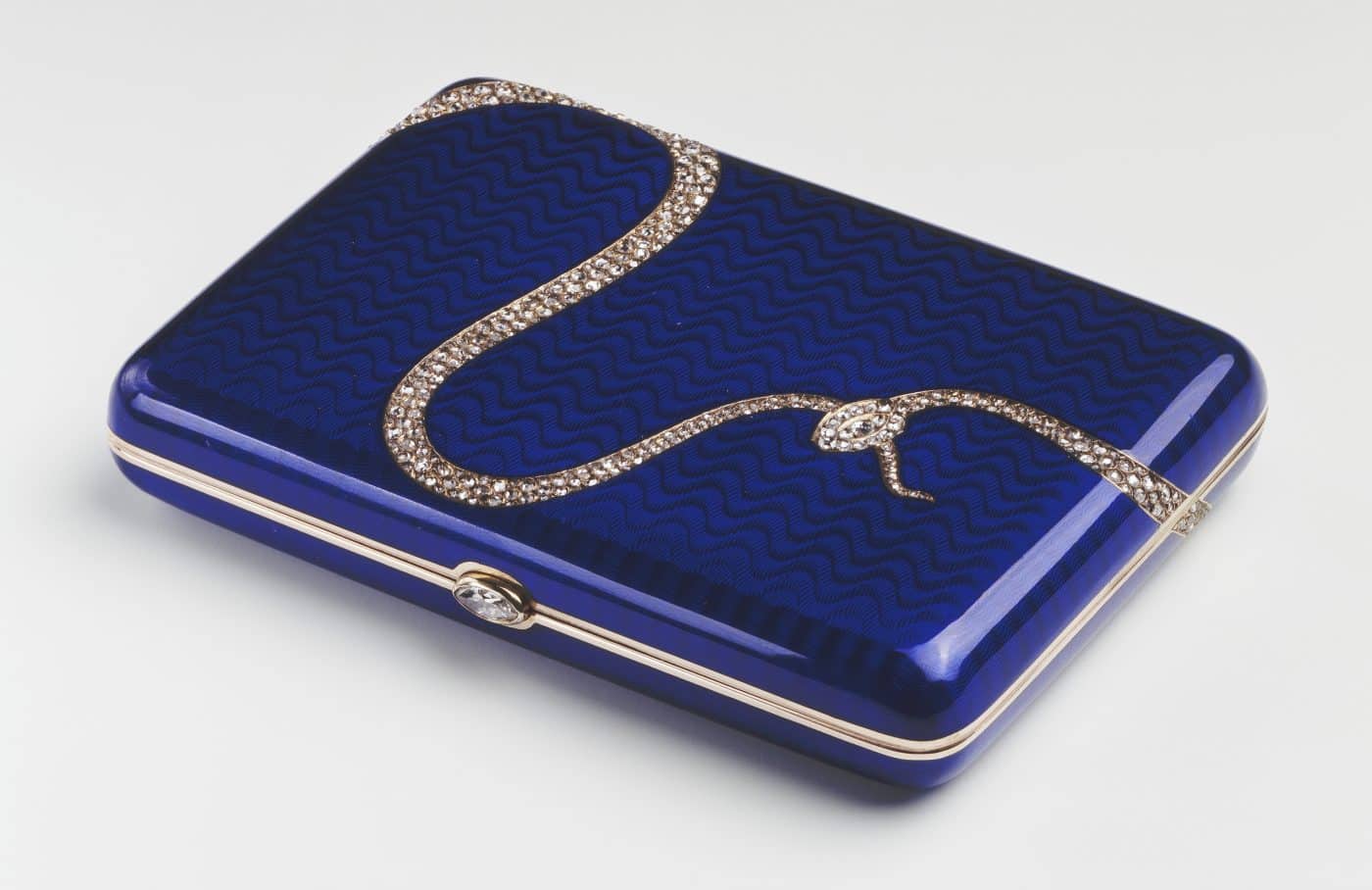 Fabergé introduced a menagerie to cater to the animal-adoring upper classes (the king commissioned a silver and nephrite statuette of his racehorse Persimmon), including hard-stone figures of livestock on the royal estate at Sandringham, from turkey to sheep, which became popular among the aristocratic set. A creature of an altogether different character — a curvaceous, diamond-studded snake on a ground of cobalt blue guilloché enamel — adorns a cigarette case given to Edward VII by his favorite mistress, Alice Keppel.
A table bearing a Fabergé cigar box decorated with a faithful rendering of the houses of Parliament in sepia enamel or an eternally fresh enamel bloom in a rock crystal vase was shorthand for taste, cultural sophistication and an abundance of disposable wealth during the status-conscious turn of the 20th century.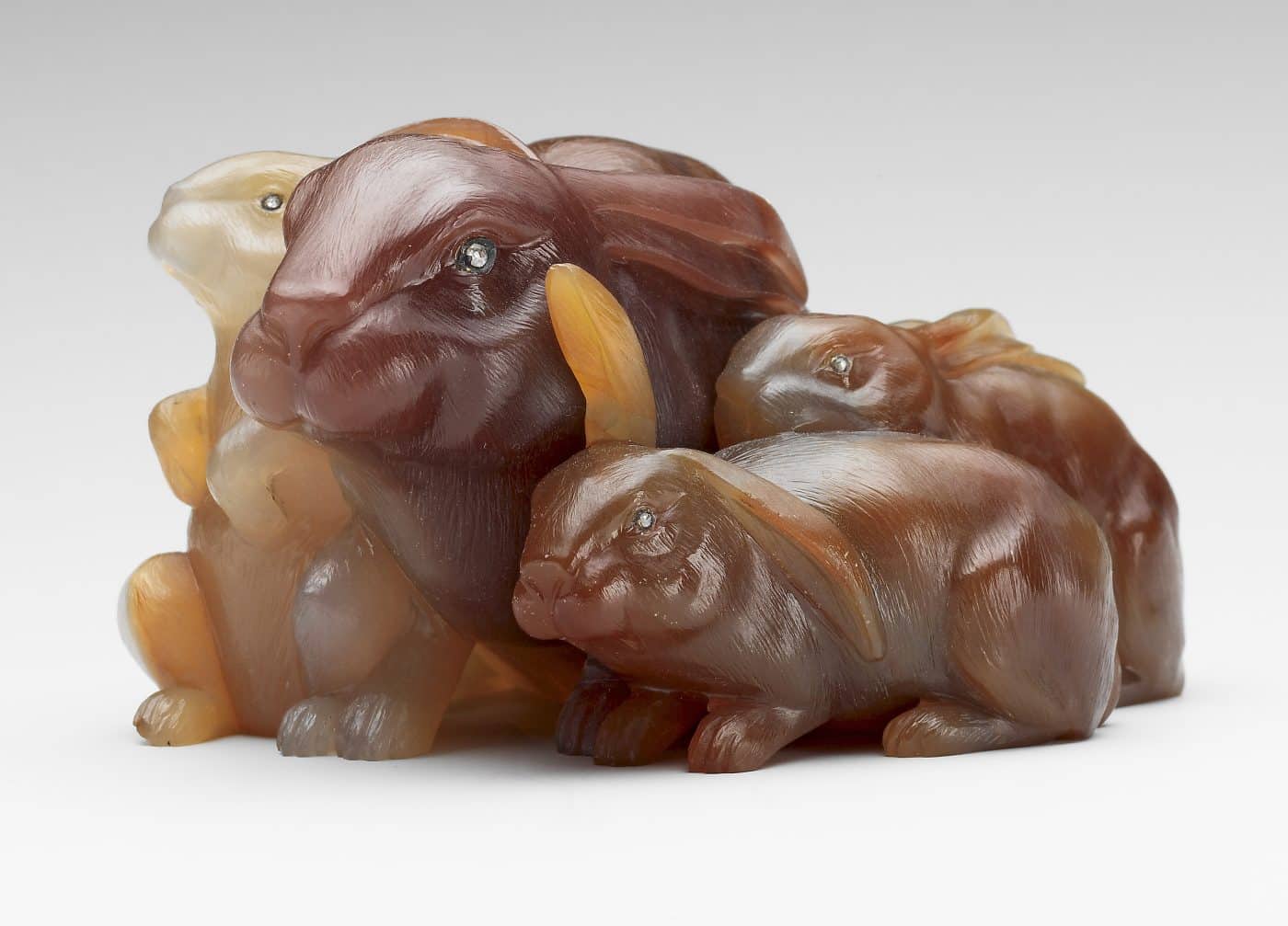 The exhibition is replete with spectacular examples of such pieces, resplendent with precious stones and metals. But it also demonstrates that the house's creativity was not limited to rarefied materials. "[Carl] Fabergé was not afraid of using nonprecious materials, including papier-mâché, wood and steel," says Faurby. "The key to understanding Fabergé is his self-perception as an artist-jeweler rather than a seller of expensive things. Materials were chosen because they suited the design vision rather than a means to display wealth."
Concluding the exhibition are 15 Fabergé eggs, the most extensive array to go on public display in 25 years, representing nearly one-third of the mere 50 imperial eggs created. The imperial tradition of giving the intricate, bejeweled objets as gifts, started by Tsar Alexander III in 1885, was continued by his son Nicholas II until the end of the empire. Each egg opens to reveal a miniature surprise, like a family portrait, an automaton or a gemstone bouquet. According to Faurby, they are among "the most challenging" pieces produced by a house accustomed to dealing with clients whose lofty demands required intensive planning. "The work would start soon after Easter," she explains, "and would be ready just in time for Easter the following year."
The Mosaic egg of 1914 "is a prime example of the immense artistic level of Fabergé's craftsmen," says Faurby. The needlepoint-inspired piece is composed of platinum with a lattice-like structure set with thousands of tiny gemstones. Inside is an oval plaque painted with the profiles of the five imperial children.
Also a crowd pleaser, the Winter Egg, carved from rock crystal and encircled with decoration in platinum and diamonds, is a favorite among Fabergé cognoscenti.
Beyond being visually stunning, the V&A exhibition gives valuable insight into the nuances of Fabergé's production — for instance, the stylistic differences between the work created in the Moscow workshop and in the St. Petersburg one. According to Mark Evans, director of antique jewelry specialist Bentley & Skinner, the former "was influenced by the aesthetics of the Mirikusstva pan-Slavic movement yearning back to Old Russia, whilst St. Petersburg creations were most commonly inspired by French eighteenth-century designs." But the standards of antique Fabergé are unsurpassed no matter what hands created individual items. "Connoisseurs might favor one workmaster over another, and collectors might like to focus on the acquisition of a particular workmaster," says Evans, "but the truth is that the quality and ingenuity of the design and workmanship have always been of the highest level, regardless of workmaster and regardless of period, as all was overseen by the greatest perfectionist of all: Peter Carl Fabergé himself."