Fiammetta Vanelli is sitting on a sofa on the rooftop terrace of a fashionable hotel in Milan. It's an hour before a new capsule furniture collection — on which she collaborated with architect Guido Ciompi — is to debut at the Malo clothing boutique on the fashionable via Montenapoleone. Her hands are in constant motion, her caramel-colored eyes bright with excitement and the blonde-streaked curls framing her face bounce up and down like Slinkys. "You see a lot of marble items out there," she says, "but they have no quality or history. And the people making them don't even know the name of the marble they're using!"
This not only offends Vanelli's sense of taste and aesthetics; it is an affront to one of Italy's greatest artistic legacies and to her own family heritage. Marble is, after all, the noble material of Michelangelo's David and Pietà, the Duomo in Siena and the Pantheon in Rome. More personally, it has been important to the Vanellis since the 19th century, when they bought a prominent quarry in Carrara, a location famous for being the source of stone employed by Michelangelo, Leonardo da Vinci, Brunelleschi and many other artists and architects in creating the Renaissance's finest masterpieces. "As a child, my father always took me to the quarry," she says. "I have always breathed marble."
Despite this connection, it was not a given that Vanelli would carry on the family business, much less release a 100-plus-piece collection of home accessories or create exquisite furniture in collaboration with Ciompi and Massimiliano Giornetti, a former creative director for Salvatore Ferragamo. Even more unforeseen during her youth were celebrity commissions for Brad Pitt and for Kanye West and Kim Kardashian, for whom her company produced a wedding reception table on which guests' names were carved right into the marble at their place settings.
In fact, Vanelli left Carrara for Florence in the mid-1990s intending to study museology. "I wanted to work with contemporary art," she recalls. "But there was not much contemporary art in Tuscany." Instead, she received a degree in Philosophy and Letters from the University of Florence.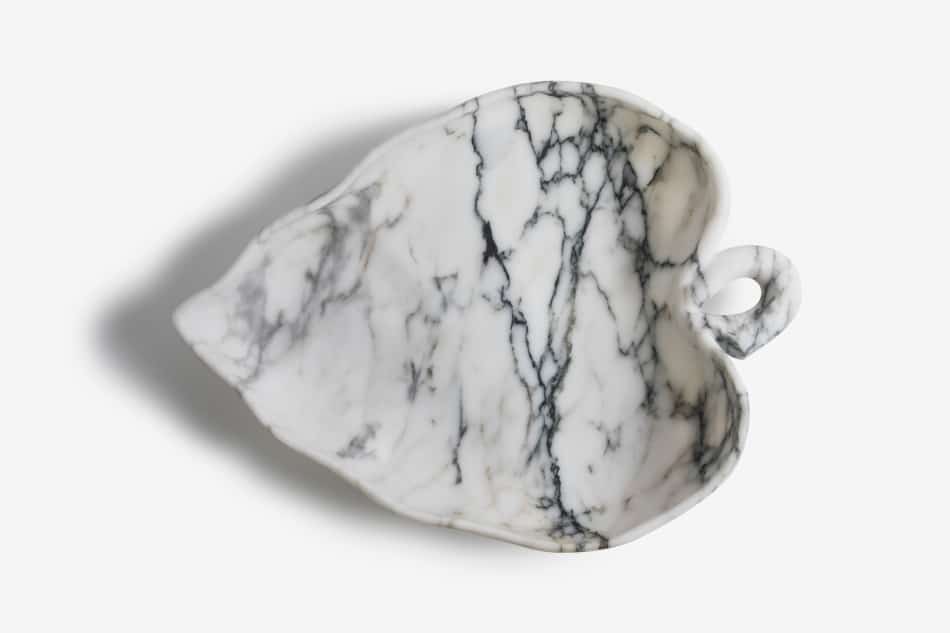 Her thesis on Samuel Beckett and the visual arts changed her view of her life's mission. She was particularly impressed by Beckett's advice to Peggy Guggenheim to focus on the work of living artists rather than Old Masters and the way Guggenheim proceeded to foster and forward the arts. These influences eventually led Vanelli and the family business in a new direction.
Upon her return to Carrara, she was clear about one thing: "I did not want to come home and sell blocks of marble. In those blocks, I saw sculptures." So in 1998, Vanelli and her brother Gualtiero established Statuaria Arte, an artistic "laboratory" modeled on Pietrasanta, in Lucca, where budding artists could come and experiment using marble as their medium. This enterprise continued for several years, fulfilling the Vanellis' dream of working, at least in some capacity, with contemporary art.
In 2001, Vanelli established a division of the company to develop other sorts of projects, commissioned by such designers as Matthew Spender, Marco Borgianni, Alessandro Mendini and Rudy Wach. In 2011, another division, Zona 67 (the number of the family quarry), began creating jewelry from the quarry's various marbles. The aim Vanelli says, was "to discourage the idea people had that if it was marble, it would be heavy to wear."
Works executed at the Vanelli facilities began appearing at galleries and exhibitions around the world. Five years ago, Gualtiero introduced mechanical production through still another division, Robot City. This expanded the range of what could be made and eventually led to a roster of celebrity commissions. At Art Basel in Switzerland, for instance, Brad Pitt came across the Vanelli family's Cinderella table and ordered one for himself. Kanye and Kim's reception table (which the Vanellis produced for the couple as a loan), also arose out of this arm of the business, as did collaborations with Italian performance artist Vanessa Beecroft.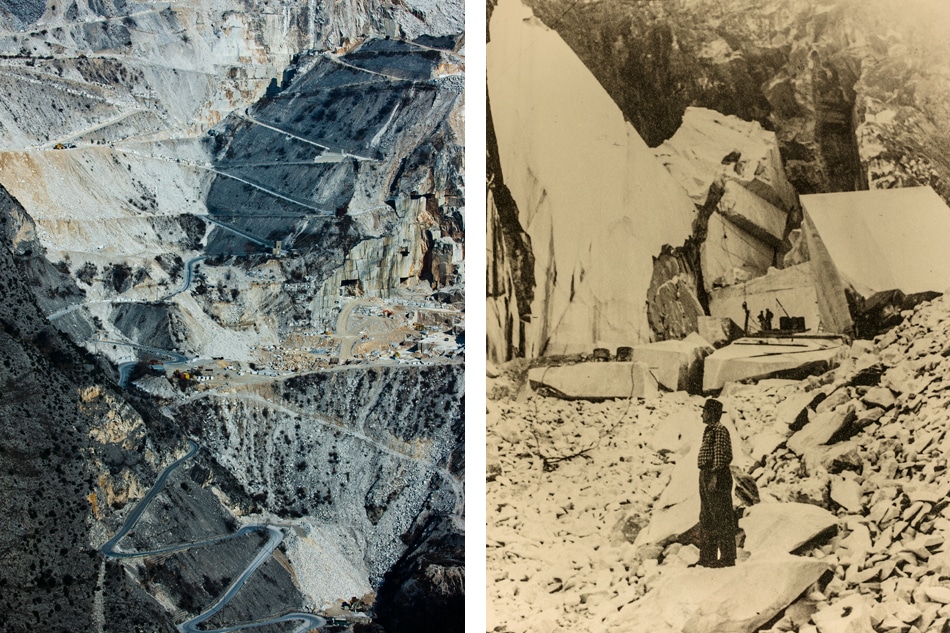 Vanelli created Fiammetta V., her eponymous brand, in 2014 and debuted its first collection of home goods the same year. "I wanted to reestablish the reputation of Carrara in everyday objects," she says about the line, which each year introduces new products — cutting boards, cups, serving pieces and other quotidian objects — using the quarry's Bianco Statuario, Paonazzo, Nero Portoro and Grigio Bardiglio marbles. Fiammetta V. wares, available at high-end retailers and online at 1stdibs, are innovative twists on classic marble accessories. The trays, for instance, have improbable laser-cut-lace edges, a box's top is a removable wooden cutting board, and a chopping board is inset with broad strips of beautifully grained wood.
Last year, Vanelli asked her closest childhood friend, Massimiliano Giornetti, who was recently appointed creative director of Shanghai Tang (the same position he held at Salvatore Ferragamo until 2016), to design something special for Fiammetta V. "I always followed him and had great esteem for his work," she says. "I asked for one piece, but he came with a whole collection."
The resulting array of limited-edition works — produced, like Ciompi's collection, in collaboration with Turini & Werich and also sold through 1stdibs — includes the Dionisio bar cabinet. At the high range of the collection, it retails for nearly $30,000. There are, in addition, a sleek desk and small tables in the quarry's Paonazzo marble, a room screen and a silk-upholstered barrel-back armchair. Vanelli is currently developing products as well for the Plaza Hotel Lucchesi, in Florence.
Today, she splits her time between Carrara and London, where she wants to settle down eventually with her son, Gregorio, now three years old. Success has been hard won. "The marble world was purely male work," she says. "Today, there are several women, mainly daughters of entrepreneurs, who have taken this path. I was lucky I was not denied the approach to this work by my family. On the contrary, they probably wanted me to start earlier!"
Shop Fiammetta V. Home Collection on 1stdibs