September 4, 2022Imagine you've just opened a gallery on rue de Lille, one of the most prestigious addresses for 20th-century design in Paris, with an exhibition of the work of a young, unknown pair of ceramists. In walks architect Peter Marino, who not only loves the show but buys several pieces.
This was the actual auspicious start of the Galerie Sandy Toupenet. Fast-forward 11 years, and its eponymous founder continues to promote contemporary talent she believes in. Foremost among these is that same ceramist duo, les DALO, composed of Daniel Derock and Loïc de Bailliencourt, whose playful work is easily recognizable for the funny, facetious faces that adorn their gracefully shaped, clean-lined vases, lamp bases and small furniture items like stools and occasional tables. According to Toupenet, Marino regularly uses their pieces as finishing touches in his store projects around the world.
Other sought-after living potters she represents include Dominique Pouchain, whose highly stylized zoomorphic sculptures are textured with oxide glazes, giving them a mineral-like finish; and William Byl, who creates animal figures decorated with geometric patterns and scarifications. "If I receive a piece by William, it's usually sold within hours," says Toupenet.
Derock credits Toupenet's success in part to her no-nonsense approach. "If she doesn't like something, she'll tell you straight away," he says. "There's no hesitation with Sandy. She has an excellent eye and knows her clientele inside out — what's going to please them and what's not. And that, in turn, informs what we produce. So, it's a perfect partnership."
Toupenet was raised by parents who were themselves in the antiques business, specializing in Art Nouveau. As a teenager, she would often help out at their stands at the Louvre des Antiquaires and the Paris flea market. She went on to study art history for two years at the Sorbonne before following in their footsteps. "I needed to be in the thick of buying and selling but, above all, finding objects and new talent," she says. "That's what interests me. I love the search."
She attributes the exponential increase in interest in ceramics over the past decade in part to the category's affordability compared with other art forms. "Two to three thousand euros will buy you a beautiful item," she says, adding that the pieces also bring what she calls "presence" to a room. "They're a wonderful combination of texture, color and form."
Toupenet's inventory is not limited to contemporary items. She also deals in mid-century pieces by such names as Pablo Picasso, Jean Cocteau and Roger Capron (Marino has used the latter's work in a number of his hotel projects). All three produced out of Vallauris, in the south of France, as did other artists whose work she handles, such as Pol Chambost, Jacques Innocenti and Suzanne Ramié. In addition, she regularly offers pieces by lesser-known 20th-century names like Peter and Denise Orlando, whose creations she praises for their "simplicity, color and poetry"; and the Frères Cloutier, whose pots and vases sporting faces have had a great influence on les DALO.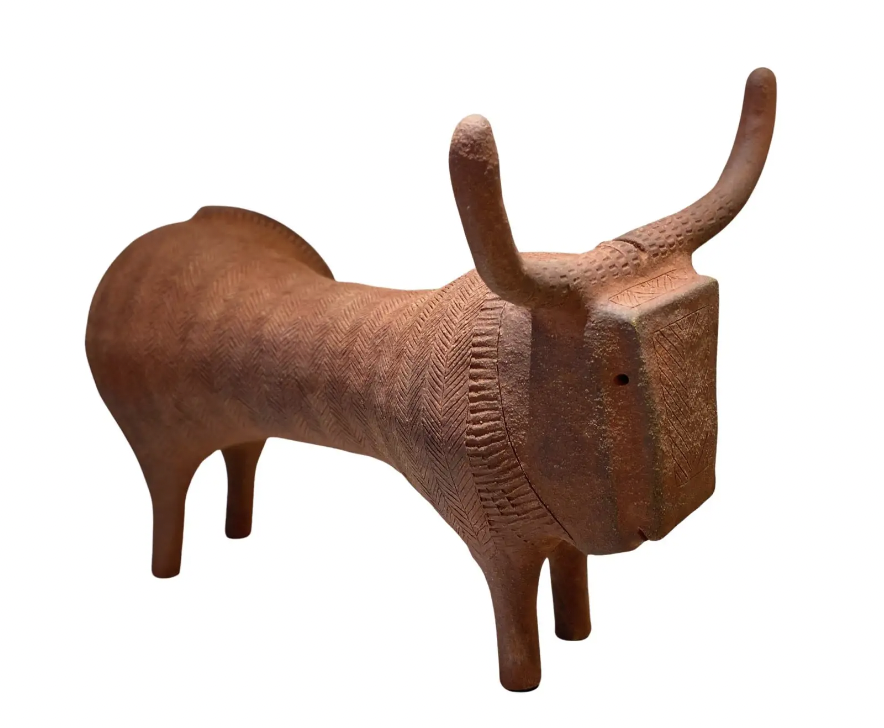 Whether a piece is vintage or contemporary, Toupenet's criterion for buying it is always the same: Her heart has to jump as soon as she sees it. "I'm only interested in original, one-off items, things that are made by hand, never with molds," she says. Whether something is fashionable or not is of little concern. "If I don't like it myself, I can't even go there."
Here, Toupenet discusses how she finds new talents, her approach to collecting, creating bonds with her artists and an artwork that made a particularly terrifying impression in her childhood.
What is the most amazing ceramic you've ever seen?
It's difficult to name just one. I can be struck equally by the quality of the enamel on a Japanese bowl, the technical prowess of an Art Nouveau vase and the crazy shape of a contemporary sculpture. But most of all, I'm interested in ceramics from the nineteen fifties, principally those from Vallauris.
Are you a collector yourself?
I don't have the soul of a collector. I like the idea that pieces circulate from one interior to another and have been lucky enough to have been surrounded by works of art since I was little, but the majority never stayed at home for long.
I remember a painting at my parents' of a big cat by Paul Jouve, a French painter known for his detailed depictions of wildlife. It scared me, and I'd make a big detour so I didn't have to walk in front of it. What's funny is that it was given to me later on, and I lived quite happily with it for many years.
What's the best way to discover new ceramists?
Definitely, social networks. They're currently the best means for young artists, whatever their specialty, to publicize their work and for people to find them. For instance, I first came across William Byl on Instagram.
How important is the human element in your work? If an artist was particularly difficult to deal with, would you still represent them?
Relationships are key to me. So, clearly no, I wouldn't be working with an artist if there wasn't a positive energy between us. Representing contemporary artists enables me to create that. Dealing in works by the likes of Picasso and Cocteau has different constraints and joys.
Are you nervous when handling precious ceramics?
I don't have any particular apprehensions, even with those that sell for many tens of thousands of dollars. And so far, fortunately, none of them has slipped out of my fingers.
Has there ever been a piece you wish you'd never parted with?
No. I keep the ceramics I like. But if I decide to part with something, I never have any regrets. The decor at my home is constantly changing, but I understand it's not an approach for everyone. My friends often tell me they couldn't part with the pieces they love!
SANDY TOUPENET'S TALKING POINTS