May 8, 2022Cartaxo, on the bank of the River Tagus about an hour's drive north of Lisbon, is a small community of farms and vineyards that rarely attracts anyone who isn't coming for wine.
A handful of Portuguese-design aficionados, however, now know Cartaxo for something else: the luxury-furniture brand Greenapple, whose 54,000-square-foot facility on its outskirts is part-studio, part-showroom. It is there that it creates modern design pieces in collaboration with local artisans using marble, onyx, metals like brass and copper, and a considerable amount of oak.
Greenapple is the brainchild of Sérgio Rebola and Rute Martins, former economists who met as undergraduates in Faro, on Portugal's southern coast, in 1998. Today, they are a married couple, the parents of five children and business partners. Martins handles the design side, while Rebola oversees the production of Greenapple's ready-made collections and deals with customers seeking bespoke furniture for homes and businesses.
Founded in 2005, Greenapple sold mostly Chinese- or Indian-made accessories like vases, picture frames and candleholders until 2012, when it took a radical turn. "We realized we needed to produce in Portugal, because a lot of markets were looking for better-quality items," explains Rebola.
The couple began exploring local materials and hired craftspeople skilled in working with them. One of their favorite materials, Calacatta marble, with its distinctive thick, bold veining, comes from Portuguese quarries that are among the largest in the world. The couple also found local suppliers of raw cotton, velvet and Nubuck, a top-grain leather.
"I like all kinds of wood, particularly American oak," says Martins, "and I love to work with glass and marble, especially combining different stones."
The fan-shaped marble doors of her Biloba credenza, for example, combine three types of polished marble — Calacatta Cremo, Verde Antigua and Rosa Egeo — while its interior is lined with a high-gloss eucalyptus.
Such finishes are applied by a team of about 30 in-house artisans, including master woodworker Daniel Mata, finisher Ana Gaspar and upholstery specialist Leandro Almeida, who all have a symbiotic relationship with their respective raw materials. "When working with leather," says Almeida, "it's necessary to know how much we give of ourselves and how much it gives."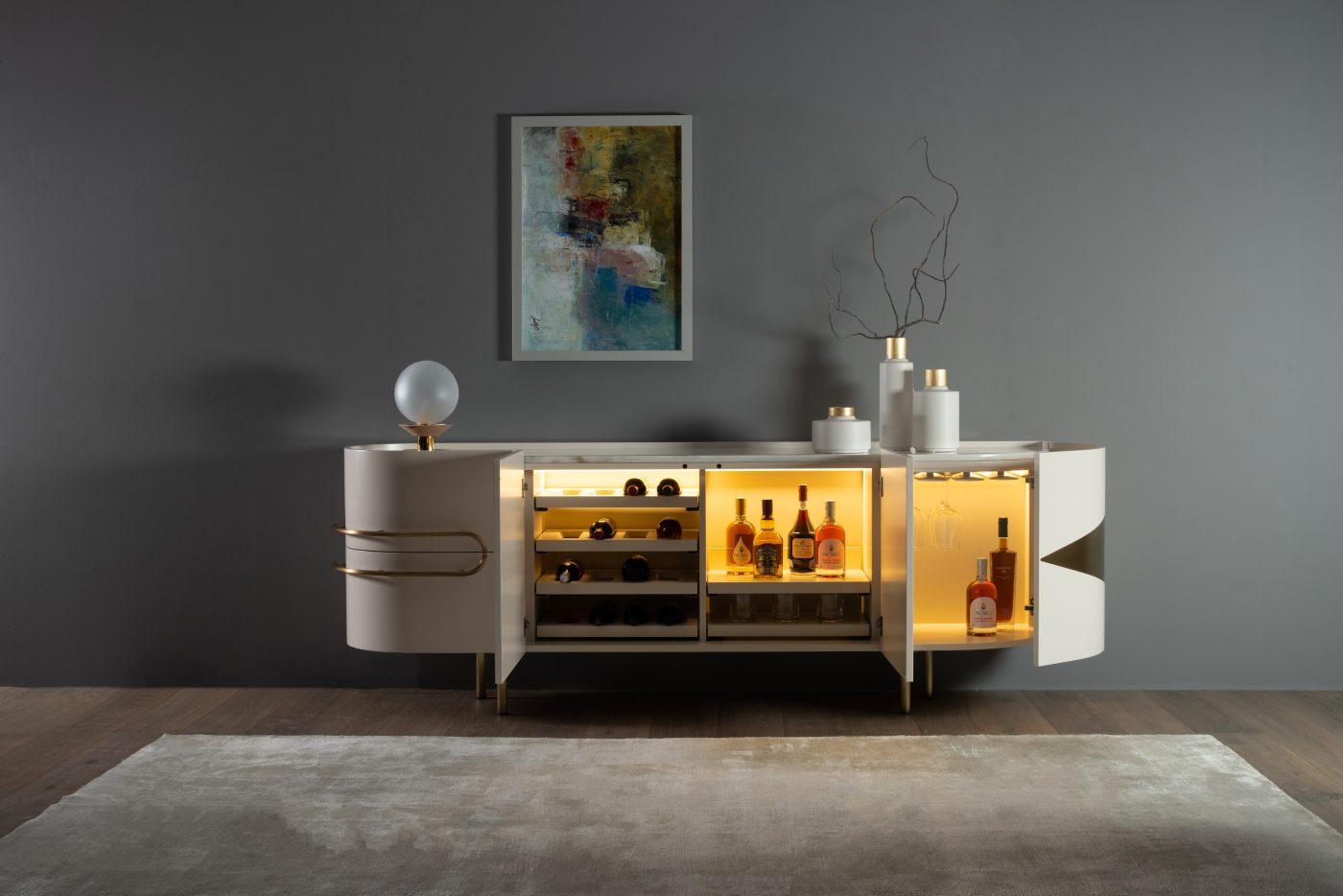 Greenapple's 2022 furniture collection, Perfect Raw, combines natural materials with cutting-edge technologies, like Bluetooth, infrared motion sensors and voice recognition. This enables the furniture to communicate with other elements in the home, such as the air-conditioning system. Take the Bongo bar, which allows users to control the temperature of the wine inside and the humidity of the built-in cigar box. But that's not all. "By opening the doors," explains Rebola, "you can also activate the living room lights and turn on the music." Perfect for setting the mood with a bottle of local wine.
Introspective recently caught up with Rebola and Martins to discover how they made the switch from economics to the world of furniture design, why Portugal has suddenly become a creative hotbed and how a seaside resort inspired the shape of one of their tables.
You founded Greenapple in 2005, but at that time, it had a quite different concept. How did you grow it into the high-quality furniture company it is today?
Sérgio Rebola: We started in April 2005, and back then, we were making small accessories, mainly for the Portuguese market. In 2012, we went to Milan for the design week and realized there was a market for things produced in Portugal. At the end of that year, Rute started to design some furniture, such as the Bongo bar and the Sunshine sideboard, which were manufactured by local artisans close to Cartaxo. We got very good feedback for these first pieces, but as they couldn't produce in large quantities, we decided instead to start with our own production. In the summer of 2014, we began to set up our own workshops from scratch. Today, all our products are produced one hundred percent in-house.
You both have MBAs from the Iscte Business School in Lisbon. How did studying economics together evolve into running a furniture company?
Rebola: After college, we got married and now have five kids. We actually had twins twice. So, we have a teenage boy, two girls of nine and seven-year-old twins. Since she was young, Rute was always interested in design and architecture and, in the last few years, has started using three-D software. I handle the commercial side and like to interact with the customers. At the same time, we share all the management of the company.
Rute, can you tell me a little bit about your design inspiration?
Rute Martins: It always comes from nature, and my shapes are organic. I grew up on a farm with my mother and grandmother in the countryside outside Lisbon, near a town called Azambuja. My mom had a florist shop, and since I was very young, I was always creating things with flowers. In the summers, I would spend time on the beach in Nazaré, where there are the largest waves in the world. One of our best sellers today is the Bordeira cocktail table, which mimics the shape of an idyllic beach town of the same name on Portugal's southwest coast.
There's a long tradition of using marble in Portuguese design. Can you talk a little bit about that and how you're using the material in your latest collection, Perfect Raw?
Rebola: There are many quarries in Portugal, and as a result, we have a lot of artists who have been working with marble for a long time. We're employing these techniques and skills to develop different shapes with marble. For our Bongo bar, for instance, we combine semicircular sliding doors made from large slabs of Sahara Noir marble with brass, Patagonia granite and walnut veneer.
Your Olisippo tables, from the Perfect Raw collection, seem to be magically lit from within. What are you using there?
Rebola: We are using IoT [Internet of Things], which means that the furniture pieces can communicate with each other or with other things. For the Olisippo table, we chose Patagonia granite, which is a combination of granite and quartz and some resin, and integrated an LED system, so you can backlight the top. The light will last eight hours, after which you simply need to recharge the power bank.
There seems to have been a furniture production boom in Portugal recently, with decorators and designers not only buying from but also relocating to your country. Why do you think this is happening now?
Rebola: In Portugal, we have so many skilled workers who have knowledge in traditional techniques for production in wood, metal, glass and crystal. Plus, our country has great weather, and we have the sea and the food. People are discovering Portugal, and there's so much here to inspire designers.