We're a bit like Benjamin Button," jokes Kristan Cunningham. She and her husband, Scott Jarrell, spent their 20s planting lavender and roses behind the white picket fence of their suburban Los Angeles home. Now in their 40s, they're living in an edgy Arts District loft, spending nights out at hip-hop shows and days running the cooler-than-cool showroom and design firm Hammer and Spear.
Their careers have followed a similarly unconventional path. Cunningham hosted HGTV's "Design on a Dime" and later served as a design correspondent for Rachael Ray. Jarrell worked for 10 years in promotions at 20th Century Fox before joining his wife in design TV as a recording engineer. Then, having built successful television careers, they quit.
In 2012, they moved into a $1,500-a-month loft in a then-empty industrial strip of downtown L.A. and poured their savings into a new passion project, Hammer and Spear. Opening a store had been their retirement plan, but, Jarrell says, "we realized that we could never really take the next step if we didn't remove ourselves from the TV world to establish our own point of view."
"Kelly Wearstler, Jonathan Adler, Nate Berkus," Cunningham adds, "they all had a look that they were known for before they were on camera. But I started so young in TV that I didn't have an opportunity to publicly establish my own style."
Timing was on their side. After years of abandonment and neglect, the Arts District was experiencing a renaissance, with artists, musicians and designers moving in, looking for cheap rent and a creative community. Hammer and Spear became their clubhouse. The couple, with their impeccable eye for vintage treasures and emerging talent, have long offered items that range from hand-whittled 19th-century African midwife stools to avant-garde blackened-steel nesting tables by J.M. Szymanski. Their particular mix of antique, vintage and contemporary, combined with Cunningham's muscular, industrial aesthetic, enabled them to create a relaxed, eclectic space where local artists, writers and other creatives started taking meetings among the buttery leather sofas.
"That's when we realized that there are all these amazing artists and makers and all of the great designers of tomorrow right here around us," Jarrell says. "Once we put everyone under one roof, they all started working together."
Clients looking to bring the store's masculine, moody vibe into their own home soon followed. "I knew that we had the ability to make that leap from HGTV to high-end design clients," Jarrell says, "but I didn't know if the public would make the jump of imagination."
Rebranding helped. Rather than rely on the reputations they built in their television days, they opted for a fresh start. The "hammer" part of their moniker comes from Jarrell's nickname for Cunningham. "I called her 'the Hammer' because she was a DIY expert and a total ballbuster on set," he explains. Adds Cunningham, "The 'spear' came from Scott's family crest, whose tagline is 'brave with spear.' "
Hammer and Spear Interiors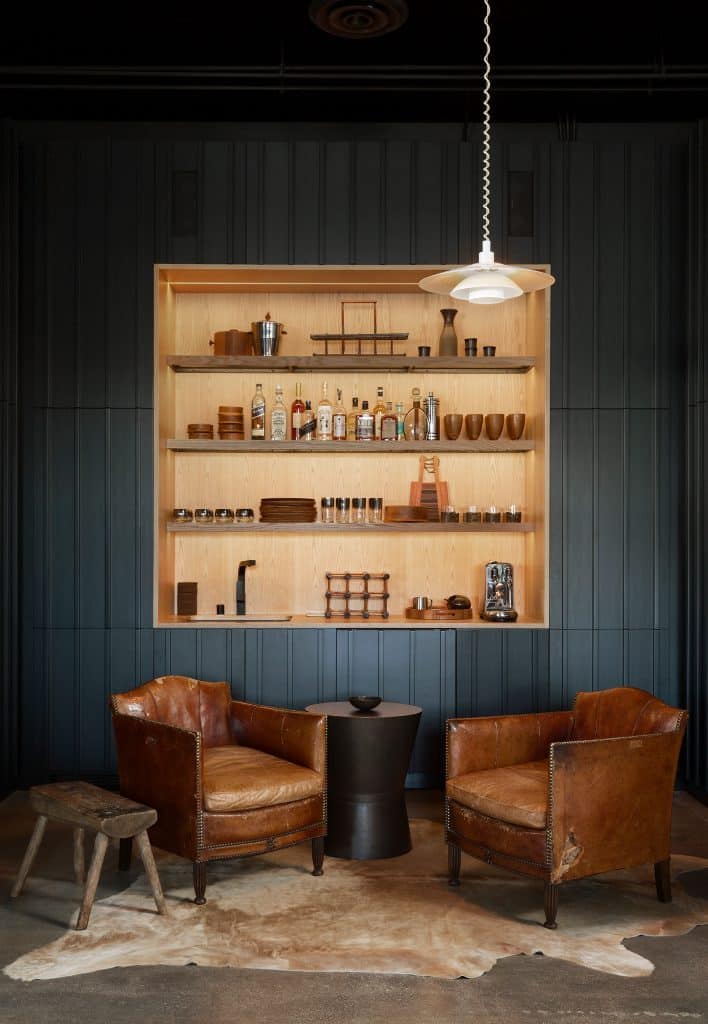 The hammer came to represent the building aspect of the business — as in renovation and remodeling — and the spear to symbolize the hunt: for the perfect vintage pieces, for emerging artists, for solutions to client problems.
"The store was an unfiltered vessel for us to work and play within," Cunningham says. Today, the space, with its industrial steel columns and exposed ductwork, is warmed by pieces like Moroccan rugs and vintage leather armchairs. The aesthetic resonated immediately with customers. It's easy to see why: Sunlight streams through factory windows onto polished concrete floors, and the room is filled with a seemingly effortless mix of sculptural pieces, including a white tile Nima Abili table inspired by the classic video game Tetris, a galvanized steel-and-sheepskin Klein Agency rocker and abstract ceramic vessels by Galia Linn, plus soulful vintage items. Cunningham says people regularly walk into the store and say, "I want to live here."
They include Heather Mycoskie, the wife of Toms founder Blake Mycoskie, who was so charmed by the Hammer and Spear store that she hired the firm to renovate their Topanga Canyon home. Cunningham and Jarrell created layered, collected interiors that reflect the couple's love of travel and preference for decor that feels authentic and unpolished. Of the Mycoskies' relationship with Cunningham and Jarrell, Blake told Architectural Digest, "It was really important for them to understand that we're not fancy people, that we really like stuff that does have imperfections, that doesn't look overdesigned." So, Hammer and Spear created spaces that felt personal to the couple, like an entryway clad with wood from the Coney Island boardwalk where Heather's grandparents met, and custom furniture for the teepee they had made for their wedding, which is located in the backyard along with a statue of Buddha they acquired on their honeymoon in Bali. For the living room ceiling, Hammer and Spear commissioned a painting with a Native American motif from L.A.-based artist Mark James Yamamoto, and they collaborated with PSS Design Cult to create an ark-like shelving unit in the nursery.
Cunningham and Jarrell, who met when they were college students at different schools, are both West Virginia natives, but Jarrell credits their time in California with giving them the ability to work in a wide range of eras and aesthetics.
"One of the greatest things about living here is that there's this amazing mix of architectural styles. We've owned a ranch house in the Valley, a [place by noted mid-century California architects] Buff and Hensman in Pasadena, a castle on the Venice canals and a loft downtown," Jarrell says. "As we redid those places and moved, we'd take our favorite pieces to the next place. Editing and mixing all those different styles really became our style." For example, when they lived in a 1925 home near L.A.'s Griffith Park, they outfitted the living room with traditional-leaning furniture like a 10-foot-long black leather chesterfield, while in the dining room they paired a 1930s dining table with a set of 1970s chairs by Mariana for Pace Collection — then they transitioned those pieces to their current, more industrial-themed Arts District loft (which they're about to vacate for a nearby loft). One item that has been a mainstay in every one of their residences is an antique fruitwood wine-tasting table, which was a splurge when they purchased it for $600 in their early 20s. They have used it in the kitchen, entryway — even for on-camera meetings when Cunningham hosted "Design on a Dime." "It is the heartbeat of every house that we've lived in," she says.
They're also deeply inspired by travel. One of Cunningham's earliest design memories is of Dorothy Draper's bold mid-20th-century decor for the Greenbrier resort, in West Virginia.
"I remember seeing blood-red carpets with Tiffany blue walls and thinking, 'What kind of confidence do you need to have to do this?' " she says. "On top of that, Draper was the first to really design around an entire lifestyle, from creating the dishware to the branding to the bellhops' uniforms."
That full visual experience really stuck with her. "At the end of the day, as designers and retailers, we're storytellers," she says.
Cunningham and Jarrell plan to expand the narrative this year as they purchase and renovate investment properties in vacation destinations like Palm Springs, where they'll be curating everything from the towels to the scents to the record collections to create full Hammer and Spear experiences. The pair are also expanding their reach through upcoming collaborations with Christopher Farr rugs and Tabarka tiles. And they opened a second brick-and-mortar space early last year. Located in the La Cienega Design Quarter, it is known as Hammer and Spear West.
But regardless of where the business takes them, their first love will always be storytelling. "These structures that we call homes, they hold our memories. It's where Christmas morning and prom pictures and Thanksgiving dinners happen," Cunningham says. "And that's just so important and powerful."
Hammer and Spear's Quick Picks