Both a showman and a draftsman, the legendary Isaac Mizrahi has made a career of coloring outside the lines. He specializes in a vibrant and distinctly unfussy brand of American fashion that is equally at home in Bergdorf Goodman and in Target, on the stage and on-screen — and now in a museum. "Isaac Mizrahi: An Unruly History," on view through August 7 at New York's Jewish Museum, is a meeting of the exquisite and the exuberant. The survey exhibition reveals the breadth and depth of Mizrahi's work through his fashion and costume designs, sketches, photographs and a dazzling video climax.
"One of the big questions is what to put in museums. The question has been posed a lot in different essays and panels," Mizrahi said during a press preview of the exhibition. "I think that what needs to go in museums is stuff that isn't boring — visual stuff and stuff that has some kind of emotional content. And that, of course, is in the eye of the beholder."
The Mizrahi eye — and oeuvre — are anything but boring. After graduating from the Parsons School of Design, in Manhattan, and working for Perry Ellis, he launched the Isaac Mizrahi New York collection in 1987, creating a look that he describes as "a smart version of something over the top." His exuberant ensembles invigorated New York runways until 1998, when he switched his focus to costume design, making far-out outfits for such prominent modern choreographers as Mark Morris and Twyla Tharp. Mizrahi returned to fashion in 2002 with a pioneering partnership with Target and the "semi-couture" collections he designed until 2011.
Today, visitors to the Jewish Museum's new show enter Mizrahi's multilayered world by way of what the designer describes as "the swatch wall": a glass-fronted floor-to-ceiling display of textile morsels arrayed and preserved like exotic butterfly specimens, and just as colorful. The spectrum of materials — pinked-edged crepes and moiré failles, woolen plaids, checkered and pinstriped cottons, skeins of embroidery floss — is a preview of the rooms and ensembles that follow.
The wall, with its thousands of meticulously ordered textiles, is in fact a kind of readymade. "People think we created this for the exhibition, but the swatches are right from Isaac's studio," says Chee Pearlman, director of the design consultancy Chee Company and former editor of I.D. magazine, who organized the show with Kelly Taxter, assistant curator at the Jewish Museum. "They were made along the way, and he had them all organized into boxes. That's the core of what he works from — his palette, the tools of his trade."
Mannequins lent by the Metropolitan Museum of Art display 53 ensembles spanning nearly three decades, from the Isaac Mizrahi New York label of the 1980s and '90s to a trio of cocoon coats designed especially for the exhibition. The thematic organization demonstrates the consistency of the designer's passions — color, print, sketching, performance, surface. Mizrahi quotes, meanwhile, punctuate the show's wall texts and object labels, shedding further light on his wide range of references, inspirations and allusions, from the Dan Flavin sculptures that influenced a neon-striped dress to a rugged shipping blanket that Mizrahi translated into quilted silk and lamb's wool for his Spring 2005 Elevator Pad gown.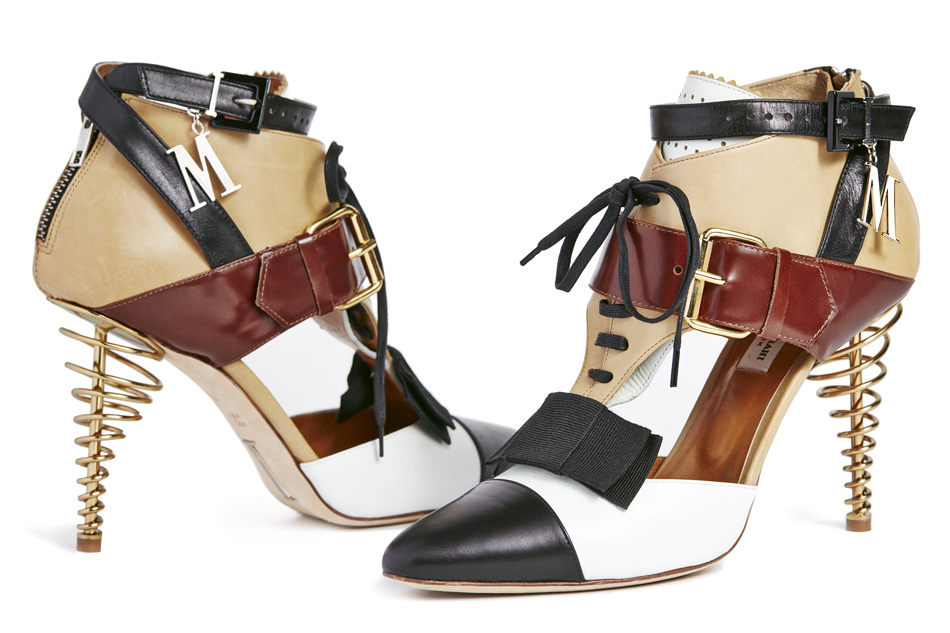 "It was very important for me to find a way to not disembody the work from the person and to keep Isaac present in a way," notes Pearlman, who watched hours of Mizrahi's runway-show footage before delving into the designer's archives. Among her favorite finds was the comprehensive cache of sketches, which get an intimate room all to themselves.
"I didn't realize that Isaac had such an exquisite hand," she says. "The designs are beautiful as finished pieces, but the sketches are artworks in and of themselves." For Mizrahi, sketching is the sweetest step in the design process. "The sketches really resonate with me," he said in an interview after the press tour, "because clothes are clothes, but sketches are wishes."
---
"What needs to go in museums is stuff that isn't boring," says Mizrahi, "visual stuff and stuff that has some kind of emotional content."
---
Mizrahi's irrepressible charisma is unleashed in the exhibition's final installation: an immersive three-screen video montage bringing together moments of supermodel-filled runway shows (Linda Evangelista, Christy Turlington, Naomi Campbell), multimedia inspirations (La Dolce Vita, The Red Shoes, I Love Lucy), Mizrahi's own star turns (the 1995 documentary Unzipped, the 2000 one-man cabaret LES MIZrahi) and his cameos (Fame, Jeopardy!).
"The idea was to step into Isaac's mind," Pearlman explains. "And almost all of the pieces presented in the exhibition are there, so you see them fully alive and coming down the runway." It is a joyful capstone to an exhibition that expresses Mizrahi's fearless enthusiasm and abiding faith in fashion as a form of entertainment. Mizrahi's exuberance also shines through in a display of 28 photographs by Nick Waplington, whose new book The Isaac Mizrahi Pictures: New York City 1989–93 (Damiani), provides behind-the-runway glimpses of the designer's rowdy younger years.
"The making of this show has made me more of an artist," Mizrahi writes in his preface to the sumptuous exhibition catalogue, published by Yale University Press. "It has forced me to look back over three decades of work, and this has begun to point out where I'm going over the next three decades or so. Which will be the subject of my next museum show — and that one will be a retrospective."