I'm fascinated by the juxtaposition of the raw and refined. I call it an organic modernism," says Jamie Bush, the Los Angeles–based architect and designer, describing the stylistic thread running through his work. Whether an iconic mid-century house in the Hollywood Hills, a Malibu ocean-side retreat, a historic Italian Mediterranean estate in Montecito or a modernist Lake Tahoe compound, Bush's interiors all share an underlying interplay of the rough-hewn, organic and imperfect with the sleek, noble and polished.
For the impressive range of principally residential projects his firm creates, Bush says the main focus of the design process is materiality and form. "It's all about the composition of materials to emphasize their inherent qualities through contrast."
Located on the top floor of an ornate 1920s Spanish revival building in the La Brea design district, the light-filled loft-like offices of Jamie Bush + Co. reflect this rough-hewn-meets-refined aesthetic. Ceiling beams and steel columns are left exposed. The space is divided by raw plywood boards commonly used for construction; Bush says he likes them because they look like "abstract marquetry." Honey-colored wood cabinets set against clean white walls — with the surprise pop of one dusty pink dividing wall — provide a backdrop to neatly aligned white desks occupied by the dozen young architects and designers who make up Bush's team. Rare vintage Italian glass and chrome tables mix with Brazilian rosewood and leather mid-century seating. Potted oversize black olive trees add the final touch.
Bush, also a painter and sculpture, has built an art studio in one corner of the space. Increasingly, his paintings and sculptures spill over into the design practice, completing a holistic vision for certain projects.
Bush was raised back in east in Bayport, on Long Island. "I had a magical childhood," he says, recalling the 1850s Greek revival sea captain's house in which he grew up. "It had a widow's walk and Corinthian columns and was filled with antiques. We had a menagerie of animals in the yard: horses, ponies, dogs, cats, rabbits." He spent summers in a beach house on Fire Island or on his great grandfather's dairy farm, in Holtsville. "I grew up immersed in nature, farming, collecting seashells and bones, coming home only when dark. We spent all year on the water, ice boating in winter, sailing in summer."
Bush comes from a large, highly creative family. "Half were dairy farmers on Long Island, and the other were painters, designers, photographers living in Manhattan — but everyone made things," he explains. "My father sculpts animals out of antique farm machinery, my aunt Ruthie painted watercolors. They were or are all great collectors, well traveled, very worldly in art and design. And they all had fantastic homes."
Family vacations included visits to his aunt Nan, lifelong partner of fashion photographer Bruce Weber. Bush describes their early-20th-century Adirondack camp as beautifully appointed yet rustic and charming. "A completely different aesthetic from their rambling nineteen forties beach house in Miami," he says.
Bush's great-aunt Beth Levine was a legendary shoe designer. "She had very modern furniture, and then there would be a van Gogh drawing propped in a corner or a Venetian candelabra on a slick Italian table," he says of her Manhattan apartment. "Being around that, it just trained your eye."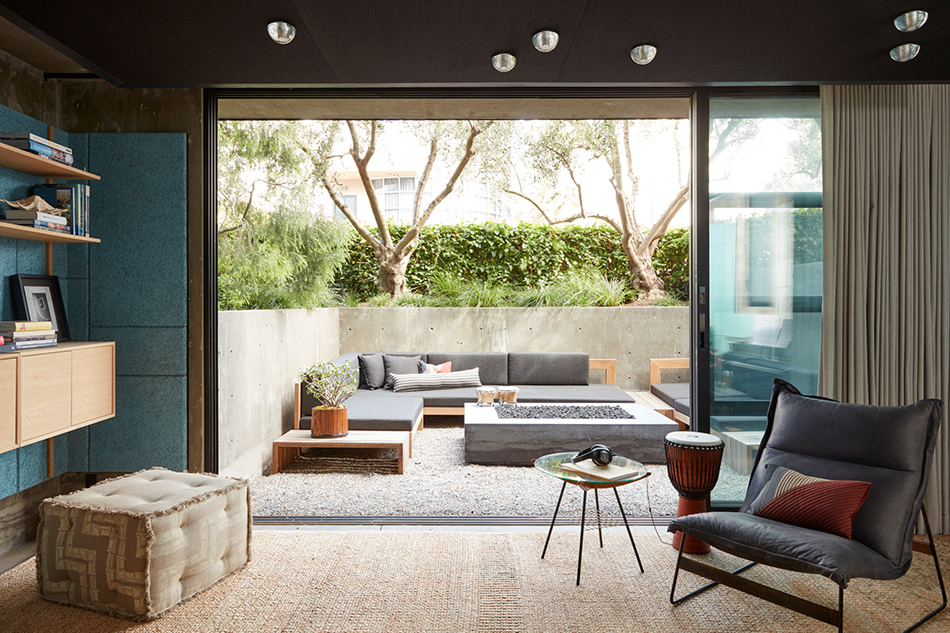 Bush also describes the Manhattan loft of his cousin, the painter Philip Pearlstein, now in his 90s: Victorian furniture was placed next to a Memphis chair, a painting by Lichtenstein was paired with an African mask. "No one in my family is a purist," he explains. "Everything is a mix of high and low."
Some of Bush's most amusing family stories are tales of the two worlds — farming and high-fashion New York — commingling.
"My aunt Beth, the shoe designer, was, of course, incredibly chic," he says. "She and her husband were very jet-set. She'd drive her Rolls-Royce out to the farm, pop the trunk, get out a shovel and dig up potatoes and horseradish, pop it all back into the trunk and drive back to Manhattan."
Beyond its aesthetic acuity, his family's work ethic has had a lasting influence on Bush. "Because they grew up on a farm, they all remained earthy, with a can-do attitude," he explains. "They were self-made individuals, very determined. Everyone worked until they died. Both my parents still work. My mother sells real estate, and my sister and father continue farming, as well as creating a museum for my father's collection of antique farm tools."
After high school, Bush attended Tulane University, in New Orleans. Initially enrolled in fine art, he switched majors and earned his degree in architecture.
Fresh out of college, he moved out west to Los Angeles, where he worked for a handful of architectural firms, including Marmol Radziner.
Eventually, he and a few coworkers decided to set up their own practice, using their credit cards to finance a small fixer-upper as their headquarters. "We had the office in the garage and spent half the day on client projects and the other half jackhammering, framing, building," he says. They ultimately renovated and flipped a few properties. "That sort of thing was a lot easier back then."
---
"No matter the type of structure, it's about understanding its language and what it's asking for," says Bush. "You can't just mimic. There's a specific language that reveals itself."
---
When an architect friend from Bush's days at Marmol Radziner asked him to furnish a significant modernist home, he didn't hesitate. "Having been deeply influenced by my upbringing and having developed an appreciation for antiques, architecture, design and collecting from an early age, it came naturally to segue into furniture," he explains.
In the early 2000s, Bush visited a project by the rising interior design star Kelly Wearstler and was dazzled. "It was the period when Kelly was doing the Viceroy hotels. She was injecting so much energy into interiors. There was nothing else like it at the time." Sometime after, Bush attended a friend's birthday, he wrapped a gift in vintage Chinoiserie wallpaper. "When it was opened the smell of wallpaper glue wafted out. It was kind of wonderful, and it happened Kelly was there, and we struck up a conversation." Bush ended up working for Wearstler for a year. He remembers his time with her fondly. "We had big-budget jobs, and it was all super-fun," he says.
Since opening his own firm, in 2002, Bush has built a reputation for creating high-end, refined California modernist residential interior architecture and design. "There is a lot of detail and innovation that goes into every one of our projects," he says. He custom designs hardware, furniture, lighting and rugs, mixing these with pedigreed vintage pieces and site-specific commissions from contemporary artisans.
"Even though I'm trained as a modernist, I've worked with many styles of architecture," says Bush. "No matter the type of structure, it's about understanding its language and what it's asking for. You can't just mimic. There's a specific language that reveals itself in the detailing, history and location. You have to dissect that and create a relevant dialogue that works for today."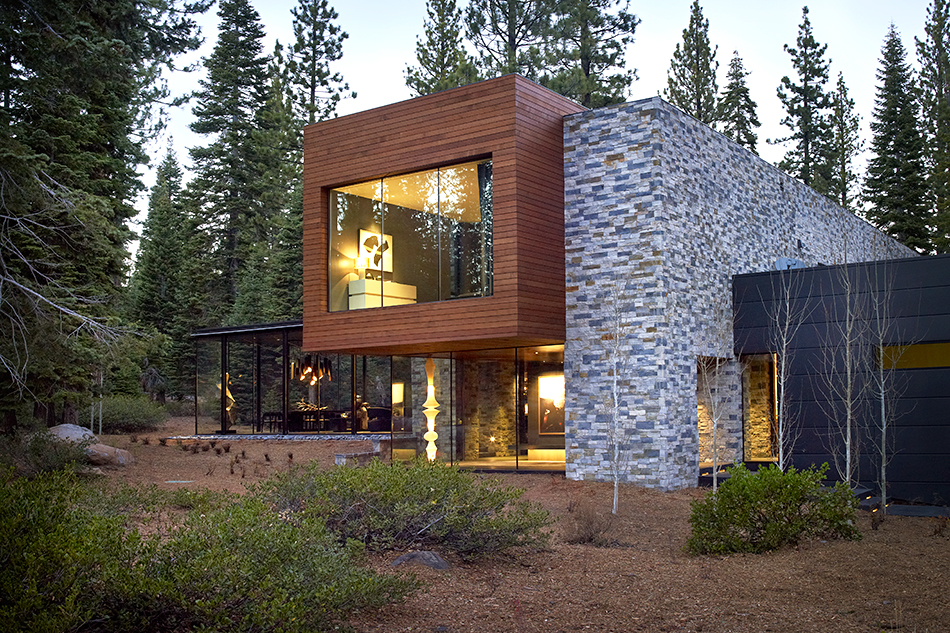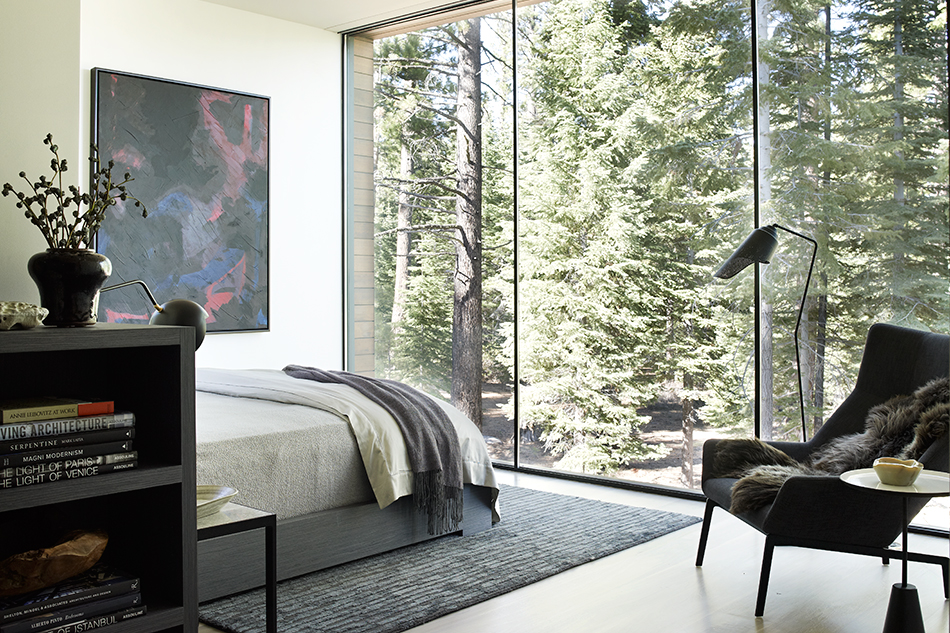 Bush says scale and proportion are increasingly important as residences become ever bigger. For a recent mid-century style house in the Trousdale Estates of Beverly Hills, he custom designed a 16-foot-long living room sofa to relate to the radius of the circular room. Anchoring the space, the sofa is teamed with free-form brass stools by the Haas Brothers, a large custom-size oval bronze and travertine Blackman Cruz coffee table and a custom cloud-patterned silk and wool Chinese rug, 26 feet in diameter, which took 11 people weaving side-by-side seven months to complete.
For a modernist Lake Tahoe mountain retreat, the client's brief was "Tom Ford in the woods," Bush says. Brutalist materials that fit the setting — stone, steel, wood and glass — were deployed to create a seamless transition from indoor to outdoor living. "But it's the natural irregularity of the finishes that gives the house soul," he states.
"I like un-lacquered metals so they patina over time, showing history and age," he continues. "I prefer seeing the grain in wood and honed stone — finishes that express the organic qualities of a material.
"As a kid growing up, immersed in nature, I was deeply struck by the infinite variations of patterns and irregularities," he says. "That still speaks to me. I'm drawn to the perfection of imperfection."
---
Jamie Bush's Quick Picks on 1stdibs