With a panoply of exhibitions, site-specific installations and special projects, together with events, hosted in seven different districts, that showcase the best in contemporary creations, the London Design Festival is now firmly established on the cultural calendar of the British capital.
The year's edition of the 13-year-old event, also known as the LDF, runs from September 17 through 25. It includes fairs aimed squarely at the industry, such as Design Junction and Decorex International, the U.K.'s longest-running design show, which focuses firmly on luxury and is participating in LDF for the first time. These events combine with countless public projects geared toward the "civilian" design lover. Many of these happenings center on the Victoria and Albert Museum, although you'll find points of interest at many other venerable institutions, including the Wallace Collection and the Royal College of Art, as well as at designers' studios, high-street retailers, hotels and London's commercial art and design galleries. Adding a further dimension, this year the LDF overlaps with London's first-ever Design Biennale (September 7 through 27), which occupies the entirety of Somerset House on the Thames.
"The festival has become one of the leading design events in the world," says Ben Evans, who co-founded LDF with Sir John Sorrell in 2003. "We have benefited from London's mature design scene, as well as an army of designers, both domestic and international, who live and work here."
For Evans, part of the appeal of running LDF is showcasing the unexpected — whether it's 2014's pop-up exhibition in Trafalgar Square about the nature of home, or flashy fabric sails for London's only inner city windmill, which you'll find this year in Brixton, 2016's new design district. "There's always something for every design lover to discover," Evans says. Here, we highlight a handful of the hundreds of events awaiting discovery this year.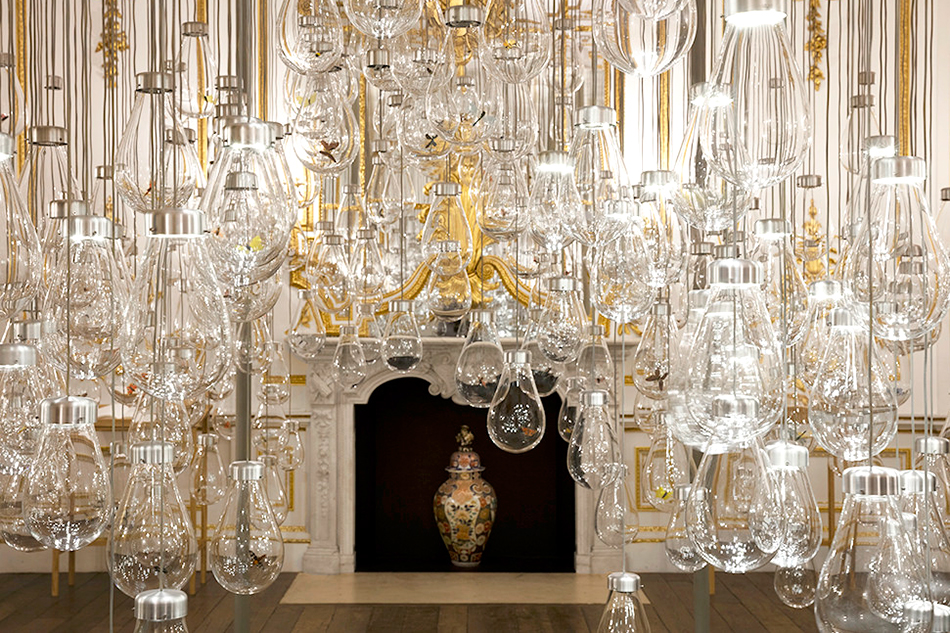 ---
Featuring leading designers, innovators and cultural organizations from 35 countries — ranging from Albania and Chile to South Africa and China — London's inaugural design biennial takes over Covent Garden's historic Somerset House. The U.K. is represented by a wind-powered kinetic sculpture called Forecast, created by Edward Barber and Jay Osgerby, while the U.S. is represented by the Immersion Room of New York's Cooper Hewitt museum, an interactive space featuring digitized wallpaper. Each country's exhibition responds to a unifying theme: the 500th anniversary of the publication of Utopia, Sir Thomas More's imaginings of an ideal society. "The biennial gives the global community a platform to present their best in response to what we think is a provocative and timely theme – Utopia by Design — engaging with some fundamental issues facing humanity such as sustainability, migration, pollution, energy, cities and social equality," explains biennial director Christopher Turner. "We were fascinated to see how different countries would interpret this idea and what kind of installations and exhibits would result."
---
Dealer David Gill has long championed innovation, and his gallery's exhibition "Masters of Design" is no exception, spotlighting five designers who push the boundaries of material and structure. "We wanted not only to celebrate the best of British designers but also to embrace our international designers and artists," says Francis Sultana — a director at the gallery and a noted interior designer to boot — of the decision to feature works by London-based Fredrikson Stallard and Sir David Chipperfield alongside those by Jorge Pardo (Los Angeles), Gaetano Pesce (New York) and Mattia Bonetti (Paris). "Events such as the LDF are now, more than ever, essential to show that London is still a strong and vibrant center in Europe and will continue to look beyond its own shores for inspiration."
---
Housing the collection of 19th-century architect and art connoisseur Sir John Soane, the museum he founded seems a world away from the contemporary offerings of the LDF. However, the September opening of the building's restored Regency kitchens has prompted a special exhibition titled "Below Stairs." The show places within this historic, behind-the-scenes setting pieces by Barber and Osgerby, Jasper Morrison (whose work is currently on view at the new Tate Modern), Martino Gamper and Paul Cocksedge, together with an aromatic installation by Tasha Marks, founder of AVM Curiosities, which explores the relationship between art and food through edible art projects. "There is something rather haunting about this once-bustling and noisy place that is now, oddly, the quietest and calmest part of the museum," explains exhibition co-curator Rachael Barraclough. "We've chosen these pieces because they evoke a ghostly reminder of what once was."
---
In her Pimlico Road gallery, decorator and dealer Rose Uniacke hosts "Simply Chairs," an exhibition showcasing new chairs from her own collection of furnishings, RU Editions, alongside a selection of seating by designers she admires, such as Joaquim Tenreiro, Hvidt & Mølgaard-Nielsen, Jorgen Kastholm and Preben Fabricius. "When I design a piece of furniture, I want it to provoke an emotional reaction, I want it to feel 'right,' " Uniacke says of her elegant Simple chair, Stitched armchair and steel and leather Y chair. "It needs to be honest, to have great materials and artisanal construction and an atmosphere that is light and sculptural yet extremely comfortable and versatile."
---
The Smile


September 17 through 25
The Smile is one of the most eye-catching of this year's Landmark Projects, the LDF's annual program of special commissions and installations. In the courtyard of Chelsea College of Arts, architect Alison Brooks has designed a gravity-defying 112-foot-long pavilion crafted entirely from cross-laminated tulipwood, with two astonishing cantilevered sections that threaten to topple the entire structure. "I immediately thought the installation should be an object that you can go inside and should overturn any expectation you might have for a wooden building," Brooks says of the structure, which visitors can explore and then peer through apertures at either end to see the world outside. "Normally structures, or beams, tend to sag in the middle. The Smile does the opposite. It's a building that lifts at its two ends. It balances on a single point and creates a dynamic experience of space and light."
---
The Atrium within Selfridges, the London retail landmark on Oxford Street designed in 1909 by Chicago neoclassicist Daniel Burnham, is known for selling the best in current couture. Now the fashion brand Sies Marjan — whose fierce and feminine first collection was lavishly praised in the press and worn by the likes of Beyoncé — is presenting selections from its Spring/Summer 2016 collection at Selfridges, in a shop within a shop that is outfitted with furnishings from 1stdibs dealer Talisman. The furniture items, hand-selected by Sies Marjan creative director Sander Lak, a self-confessed vintage-furniture obsessive, range from a circa-1940 English Art Deco double pedestal table in veneer and brass to a pair of purple 1970s mirrors in the manner of Serge Roche. "For me, clothes and furniture are directly linked to each other," says Lak, whose distinctive picks are also available in an online 1stdibs collection. "I love seeking out interesting things, whether it's a fabric, a garment, a lamp or an amazing chair."
---
For the past eight years, the Victoria and Albert Museum has acted as a focal point for the LDF. This year, in addition to events, talks and workshops, there will also be an assortment of installations within the museum's permanent collection. These include Liquid Marble by Mathieu Lehanneur, a black marble sculpture polished to suggest reflective liquid; and The Green Room, a collaboration by design duo Glithero and watch company Panerai that emulates the movement of a timepiece using sheets of colored strings. Also on view, in the museum's tapestry gallery, is a collaboration between Benjamin Hubert, founder of interactive design agency Layer, and the home electronics and appliance maker Braun. Titled Foil, the display features an undulating 66-foot-long metallic ribbon that reflects light from a series of LEDs.